To help celebrate our March-long IPA Madness hop-a-thon, our friends over at Webstaurant Store whipped together an original fish taco recipe featuring a light and fluffy beer-batter utilizing our new core offering STone Tangerine Express IPA. These tacos are the perfect accompaniment to a game of sportsball and any of our citrus-forward IPAs. You can LEARN exactly how to make them using the video and full recipe below, or check out webstaurant's full blog post. 
https://www.youtube.com/watch?v=4AWnuqQRJz0
Stone #IPAMadness is our month-long celebration of the hoppy arts. We've been lupulin lunatics since we started brewing back in 1996, but this March we're stepping it to another level. We have events happening nationwide, special-release beers and a few surprises in store. Use our new-and-improved beer and events finder to see where to get in on the action near you and check out our funky, throwback IPA Madness Playlist on Spotify to get in the zone.
Image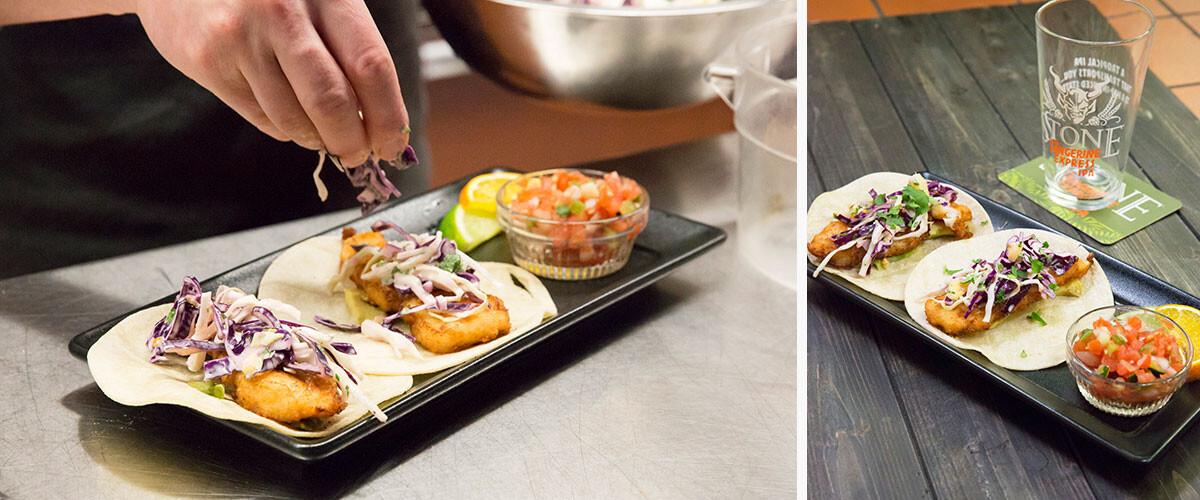 Recipe
Ingredients for slaw:
4 cups of red and green cabbage
½ cup chopped pineapple
1 seeded and minced jalapeno
3 tbsp. red onion
2 tbsp. mayonnaise
1 tbsp. fresh cilantro
1 tbsp. lime juice
1 tbsp. agave nectar
1 tsp. tangerine zest
Ingredients for Fash Tacos:
4 corn tortillas
2 lb. mild white fish cut into chunks
2 cups of Stone Tangerine Express IPA
1 cup all-purpose flour
1 cup rice flour
1 tbsp. kosher salt
1 tsp. cayenne pepper
1 tsp. cilantro (garnish)
Avocado slices
Pico de gallo
Lime wedges
INSTRUCTIONS
Combine the slaw ingredients in a large bowl and mix thoroughly until the contents are coated and set aside.
For the batter, combine all-purpose and rice flours, cayenne pepper, kosher salt, and Stone Tangerine Express IPA in a bowl and whisk to combine.
Season your fish with salt, pepper, and tangerine zest. Dip your seasoned fish into the batter to coat.
Fry your fish until it turns golden brown and crispy. Remove your fish to a cooling rack with parchment paper beneath to catch any excess oil.
Heat the tortillas in a pan until they are soft.
Place the tortillas on your plate and add the fried fish, avocado, and slaw. Garnish with cilantro.
Serve your fish tacos with pico de gallo and lime wedges, if desired.
Enjoy!
Image