Ode to the Gargoyle
Gargoyles are historically known as protectors against evil spirits. Since the beginning, our Stone Gargoyle has represented our ceaseless quest to create the most awesome beers imaginable. Think of the Gargoyle as the big friend that's got your back. Ever vigilant, ever watchful, and ever your humble servant.
Back in 1996, our co-founders Greg Koch and Steve Wagner chose a gargoyle to represent Stone Brewing. But it was, and still is, more than just a logo. It represents everything we stand for. In the same way people placed gargoyles on buildings to ward off evil spirits, the Stone Gargoyle watches over us and our fans – protecting us from cheap ingredients, chemical additives and general mediocrity, the modern day evil spirits of beer.

In our early days, the full Gargoyle with glorious wings extended adorned our bottles. For many of our fans from back at our original location on Mata Way in San Marcos, CA this is still the look that comes to mind when they think of Stone.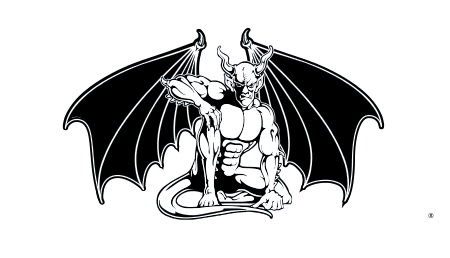 Overtime, the gargoyle began to take on new looks. Some, like our "Bistro Gargoyle", have stuck with us over time. Others, like the short-lived Stone Heat Seeking Wheat Gargoyle... well, let's just say it was short-lived for a reason.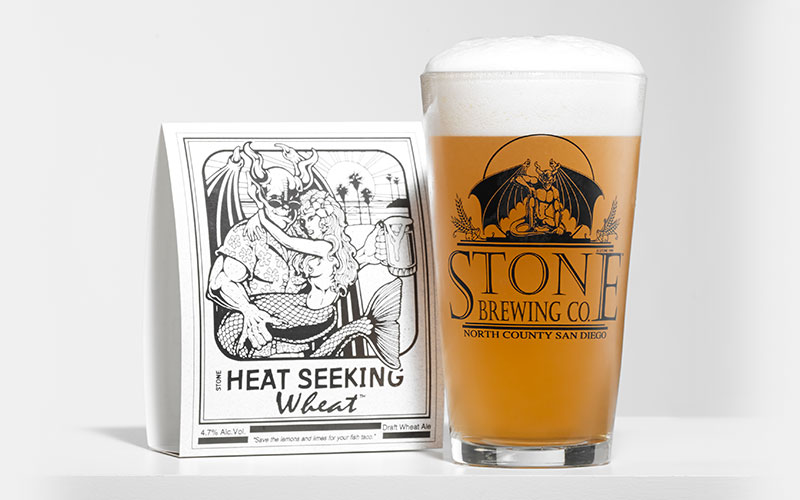 Far be it from Stone Brewing to ever brew a beer that can be described as "light," nevertheless Stone Levitation Ale was created to be a session ale, with a lower ABV yet massive hop flavor and a hefty malt backbone. This Gargoyle implored beer drinkers to "Levitate Your Standards."
The bottle of one of our most legendary beers, Stone Sublimely Self-Righteous Black IPA, was adorned with one the most unique interpretations of the Gargoyle.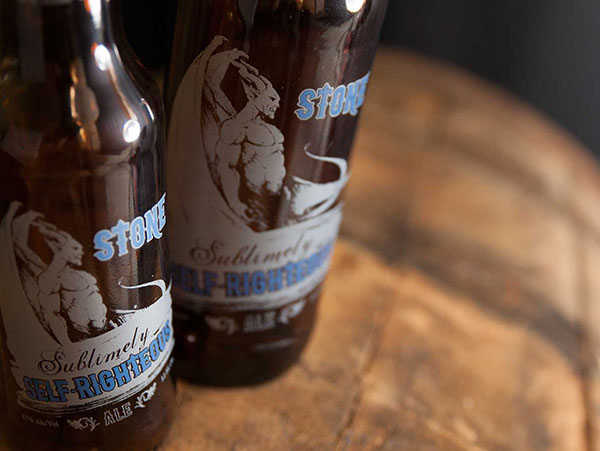 While some of these versions of the Gargoyle eventually phased out as their corresponding beers were retired, they each represent a piece of Stone's evolution. The new decade brought with it a few new looks for the Gargoyle. A new circular logo surrounded by hops and barley became the standard look, which eventually gave way to simply focusing on the Gargoyle's head. We also introduced the Tiki Gargoyle, celebrating the amazing combination of hops and and citrus fruit. While the full grandeur of the Gargoyle's wingspan has been utilized over multiple decades, we now focus on the most iconic element – the face. The Gargoyle's stoic yet confident expression conveys the boldness of our beers, our strength in the face of adversity, and our dedication to our ideals of quality, community and badassery.

Evolution of an Icon
A great way to track the evolution of our gargoyle is to look at the evolution of the iconic Stone IPA.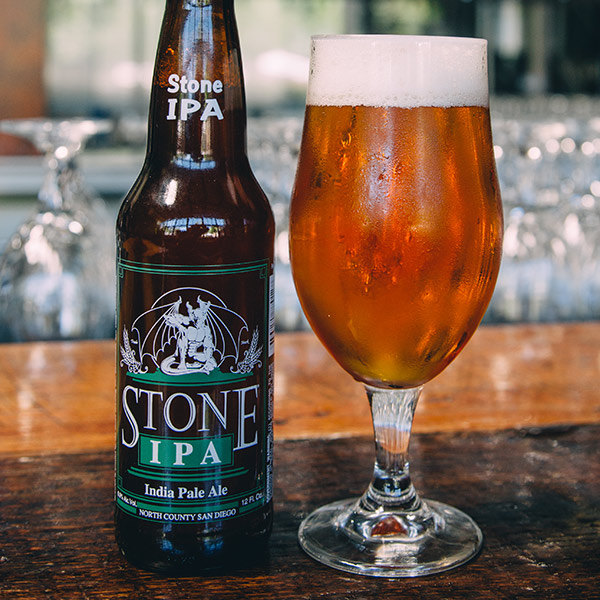 1997 - 2016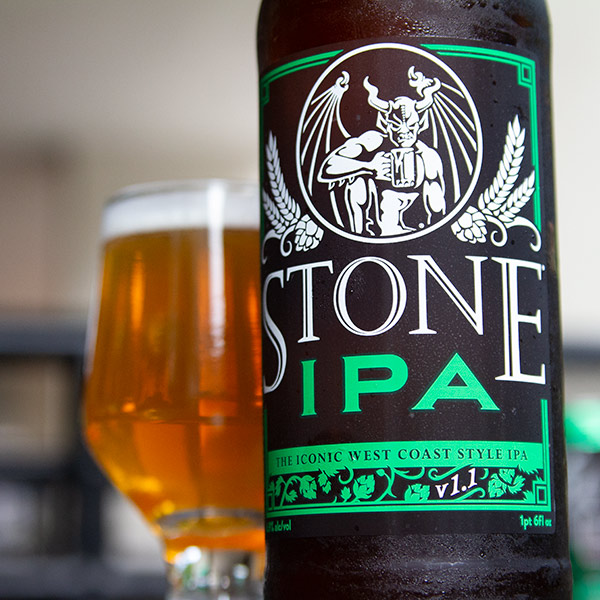 2016 - 2018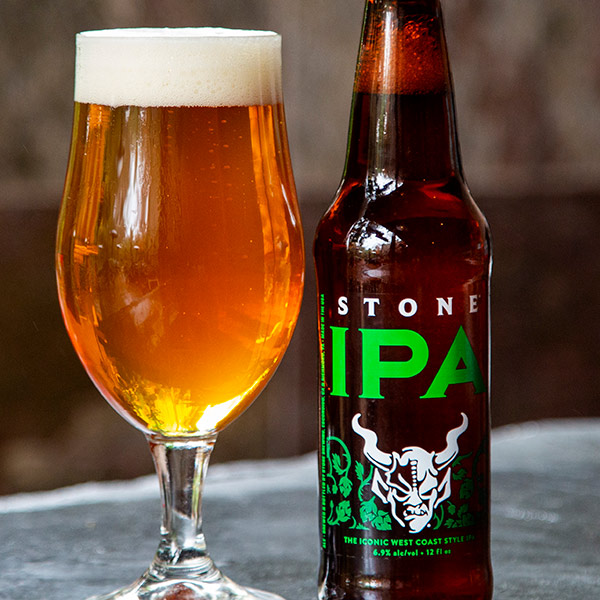 2018 - Present
The Gargoyle's Unique Looks
While the Gargoyle has evolved gradually over the years, it's also had a few unique one-off looks for specific beers and special occasions.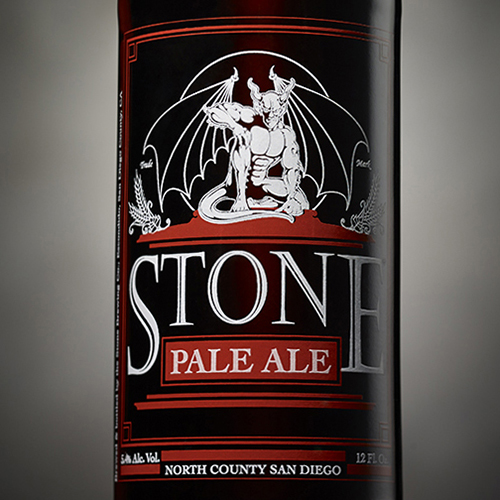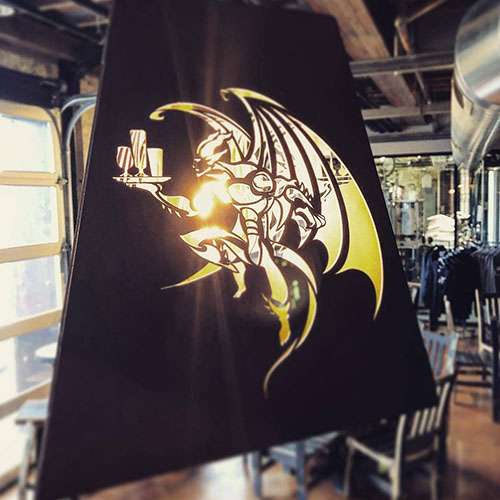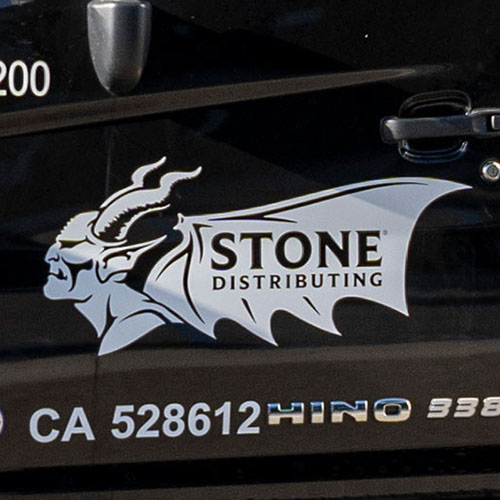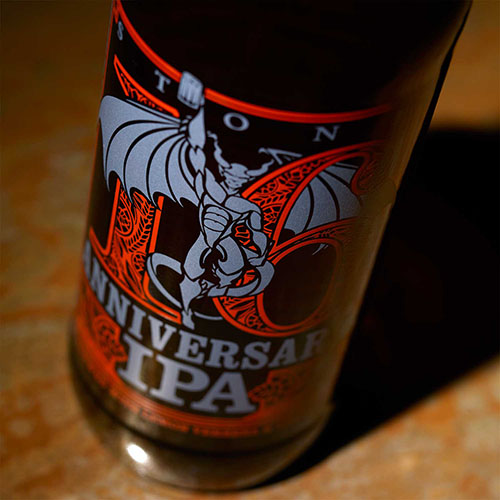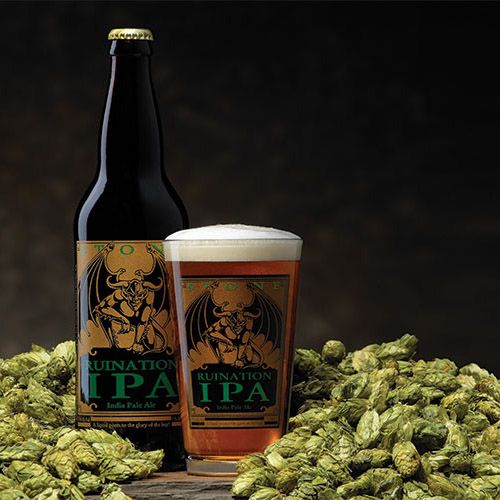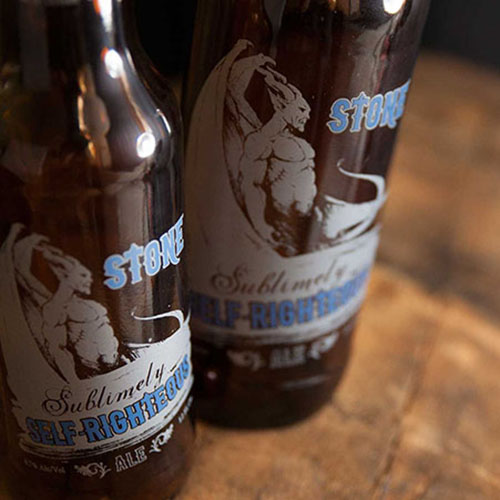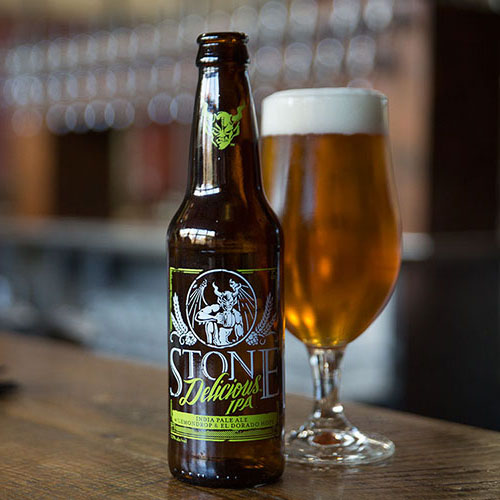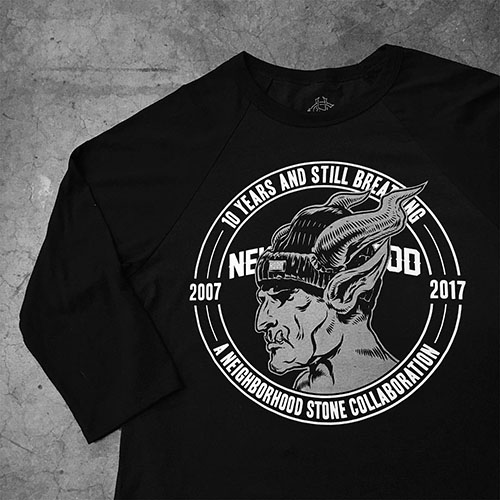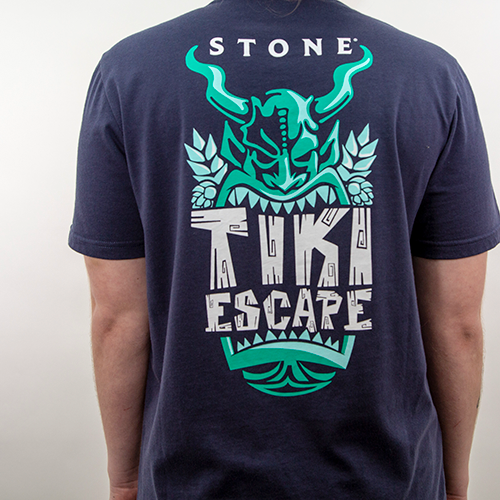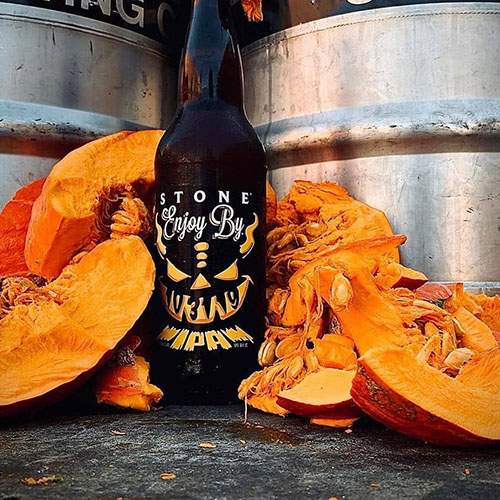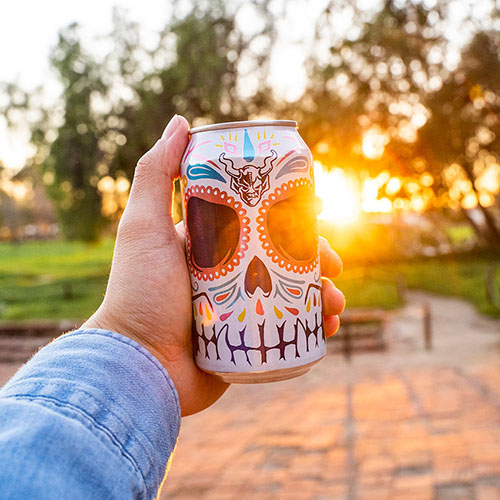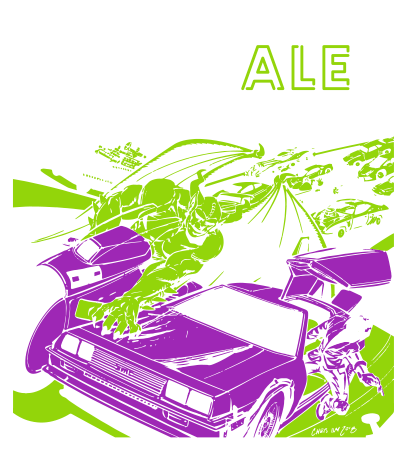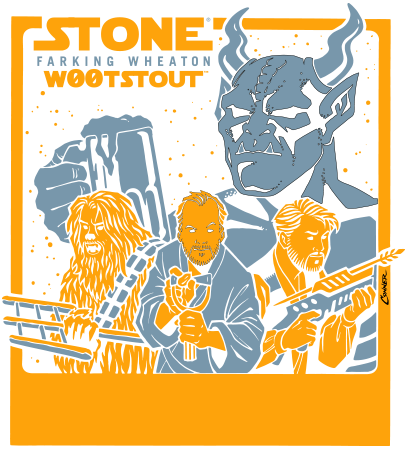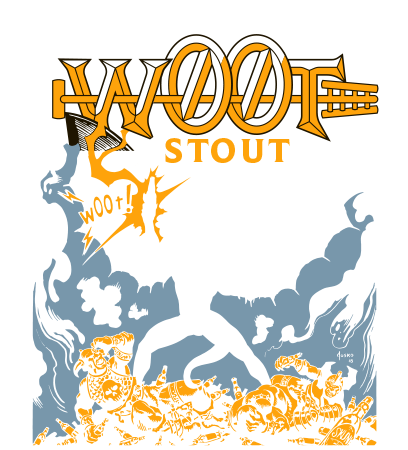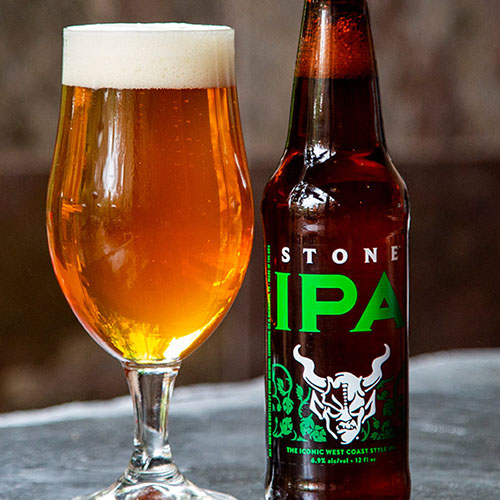 What's your take?
The Stone Gargoyle has seen a few different looks and iterations. Some came from our own immensely talented designers. Others from outside artists giving their interpretation of our winged protector. Now, we want to see your version.
We're looking for your take on an illustration of the Gargoyle that encapsulates the strong, independent ethos of Stone, while also maintaining the look of a Gargoyle that you'd like to share a beer with. Remember that he's the hero of our story. A force for good.
"Sounds interesting, but my artistic style doesn't fit the typical 'Stone' look." Hey, maybe not! But that just makes us even more excited to see your version of our Gargoyle! Specifically how it would look on a can, bottle or case/box. We wouldn't be where we are without our incredible fans, and we want to give talented folks like you an opportunity to share your work with the world.
Please send us your interpretation of our Gargoyle to social@stonebrewing.com by March 18. Include information on yourself and what Stone Brewing means to you. (Please use "Gargoyle Art" as your email subject line.)