Stone Scorpion Bowl IPA
A punch to the stinger
STYLE
India Pale Ale
ABV
7.5%
IBUs
76
AVAILABILITY
Nationwide
Image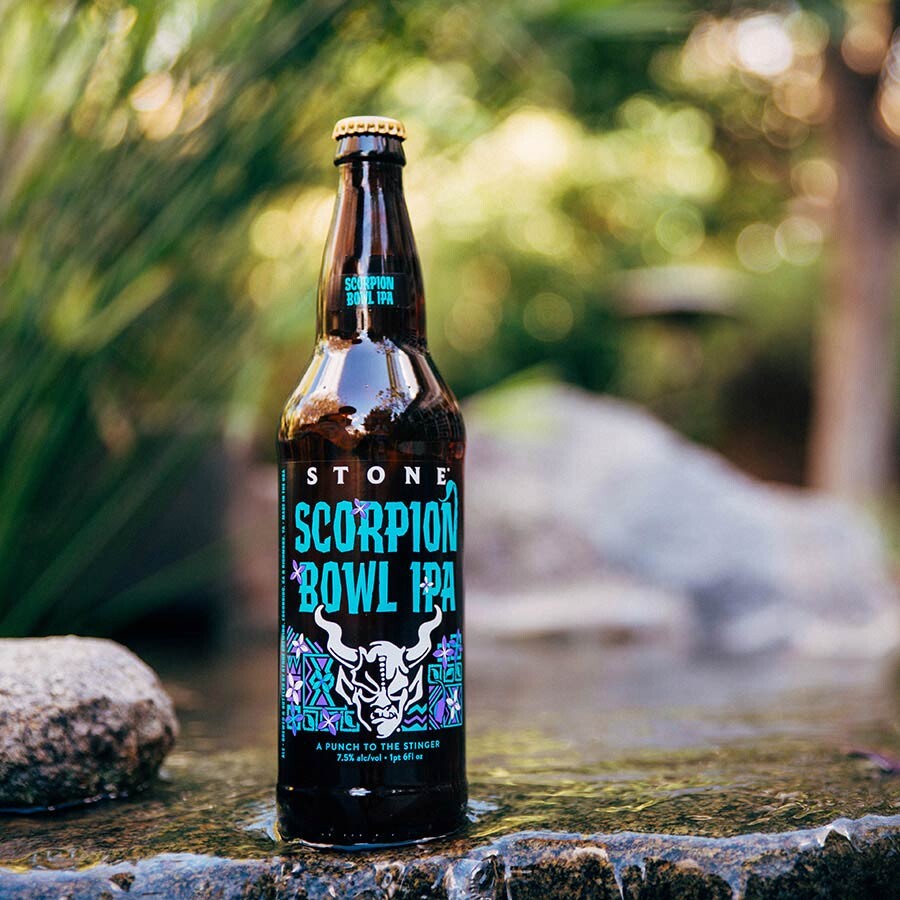 Image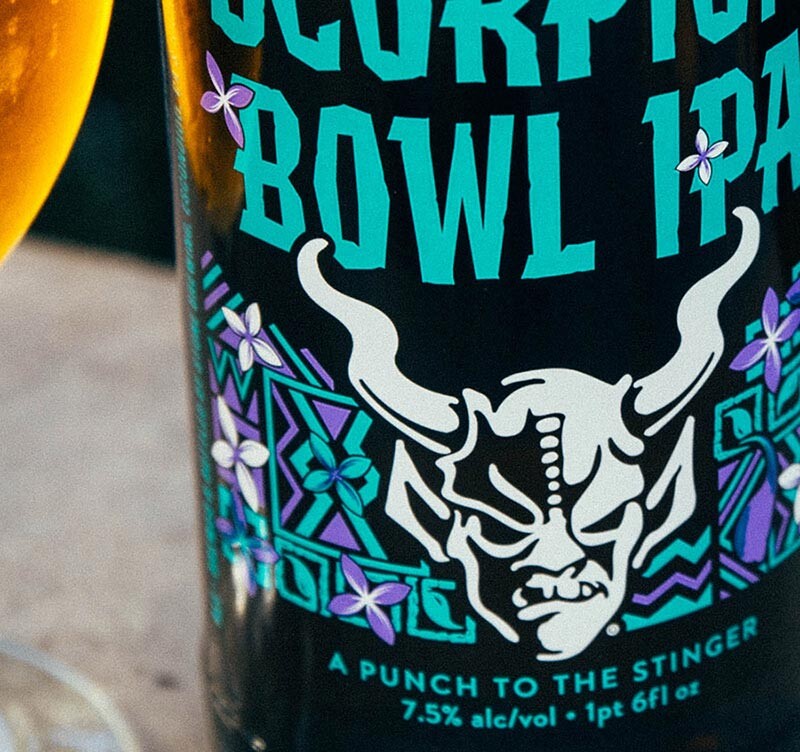 A mouthwatering fruit punch to the palate
To create a recipe so tropical and fruity without the addition of fruit was no feat our team of brewers would leave up to the gods. They took floral and citrus notes from Mosaic, Loral and Mandarina Bavaria hops to dish up a mouthwatering fruit punch to the palate. Get deserted on your own island or share with others. One thing is for sure: there is no need to light this one. It is already on fire.
ABOUT THIS BEER
Release Date
February 26, 2018
Tasting Notes
Featured Hops
Mosaic
Loral & Mandarina Bavaria
Flavor Profile
Complex and layered fruit throughout including juicy tropical fruit, tangerine, strawberry, blueberry, and subtle herbal notes.
Palate
Savory and tropical! There is a nice lingering fruit finish with just the right amount of bitterness.
Appearance
Deep gold, bright, thin white head.
Aroma
An explosion of tropical aromas! Essences of Hibiscus punch, pineapple, tangerine, guava, mango, and passion fruit.
Overall
This beer clearly shows the amazing fruit aroma and flavors that you can coax from an artful blend of hops. That's right, there was no fruit used in making this beer! All the complexities come from our lupulin-rich best friend….the almighty hop. When we tasted the original prototype for this beer, someone commented that it reminded them of a Scorpion Bowl cocktail. The description was perfect and the name stuck!
Pairing Notes
Starters
Fresh Spring Rolls, Wontons, Toasted Ravioli, Pierogi, Deviled Eggs, Grilled Artichoke, Honey Sriracha Quail Knots
Soups and Salads
Spinach and Strawberry Salad, Watermelon and Feta Salad, Tom Kha Gai, Tropical Black Bean Soup, Organic Mixed Greens Salad
Main Courses
Spanakopita, Chicken Tacos with Lime or Mango Salsa, Duck Al Pastor Tacos, Korean Fried Chicken, Mongolian Beef, Summer Squash Pasta
Desserts
Frozen Yogurt, Coconut Ice Cream, Grapefruit Panna Cotta, Pineapple Upside Down Cake, Mango or Pineapple Mochi
STAY INFORMED
Be the first to know about new beer releases & all things Stone.
(Plus something special for your birthday every year.)