Stone 21st Anniversary Hail to the Hop Thief Double IPA
STYLE
Double India Pale Ale
ABV
9.8%
IBUs
80
AVAILABILITY
Nationwide
The big wide world inspires our imagination and fuels our passions. Anything from music, film, beer, literature, architecture, food, engineering, poetry…all art forms essentially, including more beer. We steal with any and all things that possess the one value that we hold most dear: authenticity. The important thing of course is that 'It's not where you take things from – it's where you take them to.' So, what are we saying about this beer, exactly? We gave it our take. We took all there is to love about the IPA, got creative, dry-hopped it a lot, left it unfiltered and shared it openly in the hopes that in some way it may, in turn, inspire you. Hail to The Hop Thief, an original.
Image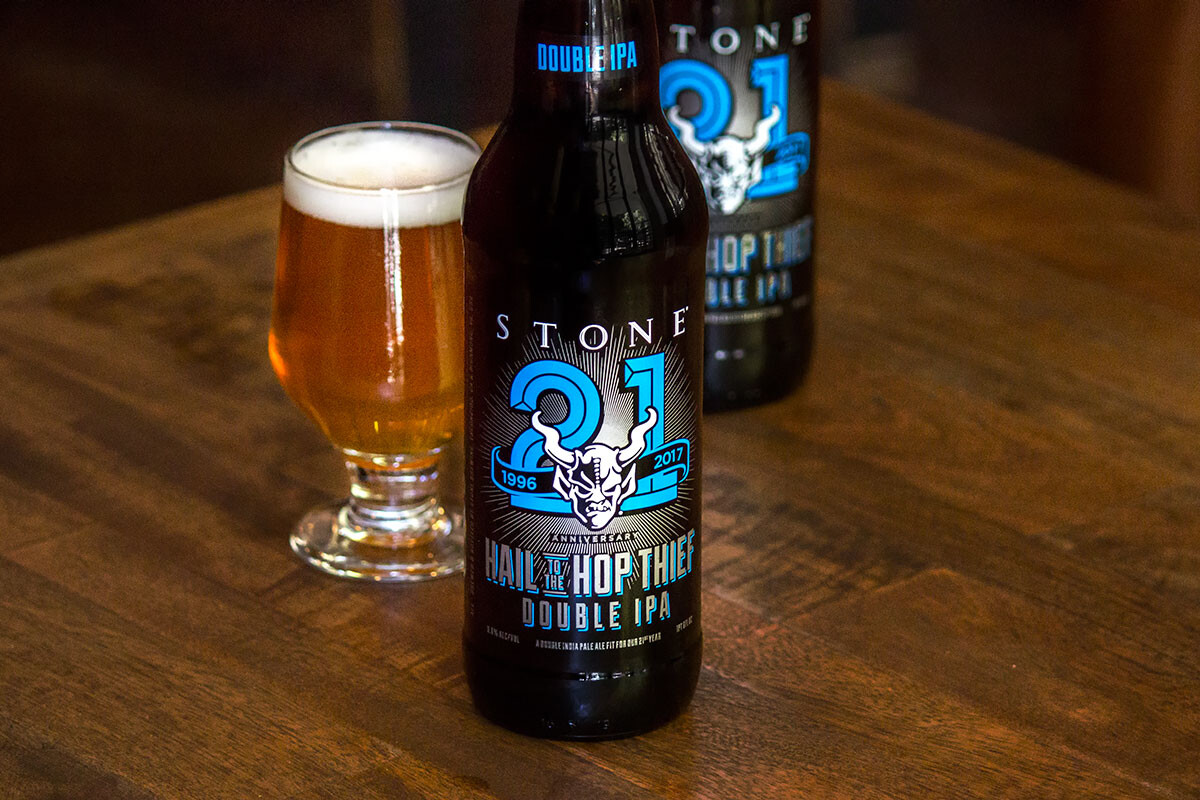 Image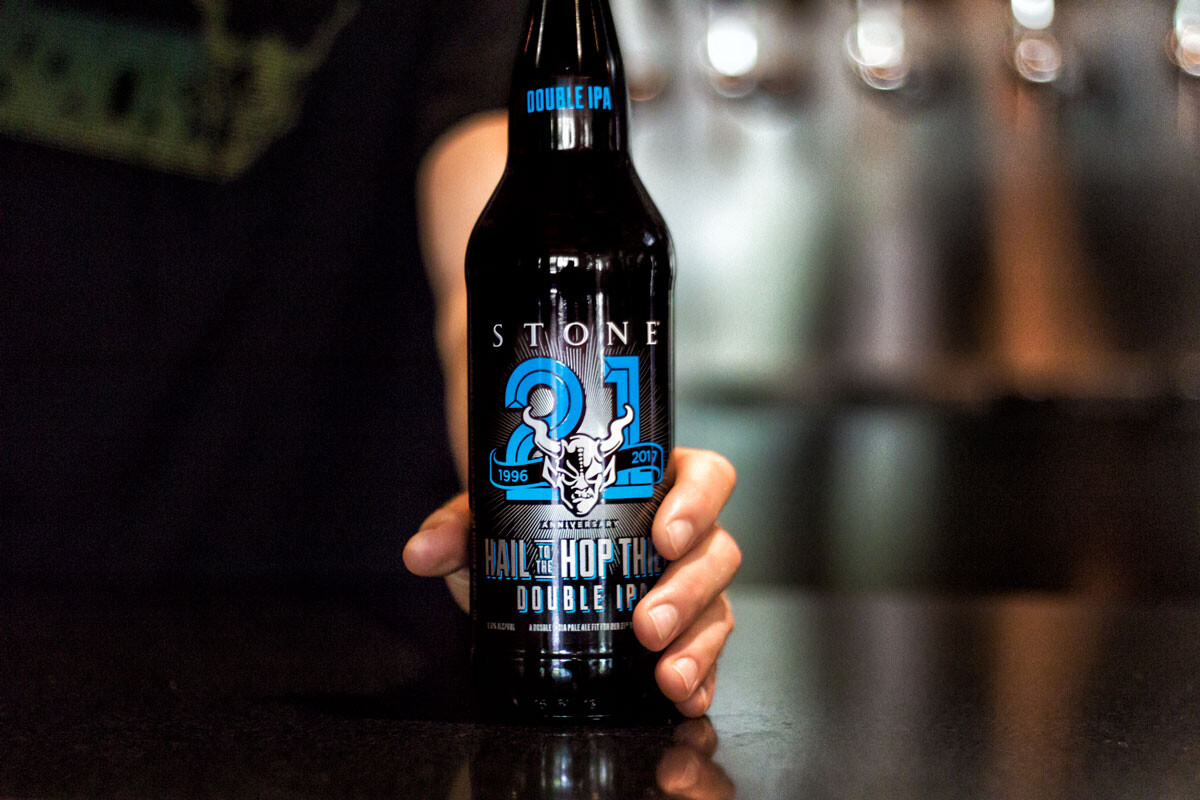 Image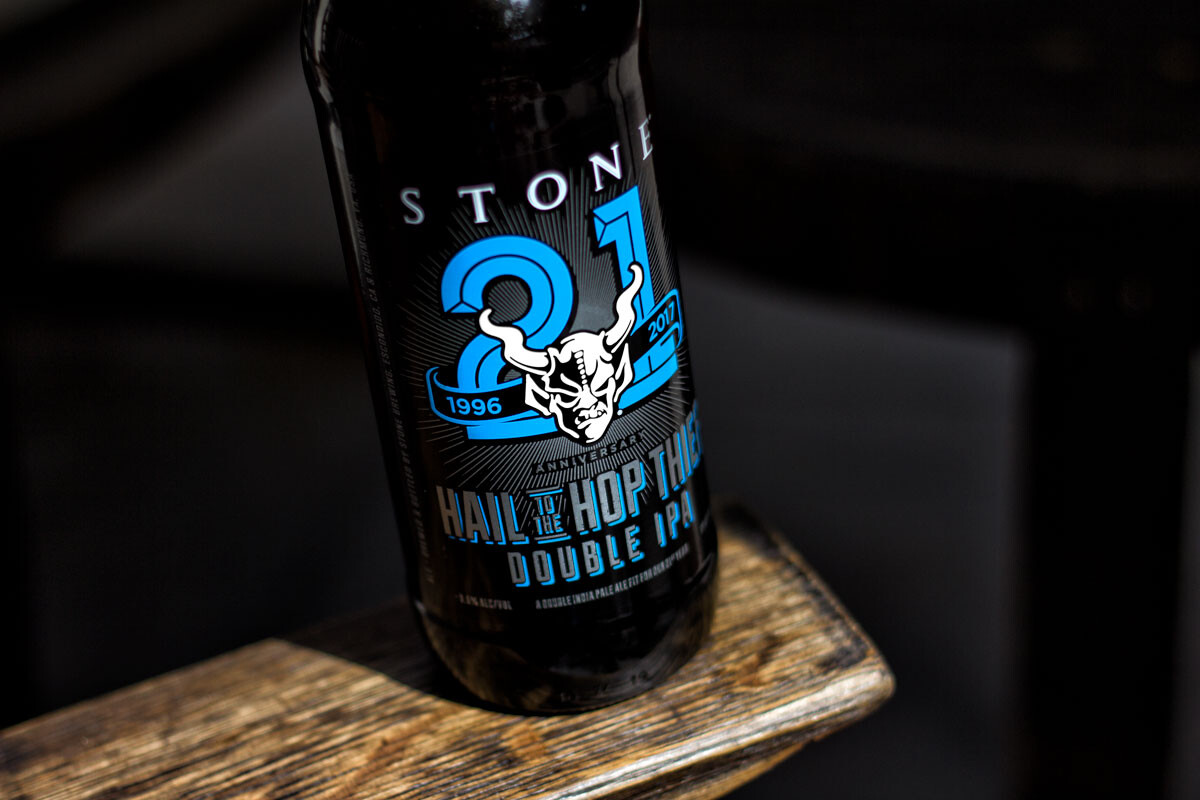 A Double IPA Fit for our 21st Year
ABOUT THIS BEER
Release Date
August 14, 2017
FEATURED HOPS
Magnum
Mosaic®
Pekko
Hopsteiner Exp. 06300
Tasting Notes
Appearance
Deep gold with some haze from being unfiltered.
Aroma
An amazing array of aromas: grapefruit, pineapple, flowers, orange, fresh peaches and cherry candy.
Taste
Layers of different fruit unfold from a pleasant wheat back-bone. A lot of peach, orange, and candy flavors pop up front with some hop resin and solid bitterness and notes of alcohol.
Palate
An intense beer all around! Big fruit in a big beer but balanced throughout with a good amount of bitterness anchoring this Double IPA.
Overall
We were looking for a different hop to blend with Mosaic in a beer and decided upon Pekko—a hop that we featured in Stone Old Guardian Barley Wine in 2015 that contributes bright fruit and candy aroma and flavors. The combination of these two hops worked really well and we took it one step further, combining those in the dry-hop with "06300," an as of yet unnamed experimental hop we really enjoy. Finally, with wheat as a component in this unfiltered IPA, the addition here makes for a nice soft malt backbone for the hops to launch off into the foreground.

Our anniversary is a special time of year for us to celebrate both where we have been, as well as where we are going. This edition stands proudly with the others as it showcases our love for brewing and beer. There is no more of a rewarding feeling than sharing this love with not only our brothers and sisters throughout Stone Brewing, but with our fans as well who continue on this amazing journey with us.
Pairing Notes
Starters
Shumai or Wontons with/Pork & Shrimp, Chicken Satay, Deep Fried Tofu, Poke
Soups & Salads
Lobster Bisque, Toasted Barley & Spinach Salad, Strawberry Arugula Salad, Sopa de Lima
Main Courses
Stone Peruvian Style Chicken, Avocado Tacos, Beef Empanadas w/Chimichurri Sauce
Desserts
Pineapple Upside Down Cake, Mango w/Sticky Rice, Strawberry Shortcake, Lemonbars
STAY INFORMED
Be the first to know about new beer releases & all things Stone.
(Plus something special for your birthday every year.)