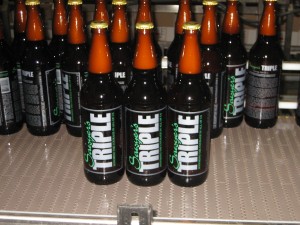 My job here at the brewery (tours, fan correspondence, special events, etc.) gives me the frequent and pleasurable opportunity to interact with our fans on a daily basis. I definitely think it's important that people be able to connect with us on a personal level and understand, that behind all the Arrogance and bombast, we are in fact ordinary—but no less interesting and authentic—folks just like themselves. This honest and unstaged interaction makes people feel good about supporting us in what we do. And one very central part of our mission in our endeavor to make fantastic beer, one that further strengthens this relationship with our fans, is our involvement in charity work. This is, of course, no glossy public relations chore, but rather a deep abiding, heartfelt conviction that dedicating ourselves to being the best brewers we can be means also dedicating ourselves to being the best citizens we can be—and that means bettering the community in which we live in every way we can.
Occasionally, this commitment has moved us to take up important causes that directly affect many of us here at Stone on a deeply personal level.
Some of you may recall a special beer that we brewed back in 2003 under the name "Sawyer's Triple," a golden, Belgian style ale quite unlike anything else we'd ever done before. By all accounts it was a marvelous beer, and I often get inquiries from fans as to whether we would consider bringing it back. Well, we are indeed bringing it back, and we are doing so to further the same cause that we took up some five years ago when we originally brewed this very special beer: the fight against ALD. ALD (Adrenoleukodystrophy) is a rare and devastating neuro-degenerative disease that typically affects young boys, ultimately taking them from us before they see their twelfth birthday. You may recall this illness from the 1992 film Lorenzo's Oil.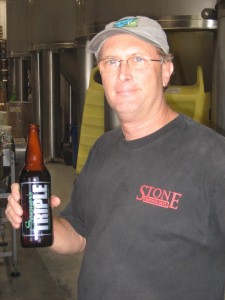 You may also recall that Sawyer's Triple is named in honor of Sawyer Benjamin Sherwood, the son of Bill Sherwood, Stone's facilities manager and an accomplished brewer, and his wife Janis Sherwood. Sawyer was a wonderful kid, and we are truly blessed to have had the privilege of watching him play baseball, running around the brew house while visiting his dad at work, and just being a bright, happy and energetic little boy. Bill, as a loving father and dedicated brewer, crafted Sawyer's Triple soon after Sawyer was diagnosed with this terrible condition in the spring of 2003. The beer was to be sold specifically for the purpose of spreading an awareness of ALD and to help find and effective treatment, and eventually a cure, for this tragic affliction. 100% of the sales of this beer were donated towards the fight against ALD.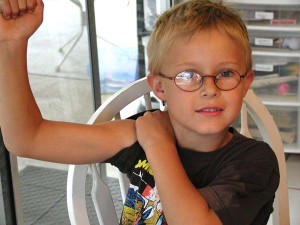 Sadly, Sawyer left us just before the initial release of Sawyer's Triple later that year. But the cause continues, and we at Stone are just as dedicated as ever to rallying the kind and enthusiastic support from among our fans and the greater community that makes it possible to improve and save lives. Therefore, it is with no small amount of gratitude and conviction that we are pleased to announce that we are bringing back Sawyer's Triple again for the very same noble endeavor. And I want to personally invite you to participate by spreading the word—and by picking up a bottle (or two…or three) of this ale that we have brewed on behalf of such an important cause.
Here is what you need to know:
Bottles of Sawyer's Triple will be available for sale at the Stone Company Store starting Tuesday, November 11th. The 22 oz bottles will sell for $6 each (plus tax and CRV).
Sawyer's Triple will be available on draft as well at the Stone World Bistro & Gardens for $6 a pint.
As before, absolutely 100% of the proceeds will go to charity; specifically, to Fight ALD!, the research and education foundation started by Janis Sherwood.
Although the sale of Stone Special Release beers has often been limited to 2 or 3 bottles per person, there will be no such limit for Sawyer's Triple. Please note, however, no "case discount" will be in effect in order to provide Fight ALD with as much funding as possible.
Currently, Sawyer's Triple is available for sale exclusively here at Stone.
I hope that you will join me, Team Stone, and the rest of our devoted fans in paying tribute to a noble spirit and in promoting a noble cause. Here's to your health, generosity, and fulfillment!
-Ken Wright

Links