Remember way back on April 1st when we announced our next collaboration beer, BrewDog/Cambridge/Stone Juxtaposition Black Pilsner? Remember how clever you felt when you dismissed it as an obvious April Fools gag? Stone brewed a Pilsner? Yeah right. Then remember how foolish you felt when we confirmed that it was true—that it was in fact a real beer? Man (knee slap), good times. Now that the confusion and hurt feelings have subsided, all that's left is a very real—and very good—Black Pilsner (we know, there's no such thing, but let's put that aside for now…or forever). We brought you the play-by-play on brew day with James Watt from BrewDog, Will Meyers from Cambridge Brewing Co., and our Head Brewer Mitch Steele, but there's more to the story.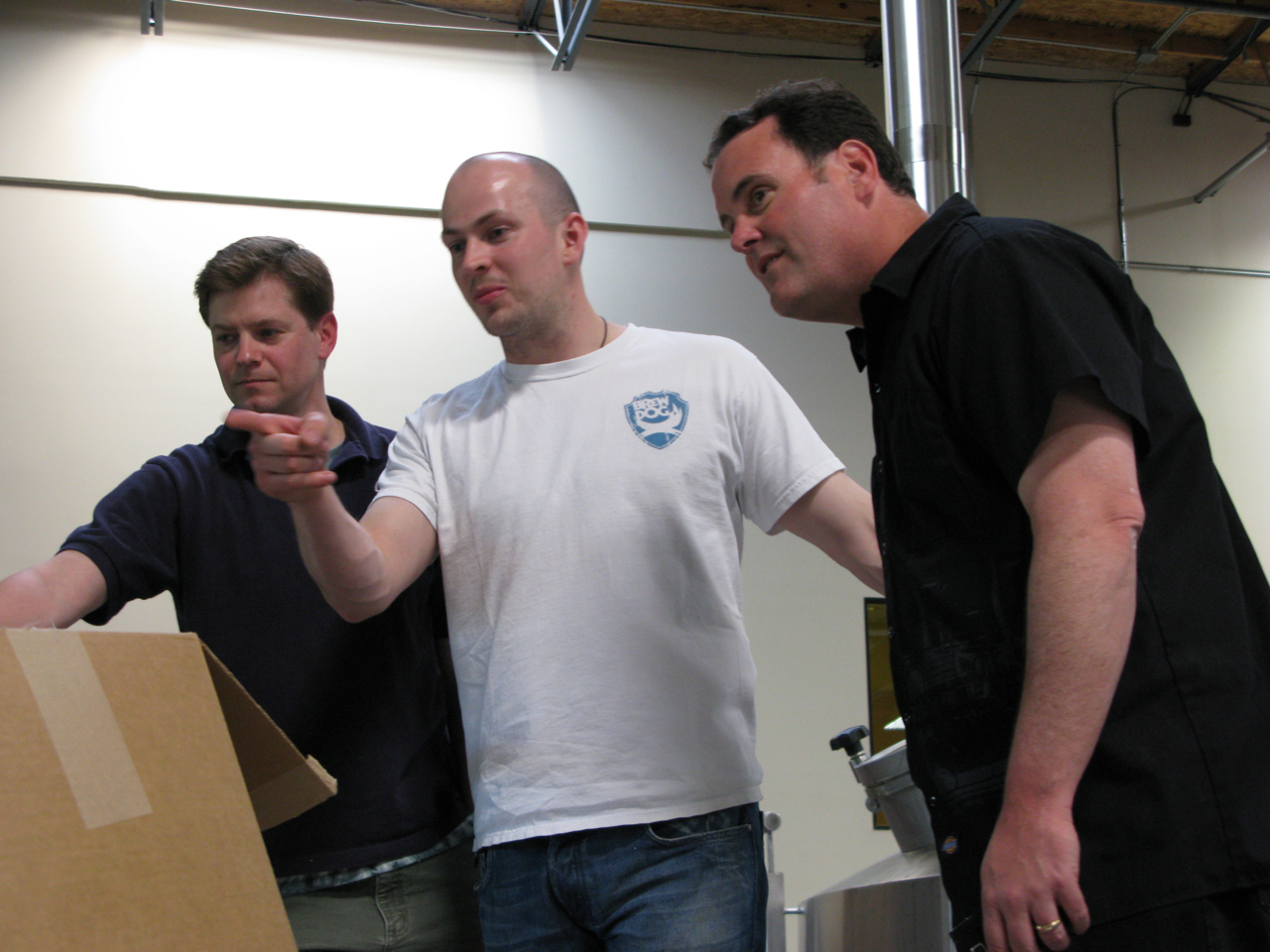 Will Meyers, James Watt, and Mitch Steele - three master brewers at work.
First of all, let's tackle this whole "lagers take longer to brew" myth. SOME do. There are major brand lagers that take less time to brew than craft brewed ales. Yes, a craft brewed lager may typically take longer than a craft brewed ale. Blah, blah blah. Congrats if you've stayed with me this long, hell I was starting to bore myself. The bottom line is the end result. Says me. Now let's move on. All I can say is that this beer better be better, because this lager took roughly four times longer to ferment and condition than a typical Stone beer (we also bottle-conditioned it for a few weeks, further prolonging its release). After looking back at the brew sheet, Mitch found that primary fermentation took 30 days, and aging (aka 'lagering') took 50 days. That's a total of 80 days that the beer spent training to be the best damn Black Pilsner around.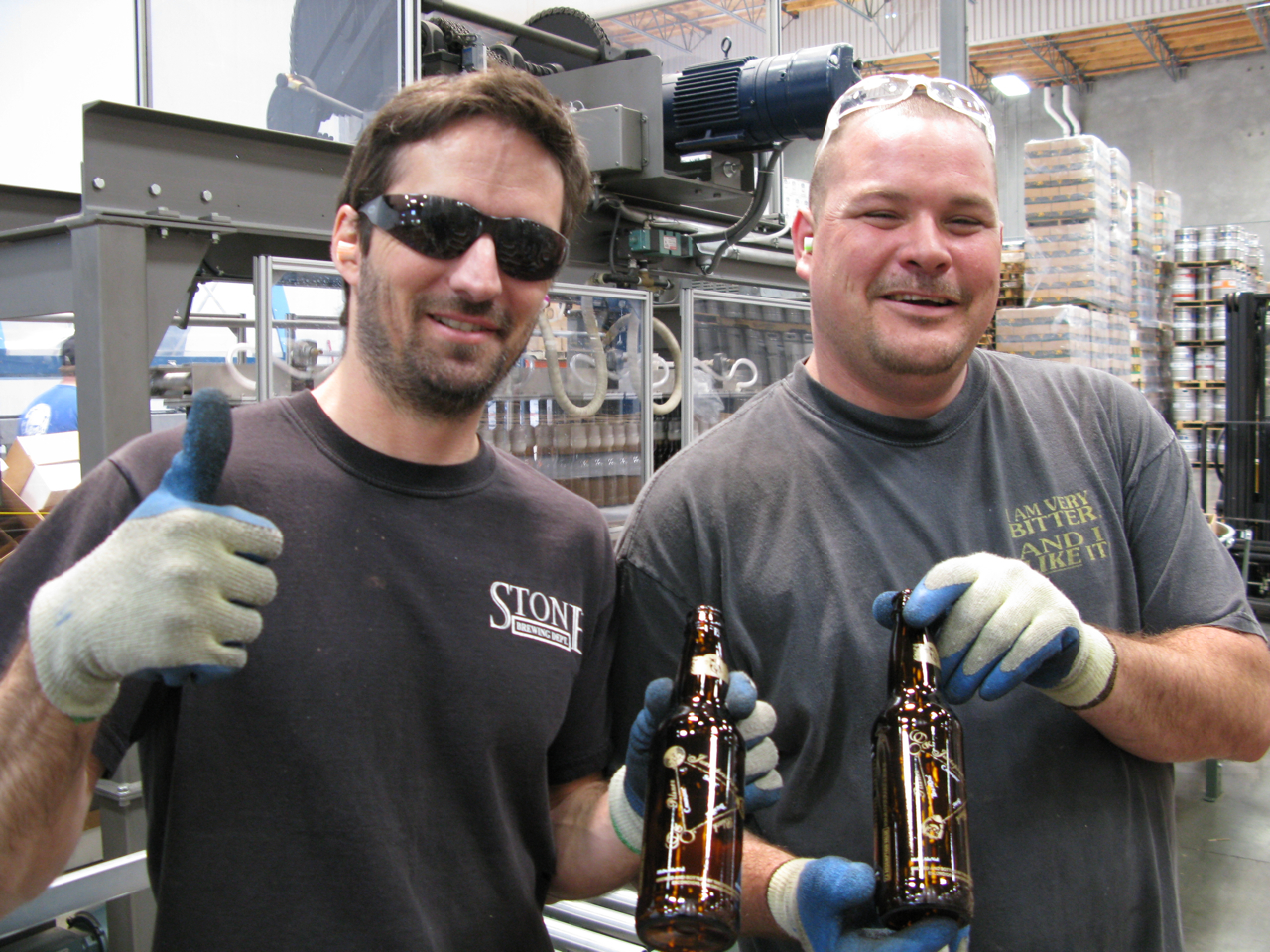 Bottling Line Operators Steve Parks and Ryan Roersma modeling the shiny new bottle
The eclectic hop bill was also a bit of a challenge to balance. From the beginning, the plan was to use 100% Saphir hops in the dry-hop because it has the most "Pilsner-like" qualities, and the Brewmasters thought it would lend the beer a nice "elegance." However, they also realized early on that Saphir hops are fairly subtle, and they might not give the beer enough of a hop kick. Then, on June 12th, the beer gods smiled upon us. In a fortunate turn of events, James just happened to be in town from Scotland promoting his tasty beers, and he was able to stop by the brewery and corroborate with Mitch on what to do next. They tasted two versions of BrewDog/Cambridge/Stone Juxtaposition Black Pilsner, one dry-hopped with Saphir, and one double dry-hopped with Saphir and Sorachi Ace. Lo and behold, they came to a decision. "We agreed that the Sorachi Ace addition kicked the beer up a notch," said Mitch, "right where we wanted it to be." When Will was consulted about the extra dry-hopping, his response was: "The hoppier the better!" We knew we liked that guy for some reason.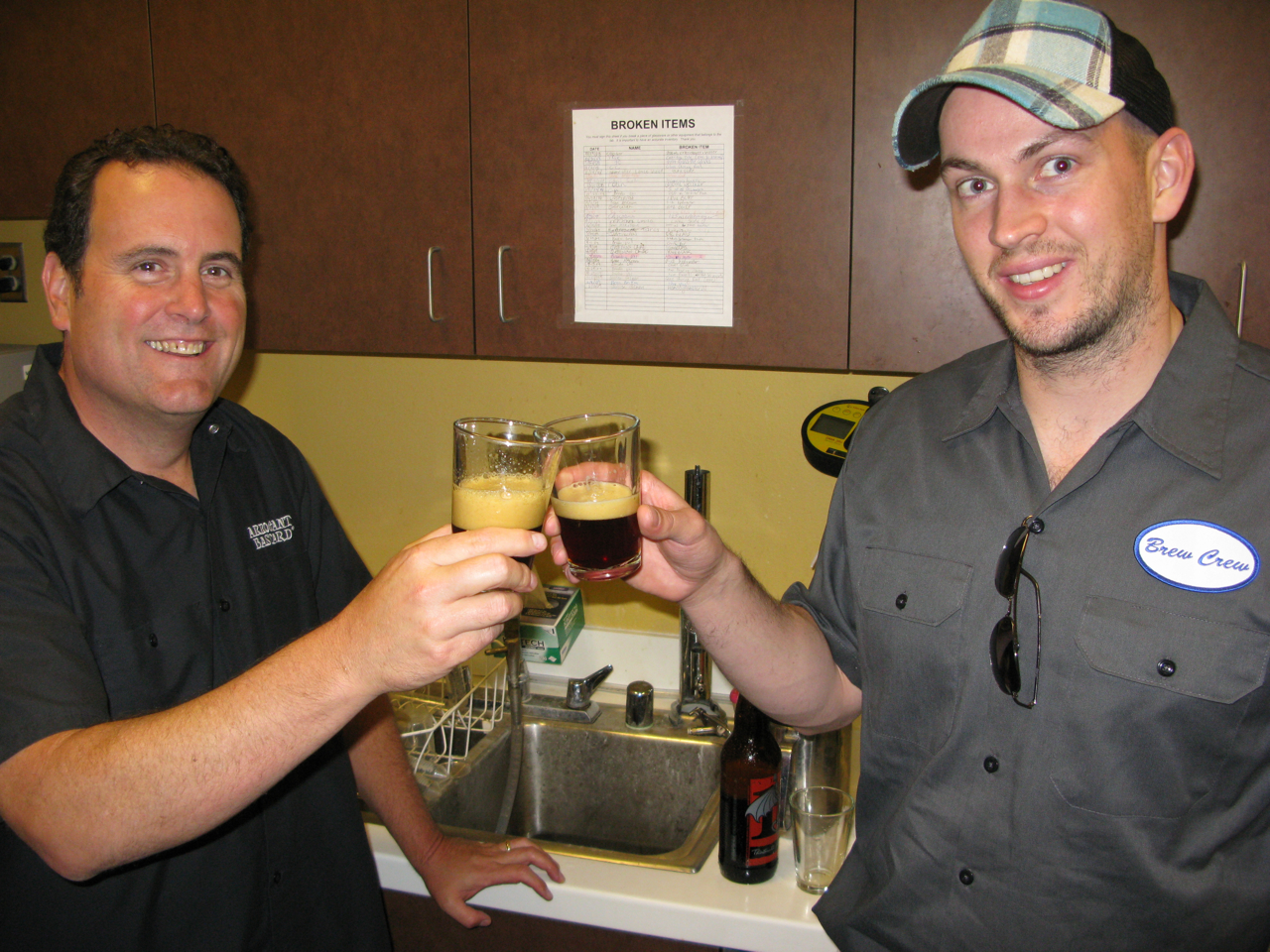 Mitch and James tasting beers when James was in town on June 12th. After tasting two versions of Juxtaposition, they decided to go ahead with a second dry-hopping with Sorachi Ace hops. They celebrated their decision by tasting Stone 13th Anniversary Ale. Rough life.
Thanks to the unparalleled artistry of these three brewmasters, BrewDog/Cambridge/Stone Juxtaposition Black Pilsner is shaping up to be one amazing Black Pilsner…err…wait….what? You still have a problem with us calling it that? Fine. It's probably a Black Double Pilsner anyway. Feel better? Alright, let's put this to rest. Just what the hell is a Black Pilsner, anyway? "It's a Pilsner in the fact that we brewed it with Pilsner malt and fermented it with Pilsner yeast," said Mitch, "but it's bigger, darker and hoppier, and it's unlike any beer I've ever had." There you have it. Settled.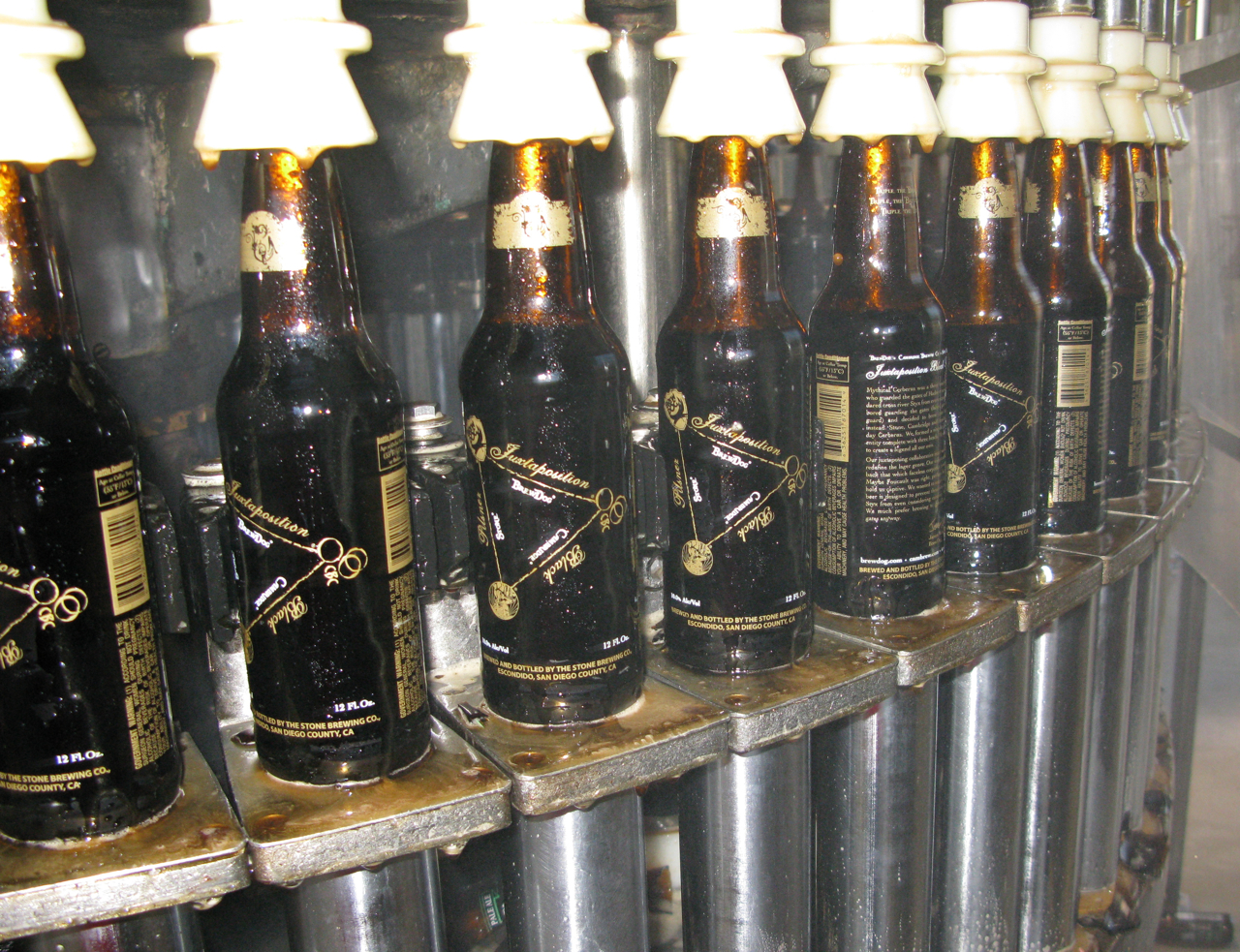 Bottles going through the filler. Look at that gold glisten...
Now for the bad news—we didn't make a ton of this beer. In fact, the yield was so low that it's only going to be available in a few lucky locales (see below) in VERY limited quantities, and in 12oz. bottles only (sorry to crush your hopes and dreams). So when can you get your hands on it? BrewDog/Cambridge/Stone Juxtaposition Black Pilsner will start hitting store shelves this Monday, July 27th. Prepare yourself for the best damn Black Pilsner EVER. The following places will be receiving small quantities of BrewDog/Cambridge/Stone Juxtaposition Black Pilsner in 12oz. bottles: Scotland Massachusetts Georgia Washington Oregon (Portland) Arizona N. California S. California New York Ohio Virginia Colorado Check out information on our previous collaboration beers - Matt Steele