With all the latest beer gossip just a click away, it's near impossible to keep a secret these days. Many of you may have heard rumors about Stone 13th Anniversary Ale, but it's time we set the record straight. Here's the official word: Take your idea of a hoppy Stone beer and throw it out the window, because Stone 13th Anniversary Ale is the hoppiest beer we've ever brewed. Just how much hops is in this year's batch? You may want to sit down for this…4.5 lbs. PER BARREL! To lend you a bit of perspective, Stone 10th Anniversary IPA, revered by many as the quintessential hopped-up Stone Anniversary Ale, had about 2.5 lbs. per barrel.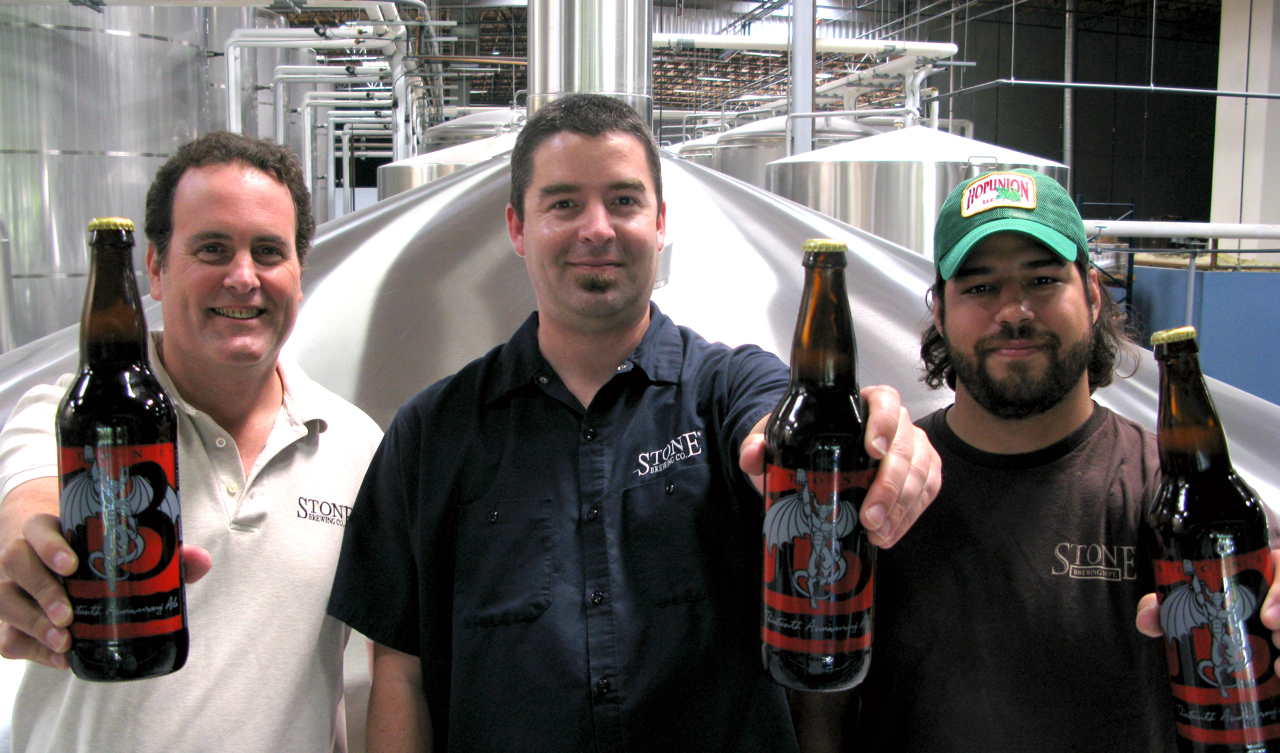 Brewers Mitch Steele, John Egan, and Tom Garcia showing off our latest creation
Stone 13th Anniversary Ale has officially trumped our collaboration brew, BrewDog / Cambridge / Stone Juxtaposition Black Pilsner, as our hoppiest beer. Of course, all those hops would be worthless if the beer wasn't balanced. That's where brewers Mitch Steele, Tom Garcia, and John Egan came in. When Steve and Greg gave the green light, Mitch, Tom, and John took the reins of the recipe. The beer went through three iterations before they dialed it in, finally deciding on Chinook hops for bittering and a 50/50 blend of Centennial and Simcoe hops for dry hopping. The careful blend of hops, combined with pale malt, various crystal malts, amber malts, and just a touch of chocolate malt, resulted in a rather tasty 7% abv red ale—but it just wasn't quite worthy of a Stone Anniversary Ale yet. "It had a nice hop character," said Mitch, "but it didn't have that extra something that I thought the beer needed." After tasting it, Greg even asked Mitch "It's going to be bigger, right?" To which Mitch replied "Yeah, it's going to be bigger." The solution was to bump up the hopping and alcohol a bit, and the result was a very big, very Stone 9.5% abv Ale. As if that wasn't enough, the brew crew decided to dry-hop it again just prior to filtering and packaging.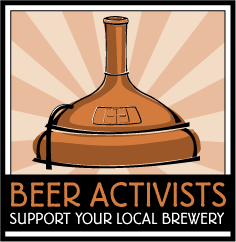 Click above to check out the Stone 13th Anniversary Ale web page
When asked to describe Stone 13th Anniversary Ale in one word, guess which word Mitch chose? You guessed it--"Hoppy." Sure, it's a monstrously hopped, extremely bitter beer, but it also has a bold malty character that balances out the bitterness. "It's really bitter, but it's also malty," said Mitch. "It's pretty well balanced; not as dry as you'd think." Dr. Bill agreed with Mitch when he tasted it. "It's really well balanced for as hoppy as it is," said Dr. Bill. "And it has a nice malt complexity with hops throughout." Mitch knows that hop-heads who missed hops in last year's Stone Anniversary Ale will rejoice, not only because Stone 13th Anniversary Ale is a hop monster, but because it's damn good. "I think it's going to be right up there with some of the older Anniversary IPA's," he said, "and if all goes well, right up there with the Tenth." We'll let you decide when Stone 13th Anniversary Ale is released on June 29th. -Matt Steele