One of the things we love about craft brewing is the great sense of camaraderie. The best craft brewers are more focused on expanding the market than competing against each other, and that's why we love collaborating. Collaboration brings brewers with different attitudes, philosophies, and techniques together with the sole purpose of furthering our craft (ok, and having fun and sharing beers too!). Our last two collaboration beers were great successes, and testaments to the incredible talent of all involved. When it came time to plan our next collaboration, Scottish brewery BrewDog seemed like a natural choice for Greg Koch and Mitch Steele. "
Greg and I were introduced to James' and Martin's (BrewDog's two business partners) beers about a year ago, when we traveled through Scotland," said Mitch. "We were blown away by their ability to brew hoppy, assertive beers and get away with it in the UK." James and Martin were inspired to start brewing by the American craft beer scene, and were stoked to take part.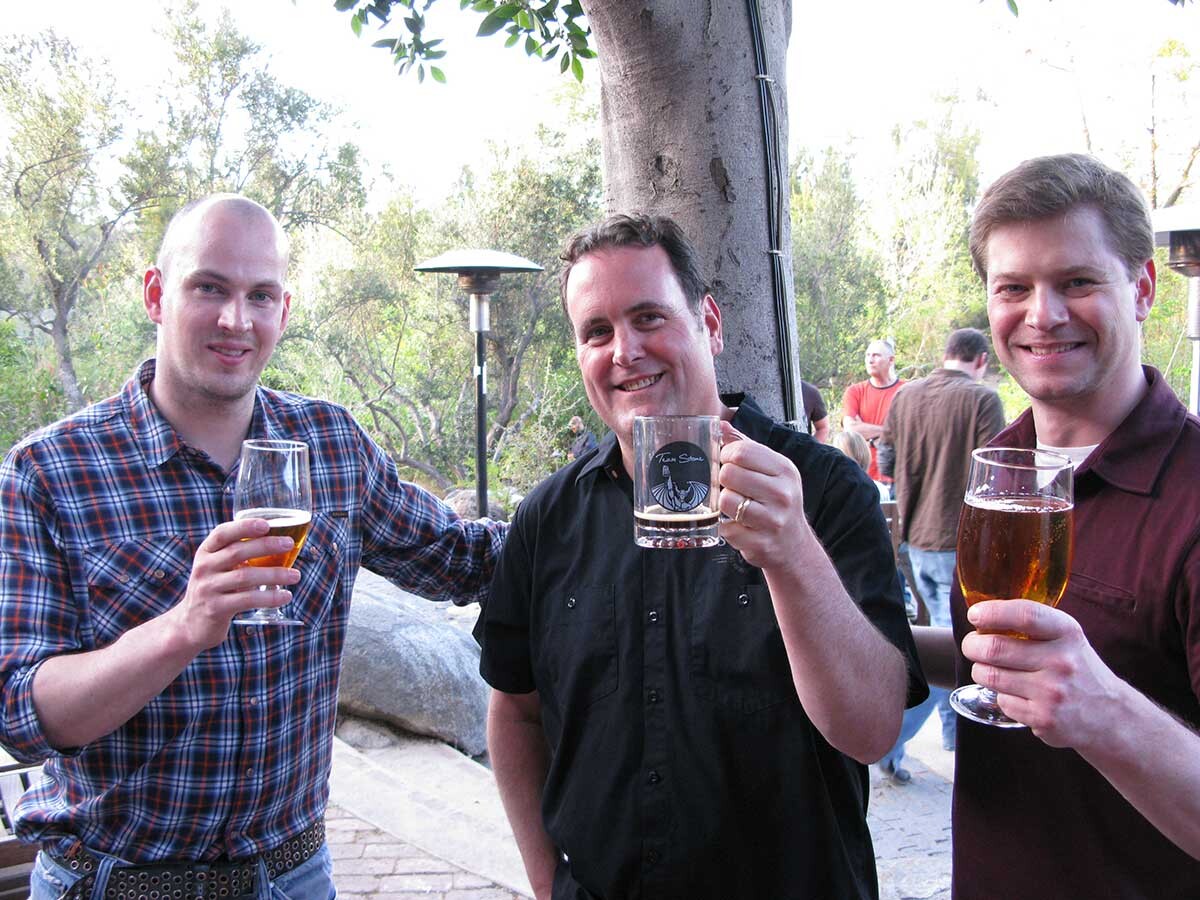 As soon as BrewDog was on board, Mitch made a phone call to Will Meyers from Cambridge Brewing Co. Will and Mitch had known each other for about nine years and always thought it would be cool to brew together someday. When Will got a message from Mitch asking him to participate in the collaboration, he reacted accordingly. "After I got done doing a little beer dance around the cellar I called him back and the rest is history," said Will. "I was familiar with BrewDog as I'd stumbled across their beer in England last June, and was psyched to be offered the opportunity to work with two other forward-thinking, ballsy brewers." Once both brewmasters were committed, the next step was to brew a pilot batch. The distance between the brewers provided a bit of a logistical challenge, so they opted to collaborate over email to brew the pilot batch here. Being the innovative brewers they are, they eventually decided to try something that none of them have ever brewed before, and for that matter, something that NO ONE has ever brewed before.
https://www.youtube.com/watch?v=4vdNRjRaqBE
When Will and James flew in last Thursday and tried the pilot, they confirmed what they suspected—we had something very special on our hands. After agreeing to use a bit more dark malt, the brewmasters went over their game plan for the next day, then retreated to the Bistro where we celebrated with the help of local beer fans at our "Pilot-Palooza" event. It was a fitting start to an epic collaboration. The next day the brewmasters got down to business, putting in a long hard day of brewing. They started by mash-hopping the brew, which is a first at Stone. The brewmasters adhered to their initial recipe for the most part, but were afforded the luxury of tweaking the recipe during the process (who says you can't build a car while driving it?). For example, they decided to make a last minute hop addition to balance the bitterness. Will explains the reason for the decision in the clip below:
https://www.youtube.com/watch?v=ziOPaMUrWtw
The immense scale of the batch amazed Will, who brews on a 10-barrel system back in his brewpub in Cambridge. Aside from using 10,000 lbs of malt, the batch required ten separate kettle hop additions, resulting in 326 lbs. total hops (3 lbs. per barrel!). Will remarked that he added more hops in one kettle addition than he uses in an entire batch at home. We're no strangers to obscene amounts of hops, but according to Mitch, this is the HOPPIEST beer we've ever brewed. At the end of the arduous brew day the brewmasters were satisfied with their creation. It turned out even better than they anticipated. It's our pleasure to introduce the fruits of their labor, and the first lager EVER brewed at Stone: BrewDog / Cambridge / Stone Juxtaposition Black Pilsner.

That's right…a Black Pilsner (and at 10% abv, one might be tempted to call it a Double Black Pilsner…but we're not…we'll let the style zealots start endless discussion threads on their own on that...we're just brewing the damn beer…everyone will have to figure out for themselves what the hell style it is…just sayin'). Aside from being the first lager ever brewed at Stone (and using Bohemian lager yeast no less), this beer represents several other Stone "firsts." This is the first time we've used Japanese Sorachi Ace hops and Motueka hops from New Zealand (there are no American hops in this beer). It's also our first time both mash-hopping and mash-wort hopping a brew, as well as our first time using more than two kettle hop additions (there were 9 hop additions throughout the wort boiling process). Of course, as a lager, BrewDog / Cambridge / Stone Juxtaposition Black Pilsner will have to sit in the fermenter tanks several more weeks than a typical batch, so we won't be able to enjoy the final for a while. We haven't picked a release date, but rest assured that we'll let you know the second we do. Will put it best when he said "We have a big freaking beer on our hands." It's bold, black, 10% abv, and over 100 IBU's in wort. This beer isn't for sissies. And if you're saying "there's no such thing as a Black Pilsner," let us correct you—there is now. We just brewed it, and it will be amazing (so says us). Check out the YouTube playlist below. We'll be adding more videos from the brewing process soon! While you're at it, check out the flickr set too!
-Matt Steele