2010 marks the 10th year we've brewed our darkest, most foreboding beer: Stone Imperial Russian Stout, the most recent incarnation of which will be released on April 19th. We take great pleasure in knowing that Imperial Russian Stout has brought its inky, formidable joy to the mouths of Stone fans for a full decade now, all the while accumulating a flattering collection of awards and praise. In honor of this palate-pounding milestone, we decided to make something special in tribute to our beastly, luscious imperial stout. A shadowy meeting was held to determine an appropriate honor for Imperial Russian Stout on its big anniversary. Since inspiration doesn't come out of thin air, kegs of Imperial Russian Stout from 2003-2010 were hauled up from the depths of our archives, including a special bourbon barrel-aged version from 2008.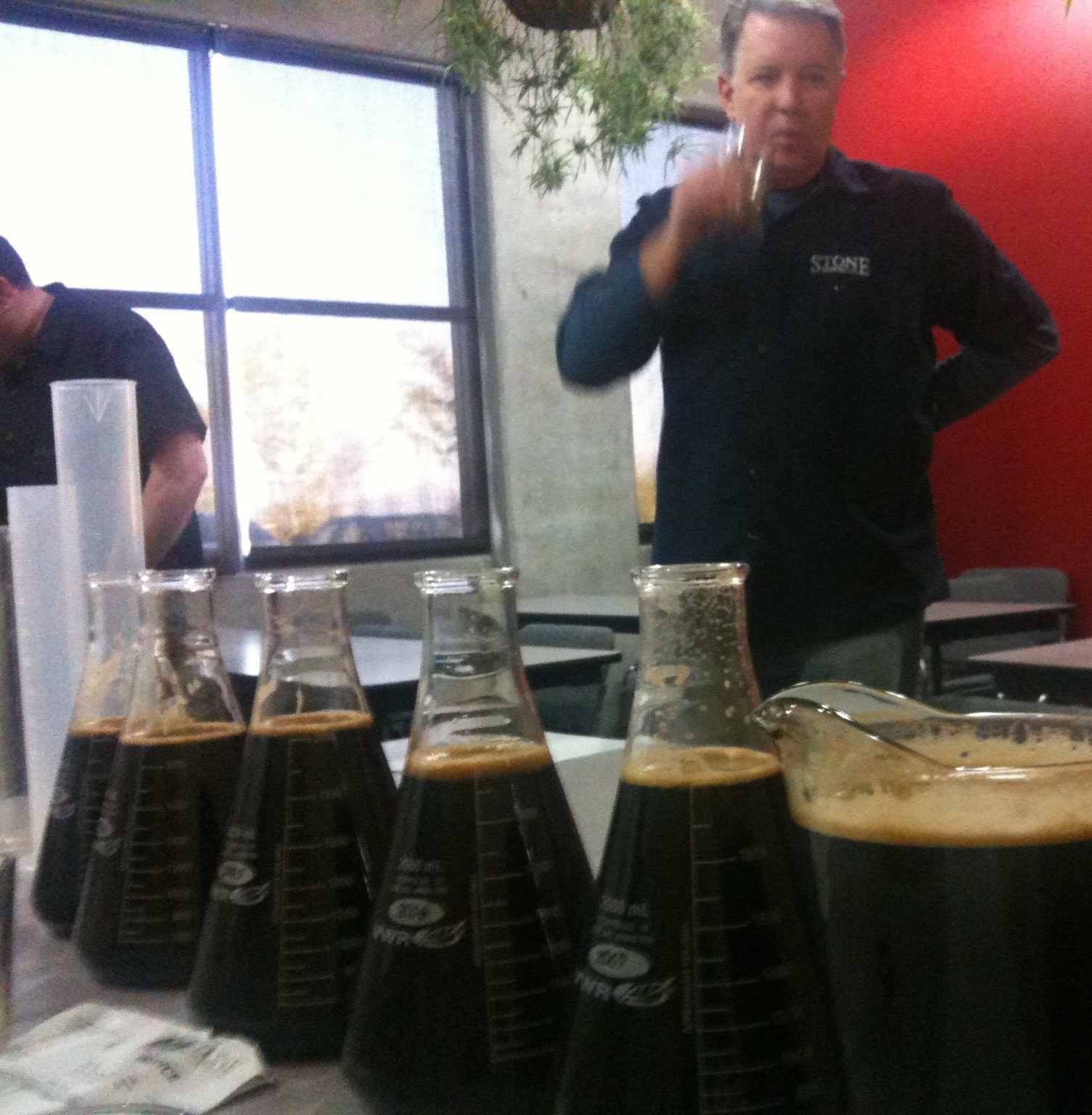 Stone President & Co-Founder Steve Wagner beging the daunting tasting process
With such mighty vintages in attendance, it is little wonder that the idea of a blend—a cuvee de Escondido & San Marcos, if you will—was quickly decided upon. Beakers, pipettes, palette-cleansing fluids, and other blending implements were hustled into the room, and the alchemical process commenced. After hours of rigorous tasting and fervent debating (and yet more tasting,) a final blend was decided upon. Following the momentous assembly, a limited number of kegs of the new Stone Imperial Russian Stout 10th Anniversary Special Blend were mixed, with some set aside for archiving and a small amount placed in red wine barrels for aging. An even smaller quantity was diverted for yet another blend, dubbed "Stone Imperial Russian Stout—GK Madman Mix", created by our own CEO Greg Koch. For those eager to grace their palates with this historic fluid, the Blend goes on tap today at the Stone Brewing World Bistro & Gardens.