Just one week after releasing the 2012 Stone Imperial Russian Stout, we've got another beer up our sleeves that's coming to a glass near you starting today. A few years ago, Greg and Steve were approached by Matt Bonney and Matt "Vern" Vandenberghe (aka "The Matts"), the almighty wizards behind famed Seattle craft beer store Bottleworks. Every year, they work with a different craft brewery to formulate a special beer to commemorate their anniversary.
Sure enough, probably after a few beers, the conversation turned to: "Oh hey Greg! Wouldn't it be cool to have Stone make one of our anniversary beers?!" Greg, quite known for having trouble saying no to cool projects, said yes. And Steve, quite known for having an appreciation of cigars and Scotch, was "somehow coerced" into saying yes (over cigars and Scotch) while attending a charity event at Brouwer's Cafe, a wondrous Seattle craft beer restaurant also operated by The Matts. (Sneaky, aren't they?)
https://www.youtube.com/watch?v=w4WxmBBx1kk
Fast forward to the here and now, and you'll see that it all came together, as the creatively named Bottleworks 13th Anniversary Ale.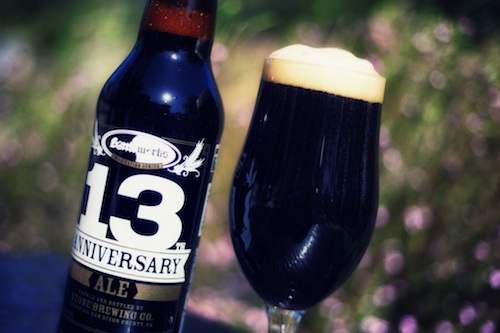 The Matts envisioned this beer as a tribute to the number 13, honoring their 13 years in business with 13 malts, 13 hops, and 13% abv. Vern came down to our pad in Escondido on December 13th, and began putting this herculean beer together with Brewmaster Mitch Steele.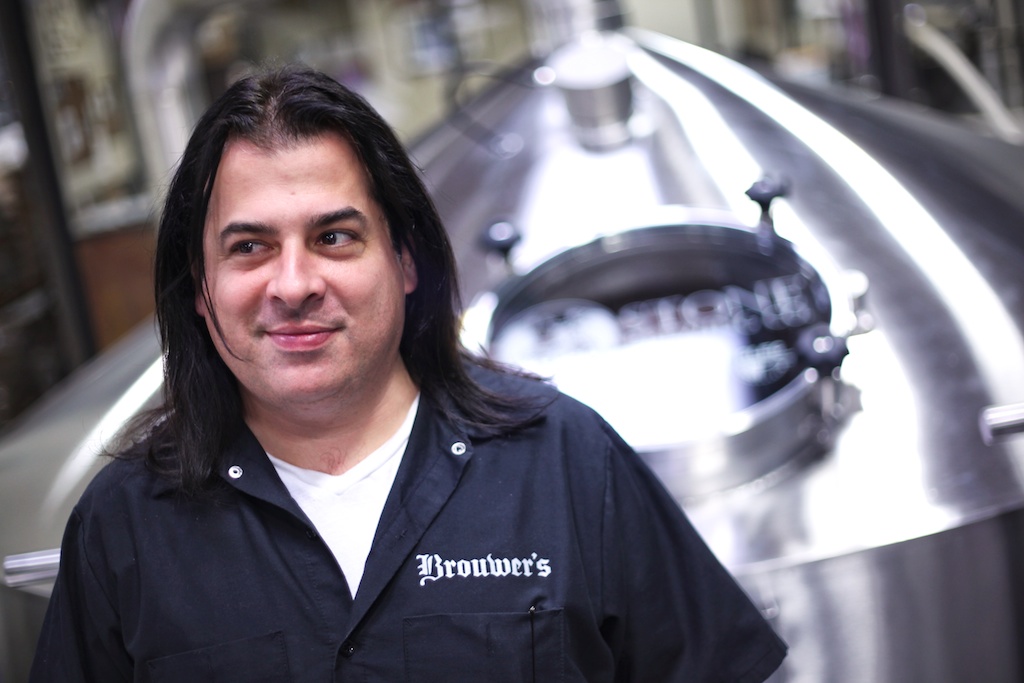 Funny enough, with all the specialty malts used, there were less fermentable sugars than anticipated, so it "only" got up to 11.4% abv, but we're all still really happy with how the beer turned out. If for whatever reason, you're upset that it's not 13% abv, we suggest you take a sip, as it will immediately help you get over it.
And if that doesn't seem to take care of your woes, send us a tweet @StoneBrewingCo, complaining about how good the beer is but how 11.4% just doesn't cut it. But please, be sure to tag it #FirstWorldProblems.
---
Bottleworks 13th Anniversary Ale
Stats: 11.4% abv, 80 IBUs
Availability: Limited 22oz bottles & draft, beginning April 23rd
Distribution: AZ, CA, CO, FL, IL, MA, NC, NM, NY, OH, OR, PA, SC, TX, VA, VT, WA
Malt bill: Pale Two Row, White Wheat, Aromatic, Weyermann Chocolate Rye, Light Munich, Brown Crisp, Oats, Crisp Light Crystal, CaraMunich, Baird's Chocolate, Lightly Peated, Simpsons Dark Crystal, Crisp Amber
Hops bill: Bravo, Target, Columbus, Cascade, Delta, Warrior, Magnum, Apollo, Calypso, Perle, Galena, Chinook, Mt. Hood
---
Tasting Notes, provided by Brewmaster Mitch Steele
Appearance: Beer pours a deep brown with a tan head of foam.
Aroma: A complex blend of hops—citrusy, piney, tropical fruit notes, blended with toffee and dark coffee-like flavors from the roasted malts.
Taste: Roasted malts come through a bit stronger in the taste, especially up front. Hops reassert themselves mid-palate, and the beer finishes smooth, but bitter, with lots of caramelly roast notes, lingering herbal hop flavors, and a hint of alcohol
Overall: 13 grains and 13 hops were used in the brewing of this beer to celebrate Bottleworks' 13th Anniversary. The result is an Imperial Porter loaded with malt flavors, and the hop notes run the gamut from citrusy and fruity to herbal, piney and spicy. This is a beer designed to drink fresh, or lay down and cellar for several years. I choose to do both!
---
Suggested Pairings, provided by "Dr." Bill Sysak
Appetizers: Maple-glazed pecans, twice-baked potatoes or stuffed mushrooms with Gorgonzola and bacon, satay skewers with peanut sauce
Entrées: Grilled pork chops, Korean short ribs, lamb shoulder, French onion soup, chili
Desserts: Pecan pie, peanut brittle, toffee bars, apple fritters
Cheeses: Aged Gouda, Parmigiano-Reggiano, Shropshire Blue
Cigars: Partagas Serie D No. 4, Litto Gomez Diez Lusitano, Gurkha Cellar Reserve