Remember when we came out with that badass collaboration beer? What's that? Oh, which one, you ask? Yes, of course. We should be more specific, as they've all been pretty unbelievable. (And we're totally allowed to brag this hard because there were other brilliant brewers involved, so please consider this our way of supremely complimenting them... while giving ourselves just a little pat on the back.)
Annnnnnyway, so as you may recall, in 2010, we released Dogfish Head / Victory / Stone Saison du BUFF, a hellaciously herbaceous beer that we--and countless others--fell in love with instantly.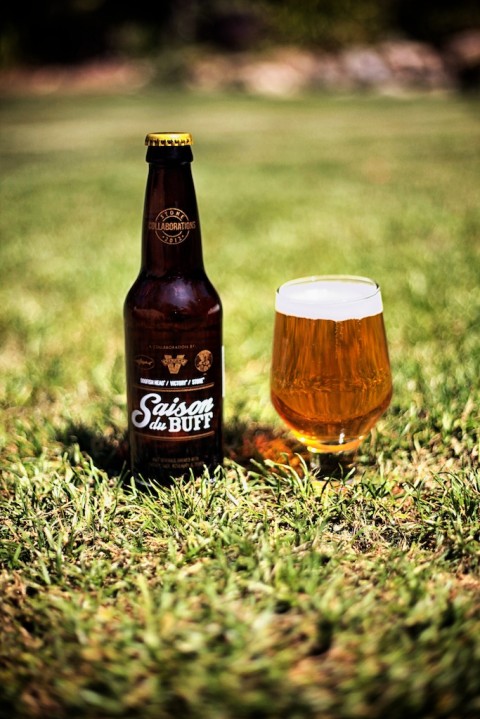 But, what is BUFF? (I'll take "My Biceps" for $400, Alex.) It's an acronym for Brewers United for Freedom of Flavor, an ad hoc group that came together way back in 2003, comprised of Sam Calagione (President, Dogfish Head Craft Brewery), Bill Covaleski (President & Brewmaster, Victory Brewing Company) and Greg Koch (CEO & Co-Founder, Stone Brewing Co.). This coalition—in their eyes—was going to make waves throughout the beer industry and beyond, calling for an end to the mass-produced, flavorless, fizzy yellow lagers that were dominating the market. The thought was, if these three brewers from different parts of the country banded together, they could really get the media to notice the incredible revolution that was going on in the craft beer world.
And they were pumped! They made a press release. They held a press conference. And ONE guy showed up. (Jamie Magee from Yankee Brew News... what up!) OK, so not a lot of media coverage arose from the formation of their trifecta, but the idea stayed alive and well in each of their minds, ultimately becoming the impetus for this collaboration beer that we first brewed in 2010. And with Sam & Bill back in San Diego for the Craft Brewers Conference this May, we knew we absolutely had to re-brew this beautiful beer.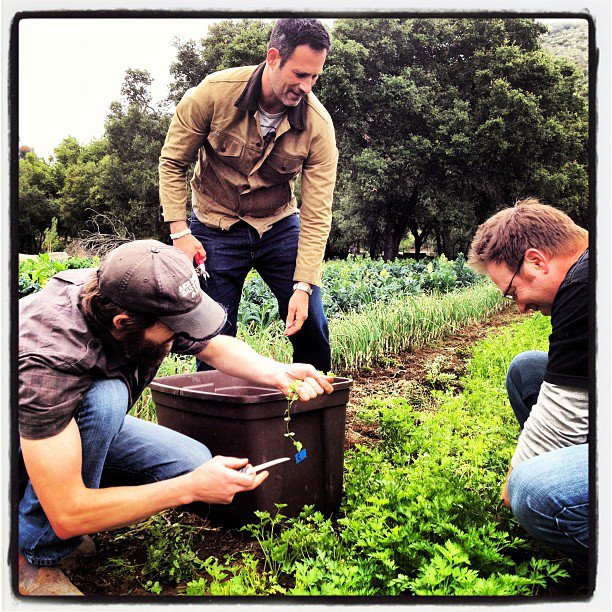 Saison du BUFF, as the name implies, is a saison! (If you'd already figured that out on your own, you get a gold star!) In times past, these styles were brewed for seasonal farm workers (known as saisonniers en français) that worked their asses off in the fields during warmer months. Saisons provided a balance that struck them perfectly: a heftier malt base to provide nutritional sustenance without becoming so strong that the beer was no longer refreshing.
Ours drew some serious culinary (and musical?) inspiration with the inclusion of parsley, sage, rosemary, and thyme, all grown organically up at Stone Farms. The result is a crisp, peppery beer, redolent of Sunday meals with the family. (It's practically begging to be enjoyed at the dinner table! Plenty of pairing suggestions below btw...)
If you, like many others, would love to get your hands on some, there's no time like the present, because—like all of our collaboration beers—this is a limited-time offering. Good news for those of you who like to stock up and cellar your beers, we can say from experience how gracefully the original has aged in the two years since we first brewed it.
https://www.youtube.com/watch?v=Et11007CKDc
---
Dogfish Head / Victory / Stone Saison du BUFF
Stats: 7.7% abv, 52 IBUs
Availability: Limited 12oz bottles & draft, beginning June 18th
Distribution: AZ, CA, CO, DE, FL, IL, MA, NC, NM, NY, OH, OR, PA, SC, TX, VA, VT, WA
Malts: Pale Malt, Pilsner Malt, Wheat Malt, Flaked Rye
Hops: Centennial & Citra
---
Tasting notes, provided by Brewmaster Mitch Steele
Appearance: This beer pours a beautiful pale gold with a white head of foam.
Aroma: Pronounced herbal characters, a wonderful blend of sage, lemon thyme, rosemary. It has some very pleasant citrusy notes, perhaps from the lemon thyme and the Citra dry-hop. And the Belgian yeast strain contributes low level banana esters and a hint of clove.
Taste: The taste starts with the herbal blend in the forefront, and then is backed by a clean malt balance and a very nice citrus and tropical fruit-influenced finish. The finish has a substantial, but balanced hop bitterness and hop flavor. It is a very dry beer, and has a nice refreshing quality that makes it wonderful for this time of year.
Overall: This is the second time that Greg, Sam, and Bill have brewed this beer here at Stone Brewing Co., and this time we were able to get all the herbs from Stone Farms! How cool is it to brew with ingredients from your own farm? Very, very cool.
---
Suggested pairings, provided by "Dr." Bill Sysak
Appetizers: Crab cakes, grilled shrimp, curried cashews, hummus
Entrées: Pad Thai, roasted chicken, grilled salmon, Caesar salad, tikka masala
Cheeses: Bloomy-rind goat's milk cheeses, such as Bucharondin or Humboldt Fog
Desserts: Lemon bars, apple turnover, key lime pie
Cigars: AVO 787 Piramides, Macanudo Gold Label Tudor, Arturo Fuente 858 Candela, Montecristo Montecristo #2