Surely by now you know the name Ken Schmidt. After all, he's the homebrew mastermind behind not just one of our handsome collaboration beers, but two of em! You undoubtedly recall the glory that was the Ken Schmidt / Maui / Stone Kona Coffee, Macadamia, Coconut Porter, yes? When Ken took first place at our 2009 March Madness Homebrew Competition & AHA Rally with what he'd named "Aloha Plenty," we knew we'd made a new friend. Fast forward to 2012, and Ken came back with yet another winning combination that he called "Pillow Mint at the Ritz." After taking the champion title for the second time, he worked with our illustrious brewmaster Mitch Steele to select Brandon Sieminski of nearby Iron Fist Brewing as our third partner in crime to help scale this awesome recipe up for our big 120bbl system. The result? A decadently rich, decidedly bold, and oh-so-delicious libation we call Ken Schmidt / Iron Fist / Stone Mint Chocolate Imperial Stout.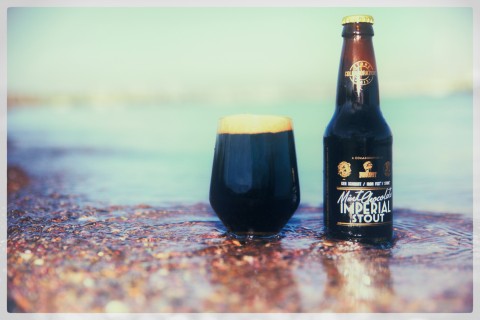 Of course, we had one helluva beer to recreate, so we naturally sought out the highest quality ingredients. Barley, hops, water, and yeast... no problem. But on the chocolate side, we went on the hunt for killer cacao and we found it thanks to SoCal chocolatier ChocoVivo. Owner Patricia Tsai stone-grinds the beans that she sources from a single organic farmer in Tabasco, MX. The beans are fermented for a very short period of time, resulting in less acidity that allows a truly wonderful roasty-toasty flavor to shine through. On the mint side, we used a blend of vibrant peppermint and chocolate mint organically grown on our very own Stone Farms, located just nine miles away from our brewery. Delicious as it was turning out, we found that it was still lacking some of the minty cool freshness that was present in Ken's beer. Admittedly, Ken's delectable homebrew had been created with a chocolate mint extract, and we found that even though we tried to replicate that flavor with the cacao and fresh mint, the punch of cool mint just wasn't coming through enough. So sayeth Brewmaster Mitch: "The problem with fresh mint is that it doesn't come across like a mint extract, which is far more intense, and more familiar tasting. And even though it's not our normal practice, we decided that replicating Ken's beer was the priority, so we searched long and hard for the right 100% natural flavor to get as close to his homebrew as possible." (Hence the "Ale brewed with cocoa and mint with natural flavors added" line on the bottle. Word.)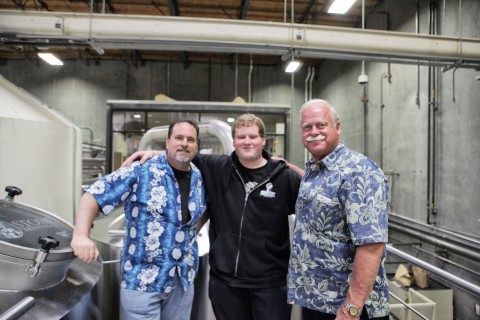 Look at these mighty brewstuds: Mitch Steele, Brandon Sieminski, and Ken Schmidt
All told, we couldn't be happier with how this experiment in goodness turned out. Ken Schmidt has once again proven himself as master of the homebrewing arts, and we're so glad we got a chance to work with him and Brandon. Grab a pint or a bottle while it's still around, since it won't be here forever. Like all of our collaboration beers, it is a one-time brew. We think you'll love it as much as we do, but if for any reason you think you can do better, we'll expect your homebrew to be entered in next year's competition! Cheers!
https://www.youtube.com/watch?v=geDuUOh6MVs
Ken Schmidt / Iron Fist / Stone Mint Chocolate Imperial Stout
Stats: 9.6% abv, 69 IBUs Availability: Limited 12-ounce bottles and draft, beginning October 8
Hops bill: East Kent Goldings Distribution: AZ, CA, CO, FL, IL, MA, NC, NM, NJ, NY, OH, OR, PA, SC, TX, VA, VT, WA
Tasting Notes, provided by Brewmaster Mitch Steele
Appearance: Deep brown with a light brown head of foam
Aroma: Herbal mint, cocoa, and hints of caramel, followed by roasted malts and hints of hops.
Taste: A zing of fresh peppermint on a foundation of cocoa on the front of the palate, followed by dark roasted coffee/cocoa malt flavors and those wonderful esters we so lovingly associated with beer. The mint and cocoa retain their presence throughout the palate, which finishes nicely with pleasing bitterness and a slight dryness. The balance of chocolate, mint and Imperial Stout flavors is amazing...the flavors meld together fantastically!
Palate: A very smooth and full-bodied (but not sweet) beer, with the refreshing effect of the mint and slight cacao dryness and bitterness on the finish.
Overall: I recommend serving this beer at cellar temperature (50-55°F) as a warmer serving temperature will really allow the beer to open up. This is a terrific beer to drink through a range of temperatures because as it warms in the glass, the flavors get more pronounced with increased depth and complexity, thus making it very interesting to see how the flavors develop with each taste. It was exciting to use our very own fresh peppermint and chocolate mint from just a few miles away at Stone Farms in this brew.  We got the cacao from the terrific ChocoVivo in Venice, CA, which came to us in big sheets that were stone ground for us, specifically for the brewing of this beer.
Suggested food parings, provided by "Dr." Bill Sysak
Appetizers: Steak-wrapped cheesy tater tots, lamb meatballs, braised beef tacos with mole sauce, beef satay w/ peanut sauce
Soups and Stews: Carbonade Flamande, oxtail soup, goulash, beef stew with cinnamon added
Main course: Cocoa-rubbed tenderloin, Korean BBQ, rare lamb chops, liver and onions, beef cheeks
Cheeses: Amablu, Caveman Blue, Crema de Blue, Marieke Aged Gouda
Cigars: La Flor Dominicana Double Ligero Chisel Cigars, Liga Privada No. 9 Corona Doble, Viaje C4, Ashton VSG, Joya De Nicaragua Antano 1970