Ah, Stone Smoked Porter. The second beer that we ever released, waaaaaay back in December of 1996. It's a good thing, too... the world was in need of something wonderful, what, with Macarena still tormenting the airwaves and Jingle All The Way polluting movie theater screens. Anyway, back then, we called it Winter Stone, thinking it was just going to be a seasonal release. But when we took it away in the spring, people got a little up in arms and clamored for its triumphant return. (One of the most vocal supporters for bringing it back was Greg's mom... so we kinda had to comply.)
As time went by, and we kept climbing higher and higher up the hop ladder, the humble Stone Smoked Porter stayed in demand, with its mellow smokiness and nuanced notes of coffee and chocolate. It kept a strong, almost cult-like following. Our unsung hero. Part of the reason it still remains so popular with its loyal fan base is that it pairs so damn well with a wide variety of food, ranging from barbecue to desserts. Heck, I'll go so far as to say it's our most food-friendly beer. And if you're thinking, "Gosh, I bet that would be great with some vanilla beans or chipotle peppers in it," you're gonna freak out about this next paragraph.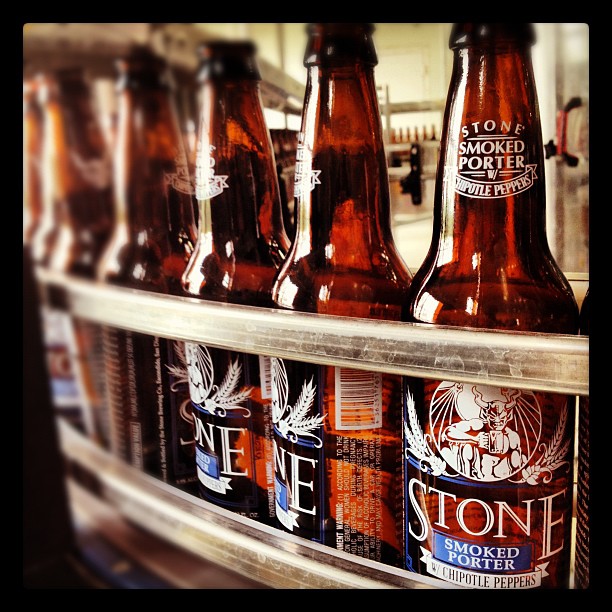 Look who's finally here. In bottles. Yes, we've carried these liquid treats as special growler fills from time to time, and they've made their way to the occasional special event, but now they're here in convenient single-serve 12-ounce receptacles, perfect for taking home (or to the office… we won't tell!) to enjoy. They've actually been around since 2006:
Stone Smoked Porter w/ Chipotle Peppers came about when Merchandise Manager Chris Carroll suggested we make a special "South of the Border Stone Smoked Porter" for Cinco de Mayo that year.
Stone Smoked Porter w/ Vanilla Bean was the brainchild of Small Batch Brewer Laura Ulrich, who had a stroke of genius after trying Stone Smoked Porter poured over a couple scoops of vanilla ice cream. The rest, of course, is history.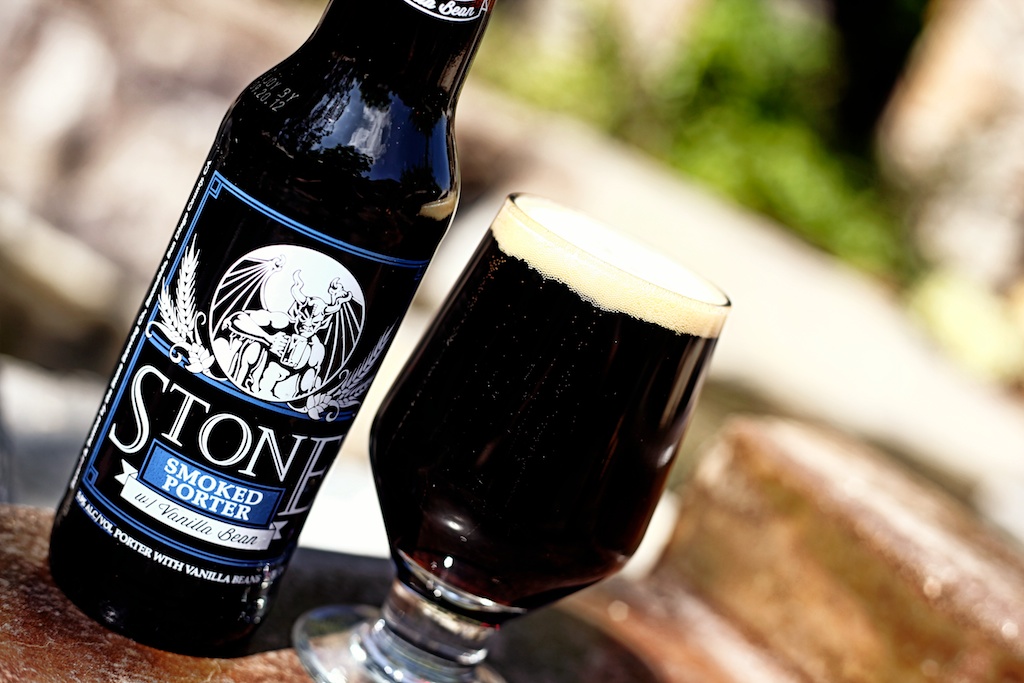 And while we're stoked to have these delicious black beauties finally available in bottles, it is a one-time release. For now, at least. But we reserve the right to change our minds about that at any time.
---
Stone Smoked Porter w/ Vanilla Bean
& Stone Smoked Porter w/ Chipotle Peppers Stats: 
5.9% abv, 53 IBUs
Availability: Limited 12oz bottles. One-time release, beginning June 18th
Distribution: AZ, CA, CO, FL, IL, MA, NC, NM, NY, OH, OR, PA, SC, TX, VA, VT, WA
Malt bill: Pale Malt, Crystal 75, Chocolate Malt, Peat-Smoked Malt
Hops bill:  Columbus & Mt. Hood
---
Suggested pairings, provided by "Dr." Bill Sysak
Stone Smoked Porter w/ Vanilla Bean
Appetizers: Coconut shrimp, candied nuts
Entrées: Butternut squash soup, New England clam chowder, pumpkin ravioli, seared scallops
Cheeses: Aged Gouda, Mimolette, Beehive Cheese Co.'s "Barely Buzzed"
Desserts: Maple-glazed donuts, chocolate chip cookies, cream puffs
Cigars: Paradigm 262, Gurkha Evil, Alonso Menendez. Almost any cigar with a Brazilian wrapper will impart nice chocolate notes perfect for this beer.
Stone Smoked Porter w/ Chipotle Peppers
Appetizers: Stuffed mushrooms, bacon-wrapped jalapeño poppers, quesadillas
Entrées: Manhattan clam chowder, French onion soup, baby back ribs, blackened fish, mole negro
Cheeses: Parmigiano-Reggiano, aged Cheddar, Ossau-Iraty, Mahón
Desserts: Tiramisu, apple pie, coffee cake, flourless chocolate cake, cinnamon rolls
Cigars: Ashton Classic, Montecristo, CAO Brazilia