Pour yourself a cup of joe and sit a spell as we spin you a tale of a most uncommon India pale ale. Our story begins amid the howling rush of the Windy City at a homebrewing competition dubbed Iron Brew, which was built to showcase Chicagoland's burgeoning sect of fermentation craftsmen. Such was the quality of this homespun libation melee that it drew a most illustrious panel of judges—acclaimed author and beer evaluator Randy Mosher, co-founder and brewer Jim Ebel of Chicago's Two Brothers Brewing Company, and our own co-founder and CEO, Greg Koch. Together, the trio sipped, swished and swigged their way to determining a hands-down winner. That beer, a style-bending take on the time-tested IPA, was brewed by a trio of aspiring artisans going by the collective moniker "Aleman."
https://www.youtube.com/watch?v=5Jx-qGLXSG8
It wasn't experimental or foreign hops that raised Aleman's creation to gold-medal heights. Surprisingly enough, it was the addition of…coffee beans. On the surface, java seems an outlandish adjunct for an IPA, but insight from the Second City brewing consortium—Jim Moorehouse, Brad Zeller and Nate Albrecht—reveals some sound and rather clever logic. The Aleman boys identified the flavor bridge that exists between earthy and citrus-forward hops as well the spice and fruit flavors that pour forth from certain varieties of coffee, and endeavored to marry the two in their quest to create "the perfect brunch beer." Turns out, their "DayMan IPA" (originally brewed to be the counterpart to Aleman's chamomile-laced dunkelweizen, "NightMan," and named accordingly) was just plain perfect. Proof of that will come to store shelves across the country in the form of 22-ounce bottles of Aleman/Two Brothers/Stone DayMan Coffee IPA. Iron Brew's grand prize was the opportunity to fly out to Stone and produce the beer on a large scale for major distribution. Aleman did so, conspiring with Ebel and Stone Brewmaster Mitch Steele, and the resulting brew is every bit as eye-opening as that award-winning iteration.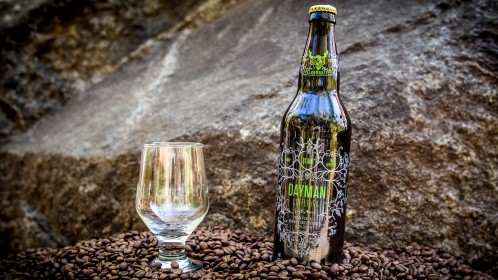 But don't expect the beer to come across like that piping hot cup of French Roast you sat down with at the beginning of this dissertation. From the beginning, the Aleman trio had no desire to brew a standard coffee beer. Their goal was to have the coffee add nuances and amplify the brightest, most prominent notes of the Cascade and Citra hop bill they selected. Doing so meant using lightly roasted beans. A heavy roast would have competed against the hops versus complementing them. When sourcing the perfect beans for their big brew day, serendipity led them to their fellow collaborators. As preparations for the brewing session were underway, Two Brothers had recently added an artisanal side business, Two Brothers Coffee Roasters, which includes the extensive experience and deft skills of Roastmaster Mason Brown, who comes to the new operation from Chicago's famed Intelligentsia Coffee.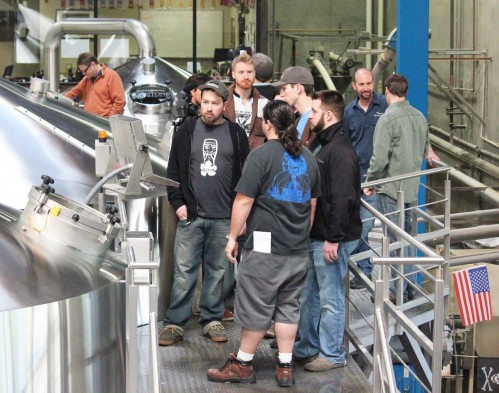 Two Brothers' Brew House Blend of Ethiopian, Guatemalan and Sumatran coffees did the trick, coaxing out nuttiness and flavors of stone fruit to sync with the tropical and citrus character of the hops. Aleman/Two Brothers/Stone DayMan Coffee IPA is both inspired and delicious. It's also a nice sneak peek at Aleman, since Moorehouse, Zeller and Albrecht are in the process of opening their own brewpub back home. It will be nice to be able to say "we knew them back when." Meanwhile, lovers of fine brewed beverages can simply say "yum!"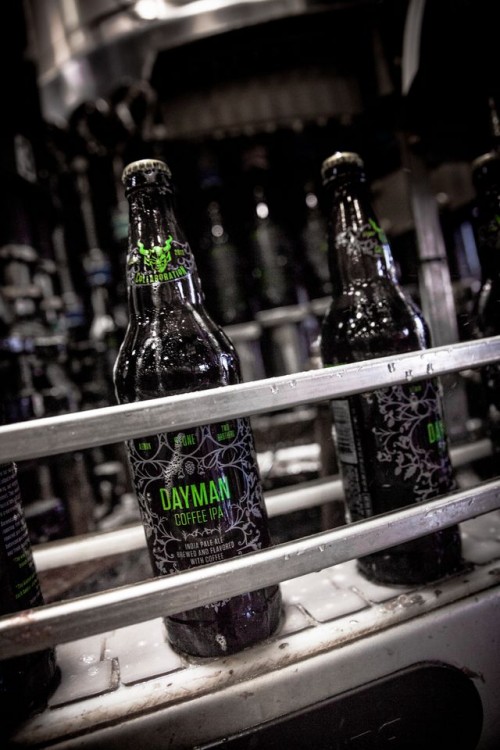 Stats:
8.7% ABV, 42 IBUs
Availability: Limited22-ounce bottles and draft, beginning March 18
Hops Bill: Cascade and Citra
Distribution: AZ, CA, CO, FL, IL, IN, MD, MA, MO, NC, NM, NJ, NY, OH, OR, PA, SC, TX, VA, VT, WA
Tasting notes, provided by Brewmaster Mitch Steele
Appearance: Clear amber with a tan head.
Aroma: It's difficult to discern which aroma hits first—the wonderful, citrusy tropical fruitiness of the Citra hops or the deep-roasted elegance of the coffee roasted especially for this brew.
Taste: The taste of this beer follows right along with the aromatics. Roasted coffee and citrusy hops play well together as the beer flows across the palate along with hints of toasted malt and a wonderful lingering bitterness.
Palate: Dry with a prolonged hop assertiveness. The coffee flavors hang on pleasantly after the hop bitterness recedes.
Overall: The Aleman guys developed a wonderful IPA recipe. The addition of coffee brings wonderful layers of totally unexpected roast components that make this beer truly unique. I've never had anything like it and I look forward to enjoying it. It's been a pleasure to put this brew together with Aleman and Two Brothers.
Suggested food pairings, provided by "Dr." Bill Sysak
Appetizers: Stuffed portobello mushrooms with blue cheese, pancetta-wrapped shrimp, carne asada tacos, Korean BBQ
Soups and Salads: Arugula salad with vinaigrette, chili con carne, hot and sour soup
Entrees: Braised pork belly, meatloaf, chile relleno, caul fat-wrapped snapper
Cheeses: Cabrales blue cheese, Fiscalini Bandage Wrapped Cheddar, Bayley Hazen Blue, Rogue Caveman Blue
Desserts: Bitter chocolate, tiramisu, toffee peanut butter brittle, dark chocolate-dipped strawberries
Cigars: Flor de las Antillas Toro, Rocky Patel Decade, Camacho Corojo Figurado