We pride ourselves on being unpredictable, but we're able to be honest with ourselves and say that, when it comes to our annual anniversary beer releases, fans know what to expect—something extremely hoppy! And most years, that means an over-the-top India pale ale. Ten out of the 17 anniversary beers we've produced to-date have been IPAs, including the past four consecutive years. So, it should come as no surprise that this year, our milestone-celebrating beer is another IPA.
But, much as we've refused to be completely predictable with our anniversary IPAs (the past four years have featured an imperial British-style IPA, double black IPA, lemon verbena-infused imperial rye IPA, and 100% German-hopped double IPA), 2014's commemorative hop monster is extremely original. In fact, we're billing Stone 18th Anniversary IPA as the "hoppiest golden-brown IPA on Earth!" (Yes, that's our subtle brand of sarcasm you're picking up there!)
https://www.youtube.com/watch?v=PiTkOeAtrUo
El Dorado hops make up a large part of the hop bill—the beer is dry-hopped with a whopping two pounds per barrel of it. Brewmaster Mitch Steele first fell in love with this citrusy hop when he brewed a 100% El Dorado collaboration ale with Northern California's Drake's Brewing Company in 2013. It's since found its way into a number of new brews, including Stone Go To IPA and a little ditty released in our hometown of San Diego called Stone Delicious IPA.
But this beer isn't all about hops. If anything, it's the specialty malts that give it most of its uniqueness. English Brown Coffee, Cara Munich and Chocolate Wheat malts bring on more than the heralded golden-brown hue—they also provide plenty of flavor and texture. The resulting brew is, appropriately, one for the ages. Sweet-tart flavors of lemon candy come on strong on the front palate, giving way to a sharp grapefruit bitterness accompanied by bready, biscuit character in the finish. It's a testament to how well hops and malts can marry when properly balanced, and Steele and the Brew Crew nailed it with this golden-brown all-star.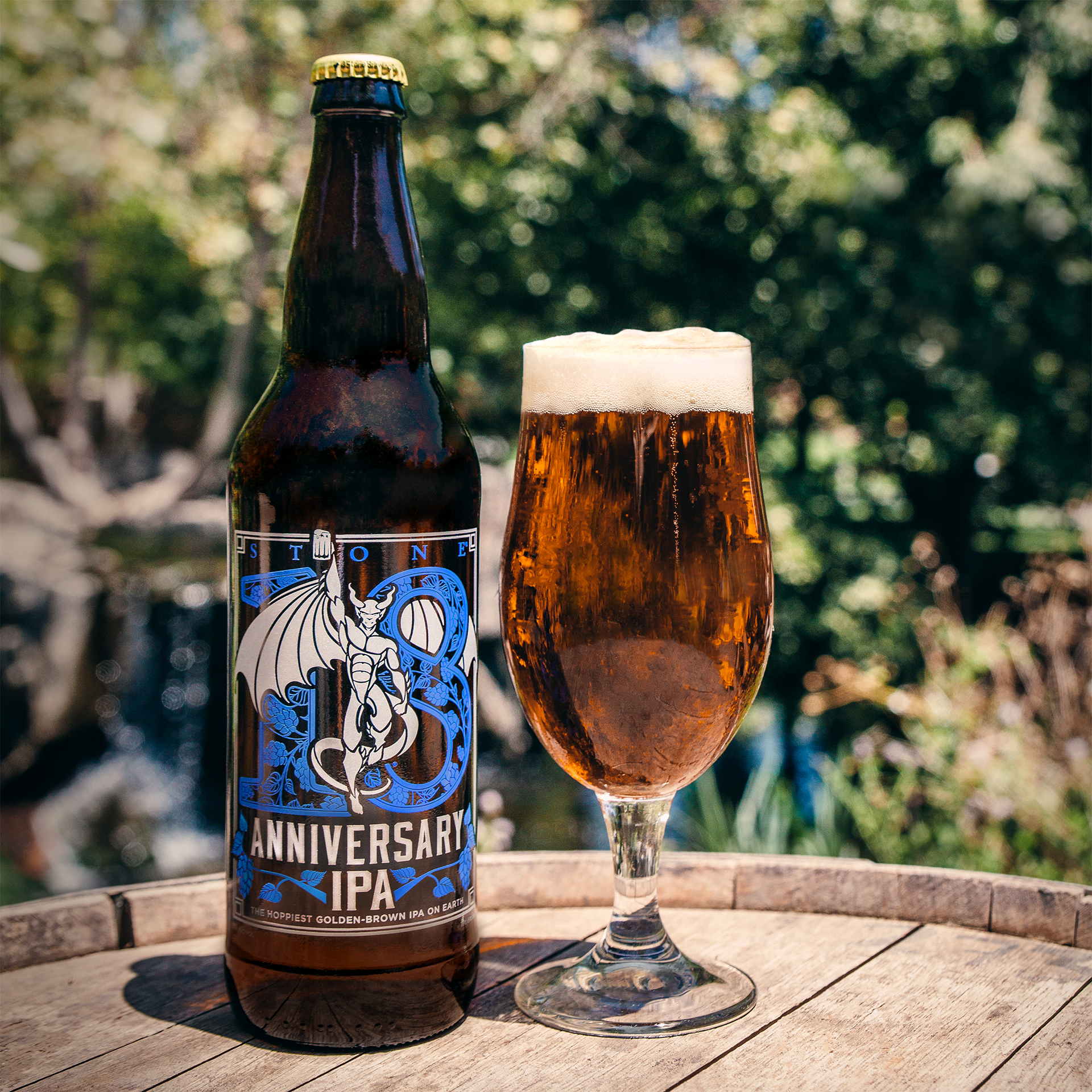 If you're like us, you read something like "ten out of the 17 anniversary beers we've produced to-date have been IPAs," and your inner beer geek wants to know what those brews were. We totally get that, so here is a list of the past 18 years-worth of Stone celebratory offerings.
Stone 1st Anniversary IPA (now Stone IPA)
Stone 2nd Anniversary IPA
Stone 3rd Anniversary IPA
Stone 4th Anniversary IPA
Stone 5th Anniversary IPA (now Stone Ruination IPA)
Stone 6th Anniversary Porter
Stone 7th Anniversary Ale ("Super Special Pale Ale")
Stone 8th Anniversary Ale (Imperial Mild)
Stone 9th Anniversary Ale (Imperial Wheat)
Stone 10th Anniversary IPA
Stone 11th Anniversary Ale (now Stone Sublimely Self-Righteous Black IPA)
Stone 12th Anniversary Bitter Chocolate Oatmeal Stout
Stone 13th Anniversary IPA
Stone 14th Anniversary Emperial IPA
Stone 15th Anniversary Escondidian Imperial Black IPA
Stone 16th Anniversary IPA
Stone 17th Anniversary Götterdämmerung IPA
Stone 18th Anniversary IPA
Even with all these hop-heavy brews under our belts, we continue to push the envelope. We thank you for coming along for the ride and look forward to another 18 years (and more) of anniversary-inspired exploration!
Photo by StudioSchulz.com
Stats & Tasting Notes by Brewmaster Mitch Steele
ABV: 8.5%
IBUs: 75
Availability: Limited 22-ounce bottles and draft, beginning August 11
Hop Bill: Nugget, Centennial, Belma, Sterling, Hopsteiner 06300, El Dorado
Distribution: AK, AL, AZ, CA, CO, CT, DC, DE, FL, GA, IA, ID, IL, IN, KS, KY, LA, MA, MD, ME, MI, MN, MO, MT, NC, NE, NH, NJ, NM, NV, NY, OH, OR, PA, RI, SC, TN, TX, VA, VT, WA, and Puerto Rico
Appearance: Pours deep amber with a reddish-brown hue and an off-white-colored head.
Aroma: Herbal, lemon and lemongrass hop notes, combined with very light levels of cocoa, coffee and roasted malts.
Taste: Fruity hops, lemon, orange zest and tropical fruit, with a complex malt base featuring coffee and toffee elements. The hop finish is very lemony.
Palate: Full bodied with a bitter, dry finish.
Overall: This beer was conceptualized a bit later than usual, and several iterations were created before we settled on this recipe. Using a small amount of English Brown Coffee Malt in a double IPA seemed like an interesting idea to me, and was inspired in part by the success we had brewing Aleman/Two Brothers/Stone DayMan Coffee IPA and The Alchemist/Ninkasi/Stone More Brown Than Black IPA. The malt character is rich and complex, with hints of cocoa and coffee that don't interfere with the hop intensity. We used one of our favorite new hop varieties, El Dorado, 100 percent in the dry-hop stage, which provides a distinctive lemony character in the aroma and taste that we've come to affectionately describe as "lemon candy."
Suggested Food Pairings by "Dr." Bill Sysak
Appetizers: Blistered shishito peppers, grilled prosciutto-wrapped shrimp, sweet potato fries with roasted garlic aioli, fried pork wontons
Soups and Salads: Kale & white bean soup, miso ramen, tortilla soup, chicken salad, green mango salad
Entrees: Roasted chicken, pad Thai, stuffed acorn squash, pork chops, carnitas tacos
Cheeses: Fiscalini Bandage Wrapped Cheddar, Idiazabal, Cypress Grove Chevre Lamb Chopper®, Bellwether Farms San Andreas
Desserts: Peach cobbler, apricot cheesecake, carrot cake, baked nectarines with pistachios
Cigars: Drew Estate Herrera Esteli Piramide, Tatuaje Cabaiguan, Rocky Patel Connecticut, L'Atelier Lat56