Few, if any beer styles offer such a wide-ranging array of flavors as saison. Alternately referred to as "farmhouse ales" for the French and Belgian rural structures in which the style originated, no two taste the same, and therein lies the glory of the saison. Anything goes…and we like that! Tangy, earthy, peppery, herbaceous, floral, spicy and fruity are among the numerous descriptors that can accompany this rangy beer style. So, when conceptualizing our new Stone Saison, we were essentially able to go in any direction we wanted. It seemed only right to bottle up a Belgian-style beer that, while different from most of the incredibly hoppy offerings we're known for, clearly embodied who we are; something 100% Stone! It was a tall order, but one sip is all it'll take to show fans why we think we came through with flying colors.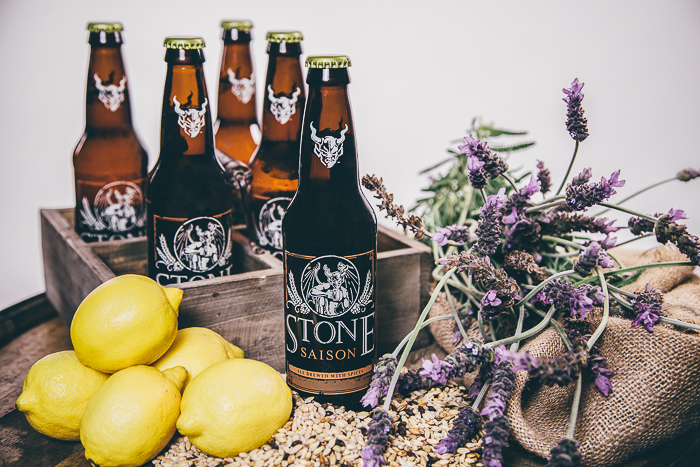 Our take on this farmhouse-borne style includes ingredients from our very own patch of tillable soil, Stone Farms. We ventured out and harvested a crop load of fresh lemon thyme and lavender. We also sourced grains of paradise and zested a great many lemons, bringing in earthiness and even more bright, citric character. The result is a layered beer with a great number of taste sensations all taking place in the same glass. Big lemon, herb and flower-like flavors come on first, balanced by a subdued and refreshing black pepper quality in the finish.
https://www.youtube.com/watch?v=rrDsrKQiHik
Stone Saison comes in at a modest (for us) 6% alcohol-by-volume, following on the heels of our recent session beer release, Stone Go To IPA. Like that highly drinkable, immensely flavorful brew, Stone Saison is available exclusively in six-packs across the nation. Unlike its low-alcohol predecessor, it will only be available for a limited time. But look for it to make its return to store shelves each spring.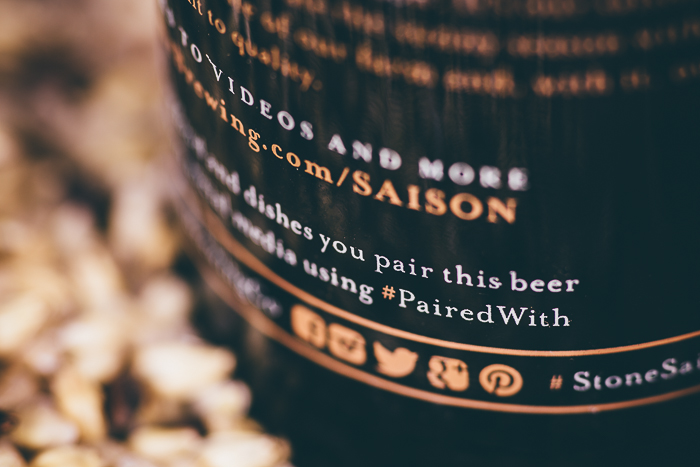 We feel Stone Saison is the perfect accompaniment to the brilliant fruits, vegetables and other delicious food that's in-season and on tables this time of year. And we plan to prove it…with a little help from our friends (i.e., you!). As you enjoy Stone Saison, take a moment to take photos and share them via Facebook, Twitter, Instagram, Google+ and Pinterest using the hashtag #PairedWith. To get you started, we've included a quartet of pairings—Creamy Kale Caesar Salad, Jalapeño Bacon Deviled Eggs, Roasted Half Chicken with Pan Sauce and a Strawberry-Rhubarb Galette—from the staff at our farm-to-table Stone Brewing World Bistro & Gardens restaurants, the recipes for which are included on the official Stone Saison webpage. Let them serve as your gateway to the multitudinous beer-and-food pairing possibilities presented by this beautiful season and our unique saison.
Stats & Tasting Notes by Brewmaster Mitch Steele ABV: 6% Availability: Limited 12-ounce bottles in six-packs and draft, beginning April 14 Hop Bill: Perle & Aramis Distribution: AK, AL, AZ, CA, CO, CT, DC, DE, FL, GA, IA, ID, IL, IN, KS, KY, LA, MA, MD, ME, MI, MN, MO, MT, NC, NE, NH, NJ, NM, NV, NY, OH, OR, PA, RI, SC, TN, TX, VA, VT & WA Appearance: Pours a hazy golden color with a creamy, white head of foam. Aroma: Pronounced floral aromatics with Belgian yeast-derived spice and banana notes. Taste: Lavender floral, herbal and citrus notes are the upfront flavors, followed by clove and banana flavors from the Saison yeast strain. The finish is a mix of red apple and black pepper with the tiniest touch of heat. Palate: Very dry and crisp. Overall: Destined for a four-month release period during spring and summer months, Stone Saison has a refreshing character that makes it the perfect beer to enjoy as days start getting warmer. Suggested Food Pairings by "Dr." Bill Sysak Appetizers: Guacamole and salsa, salt-and-pepper shrimp, deviled eggs, chicken satay, crab cakes Salads: Arugula and grilled peaches, Asian chicken salad, garlicky Caesar salad Entrees: Roasted chicken or turkey, stuffed poblano chilies, filet of sole, pork tenderloin, pad Thai, cranberry wild rice-stuffed acorn squash Desserts: Peach cobbler, apricot upside-down cake, poached pears, rhubarb pie Cheeses: Humboldt Fog, Camembert, Monte Enebro, Redhawk Cigars: Padilla Achilles, Arturo Fuente Opus xXx, Cu-vana Punisher