A Mandarin orange wedge dipped in molten ganache, a Grand Marnier-infused 70% cacao truffle, a velvety sweet craft cocktail combining Cointreau and chocolate liqueur, one of those holiday specialty confections that looks like a milk chocolate orange and breaks apart into delicious citrusy-sweet segments…heck, even something as simple as a piece of chocolate and a slice of orange. Regardless of the edible example one references, the symbiotic flavors of chocolate and orange are as plentiful as they are scrumptious. So, when looking for yet another way to use complimentary ingredients to augment our time-honored recipe for Stone Smoked Porter, we decided to lean on this long-time favorite and add our own incredible iteration of cocoa-citrus pairability to the world. Enter Stone Smoked Porter w/Chocolate & Orange Peel, the third transformatively enchanting version of this peat-smoked stalwart to be bottled and distributed to Stone fans.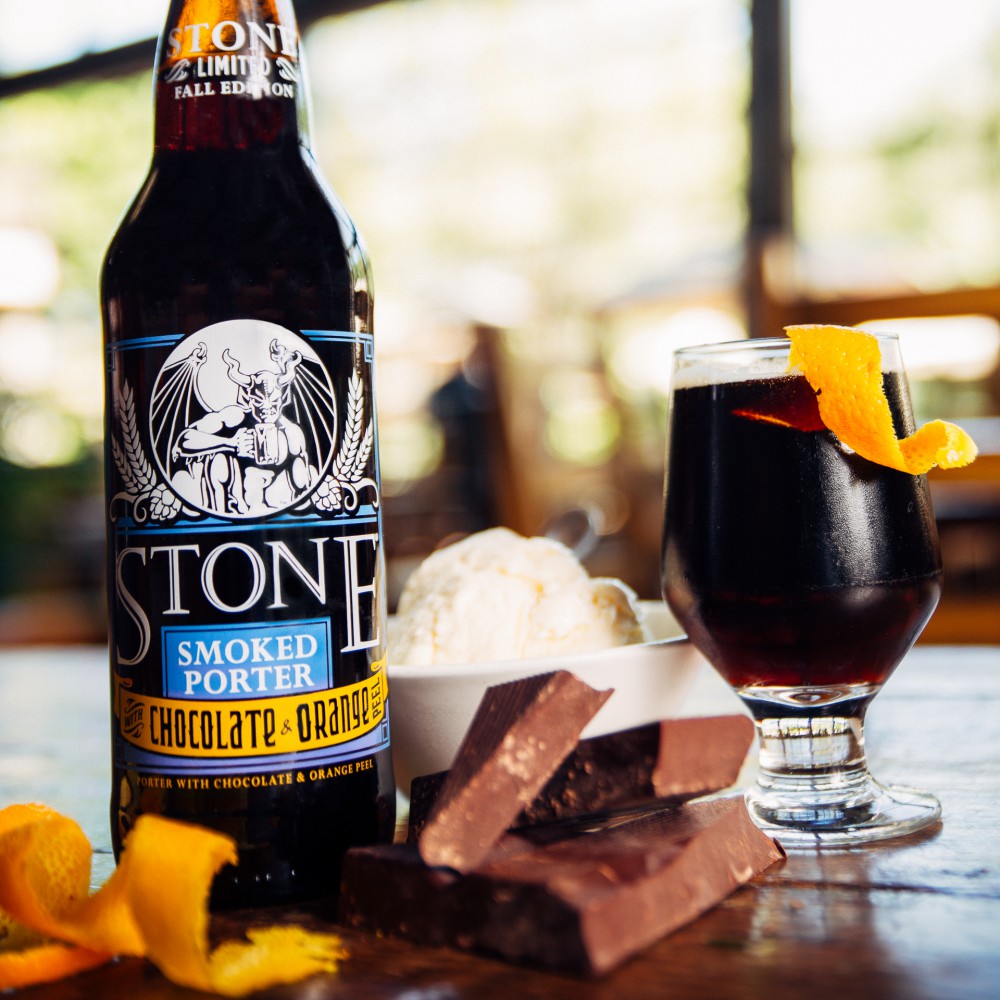 The history of our special editions of this beer date back over half-a-decade ago, when Small Batch Brewer Laura Ulrich was wowed by a beer float featuring a hefty scoop of vanilla bean ice cream afloat in a pint glass filled with…you guessed it, Stone Smoked Porter. It got her to thinking about ways to bring that flavor to life in a beer sans dairy confections. She went on to infuse industrial strength Madagascar vanilla beans into a pilot brew and subsequently blow the minds of her Stone brethren and sistren, including Co-founder and CEO Greg Koch. Stone Smoked Porter w/Vanilla Bean is a big reason Greg was so receptive when our Merchandising mastermind Chris Carroll suggested infusing chili peppers into the beer to create a craft alternative to fizzy, yellow cerveza for Cinco de Mayo. Harnessing a chili with a low heat index and smokiness built to match that of the beer, Stone Smoked Porter w/Chipotle Peppers was born. This brief history begs the question: What was the impetus behind Stone Smoked Porter w/Chocolate & Orange Peel. The answer: Greg wanted to see what else the Brew Crew could do with this beer.
https://www.youtube.com/watch?v=Pos7qHRwdZs
The brewers kicked around numerous ideas, and the one they kept gravitating toward was something dubbed the "Stone Smoked Porter—Autumn Addition Edition," where we would harvest fall-time herbs, spices, fruits, gourds and who knows what else from Stone Farms to bring the essence of autumn to life within this masterful dark ale. The Brew Crew took steps down that crunchy, red and orange leaf-strewn road until, one day, the idea of adding cacao nibs and orange peel to mirror the aforementioned classic chocolate-citrus combo came about. The suggestion was shouted from the rooftops or penned on a whiteboard in towering, bold letters. It was uttered at a most normal volume and tone, but it resonated as though delivered in a booming voice descending from the heavens all the same. It was clear this the best direction for us to go, so Brewmaster Mitch Steele immediately changed course, brewing a pilot batch of this beer that made it clear this was, indeed, the way for us to go.
The name Stone Smoked Porter w/Chocolate & Orange Peel is actually a bit of a misnomer, since there is no actual chocolate in the beer. Cacao nibs—roasted pieces of cacao beans—provide the bitter notes of chocolate in its purest form while also introducing an earthen spiciness that complements the porter's peat-induced smoke. Pure cacao liqueur (pure cocoa without any sugar or dairy added) is added during the brew, then the beer is steeped with cacao nibs for chocolaty intensity. Those characteristics are contrasted beautifully by the orange peel, which also brightens up the beer's overall taste profile. It took a while to get to this chapter in the Stone Smoked Porter saga—more than five years, actually—but like most of the greatest things in life, additional time translated to something phenomenal. Cheers to a most splendid fourth chapter in a tremendously delightful tale.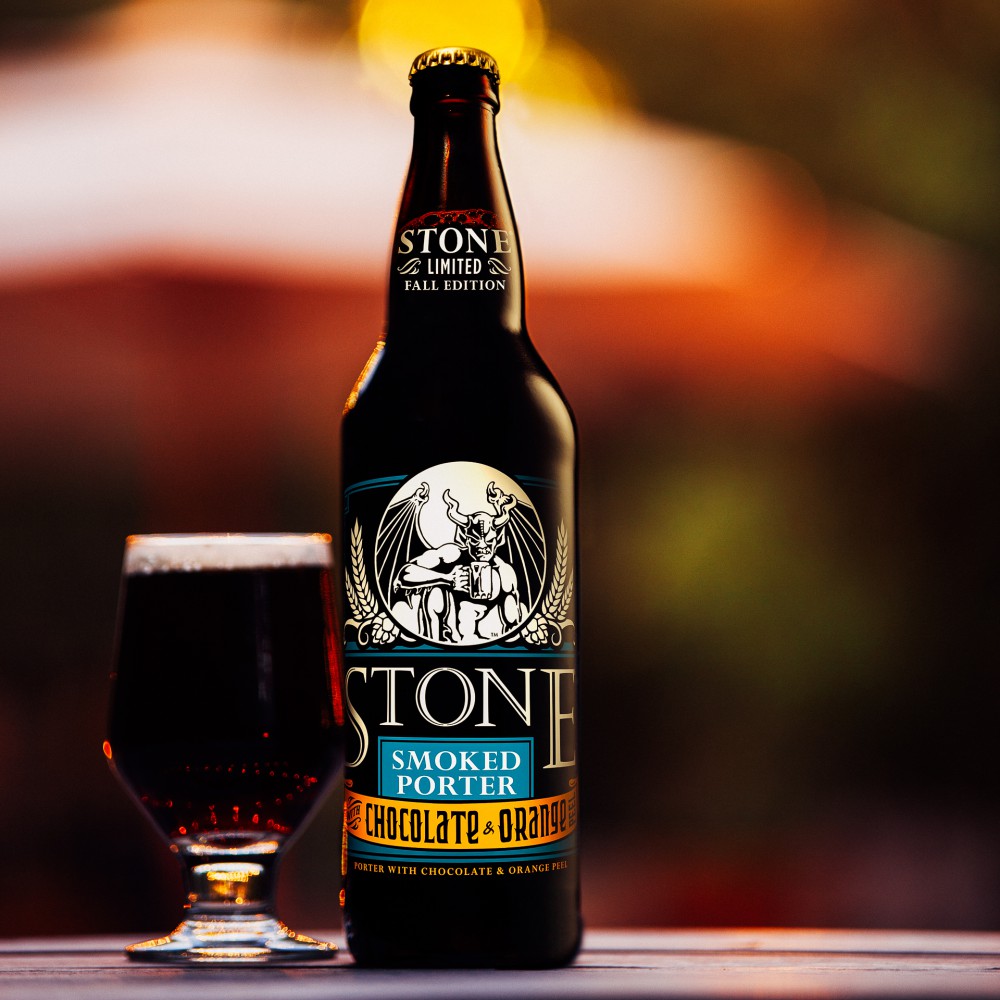 Stats & Tasting Notes by Brewmaster Mitch Steele
ABV: 5.9%
IBUs: 53 IBUs
Availability: Limited22-ounce bottles and draft, beginning October 20
Hop Bill: Magnum and Mt. Hood
Distribution: AK, AL, AZ, CA, CO, CT, DE, FL, GA, ID, IL, IN, KY, LA, MA, MD, ME, MI, MO, MT, NC, NH, NJ, NM, NV, NY, OH, OR, PA, RI, SC, TN, TX, VA, VT, WA, and Puerto Rico
Appearance: Pours deep brown with a tan head.
Aroma: Peat-smoked malt, orange peel and coffee with hints of cocoa.
Taste: First impression is the smoky flavor from the peat-smoked malt that characterizes our regular Stone Smoked Porter, followed immediately by a blast of orange peel and citrus. Cocoa and roast malt characters follow, but the orange peel is particularly prominent in the aftertaste.
Palate: Medium body with a light sweetness and citrus tang, along with balanced hop bitterness.
Overall: This is a fun beer to brew. We've loved this orange and chocolate flavor in beer for a long time, and our team has made several casks of this particular version that are always very popular. The orange notes blend in well with the dark-roasted malt character, and the peat-smoked malt adds layers of flavor.
Suggested Pairings by "Dr." Bill Sysak
Appetizers: Goatcheese-stuffed mushrooms, coconut shrimp, bacon-wrapped dates, pulled pork sliders, hummus, artichoke dip
Soups: Beef stew, lentil, New England-style clam chowder, French onion soup, chili con carne
Entrées: Pork tenderloin, lamb chops, filet mignon, stuffed Poblano peppers, Indian yellow curry
Desserts: Tiramisu, chocolate lava cake, oatmeal cookies, pecan pie, vanilla ice cream