There's been some major buzz around a new beer lately. Maybe you've heard about it…a double IPA infused with a grove's worth of hand-peeled grapefruit zest. For devout Stone fans (or more casual visitors to our booth at last year's Great American Beer Festival), the name of this beer—Grapefruit Slam IPA—probably sounded quite familiar. After all, one of the one-offs we received the most compliments on from beer lovers was our Stone Ruination IPA – Grapefruit Slam Edition. Given this, of course, those deeper down the Stone rabbit hole wondered if we were behind this mysterious new Stochasticity Project brand, despite the fact the beer was registered under a different entity, Koochenvagner Brewing Company. We have something to say to those questioners, especially those who were most vocal—thank you.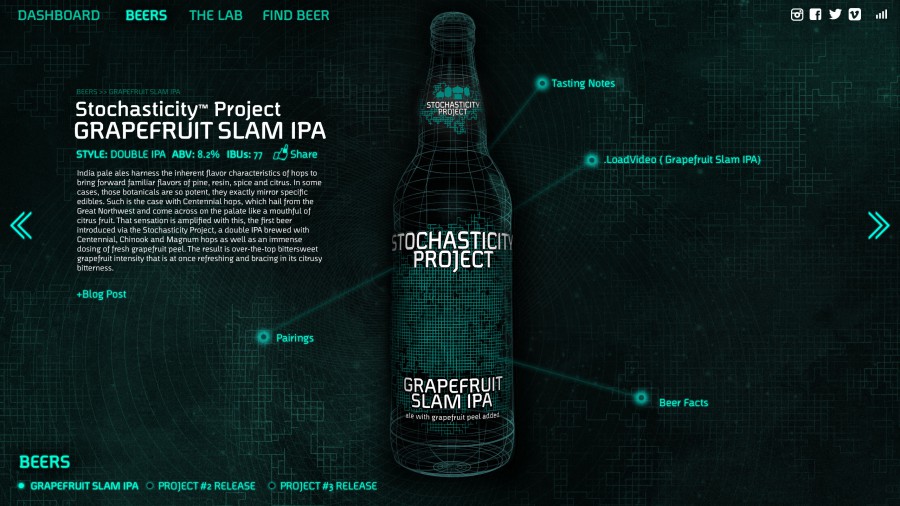 In openly questioning the identity of the brewers behind Grapefruit Slam IPA, you started conversations. In most cases those dialogs included plenty of notes about the beer and Stochasticity Project's focus on the science behind both it and brewing in general. This was the entire intention of the Stochasticity Project. We created it to move the spotlight off of our company and onto beer and cool, nth degree brew tech material. We felt this was best done independent of our iconic gargoyle and sometimes enthusiastic-and-bullish-to-the-point-of-bombastic nature. These are things our fans have come to know—and love—about us, and we appreciate it big time (and love you right back), but microscopic yeast slides and scientific discussions on microbiology aren't for everybody. So conjuring up an underground society of beer scientists studying theories of randomness in the context of craft beer seemed a fun way to go in introducing enthusiasts at all levels to not only interesting brews, but higher level technical info. Few breweries have touched on it, and we feel it's part of the next step in the craft beer renaissance. Being that this semi-ruse was so thinly veiled (I mean, look at the bottle label…the gargoyle's right in it!), naturally the beer industry and media covering the brewing beat saw Stochasticity Project for what it was. Actually, that's only partly true. Some clearly understood it was a way for us at Stone to try to do something in a manner unlike anything we'd previously attempted. Of course, that took a little vision and putting one's self in our shoes. Admittedly, getting one's head around the things we do at Stone is no easy task. So, there were some who misunderstood it, but in the end, we think it was pretty clear this was really just a case of a craft brewery producing more craft beer. In this case, a beer that, if anything, being more labor intensive and pushing the IPA envelope beyond its traditional framework, has more craft cred than many beers on the market. (And bonus—developing this weird splinter group of beer scientists shrouded in darkness and mystery was a blast.)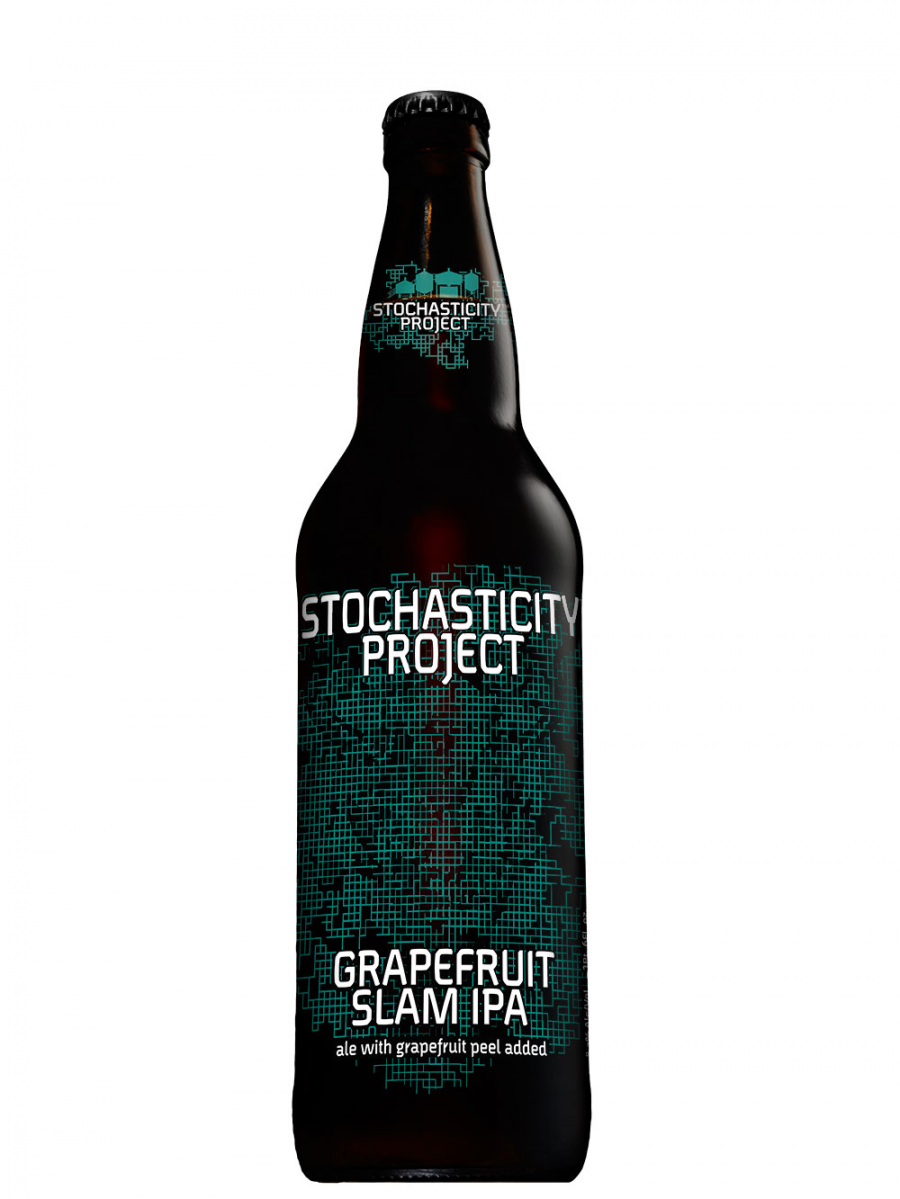 For the most part, those who didn't get it simply scratched their heads and wondered aloud, unable to comprehend why we'd go such a different route. But as any examination of Stone's history will reveal, this is how we tend to operate. One of our most popular beers, Arrogant Bastard Ale, doesn't incorporate the word Stone in its name (nor do any of its spin-off strong ale iterations). Rather than relegate our black India Pale Ale, Stone Sublimely Self-Righteous Black IPA, to seasonal status, we make it year-round. Instead of paying for advertising, we mandate this never be done, allowing our beer to merit us the attention we're afforded versus some blown up marketing budget. We don't do focus groups. We don't discount. We don't buy tap handle space at bars and restaurants. The point is, we're different and we thrive on doing things our own distinct way, even when it's so far removed from the status quo that the majority of people don't get it. At this point, it seems fitting to point out the parallel of you, the craft beer drinker who probably make little sense to your macro-lager swilling friends that can't fathom why you'd spend more money on that "fancier" beer or spend time seeking out more obscure suds when there are 24 packs of way cheaper stuff at literally every grocery and liquor store in the country.
https://www.youtube.com/watch?v=7RQw0wQ_h1g
So, now that we've explained ourselves, let's get back to what matters the most—beer. If you held off on trying Stochasticity Project Grapefruit Slam IPA because you weren't sure of this unheard-of Koochevagner operation (it actually plays off the names of our founders, Greg Koch and Steve Wagner), rest assured, if you can get your hands on this citric beauty, you'll soon be quaffing one of our most coveted beers. Seriously, the demand for this to be bottled was so great we took a beer that was never meant to go further than our internal Brewer's Cask program and found a way to work it into the brewing schedule. (Major props go out to Stone Brewery Logistics Planner Jessica Gilman for coming up with the idea to infuse all that grapefruit into our Stone Ruination IPA and executing it so well the beer ascended to the ranks of national distribution.)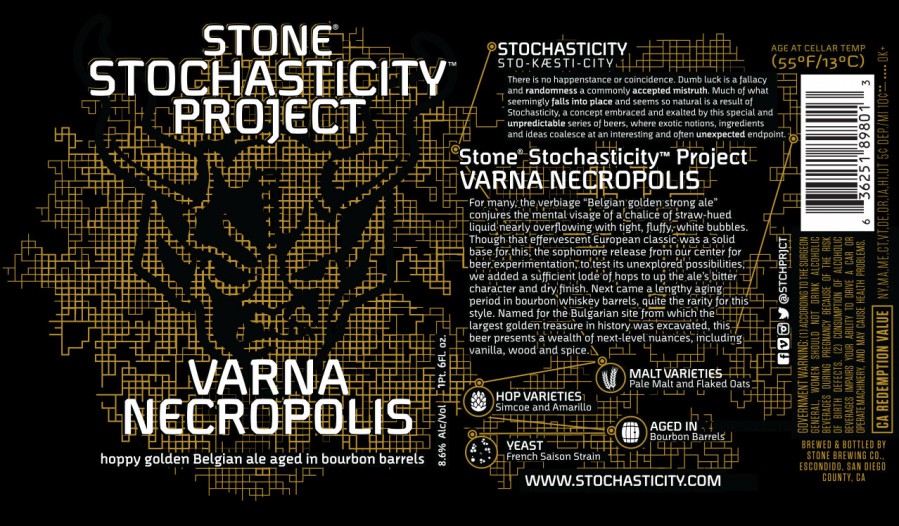 But we're not done with the Stochasticity Project. In taking ownership of it, we're adding on our surname and will continue to throw random and superiorly intriguing beers into the brew schedule, using the Stone Stochasticity Project as a way to get them distributed to our fans. Next up is Varna Necropolis, a most interesting, hoppy, Belgian-style golden strong ale that's been aged in bourbon whiskey barrels. And right now, we're toying with a Belgian-style quadrupel brewed with Pilsner malt, dark candi sugar and flaked triticale, a cross between rye and wheat. Yeah, just your everyday brews, right? More like ales unlike anything Stone has ever brewed. And that's the point. We want to explore the outer limits and we want our fans to come along for the ride. So hop on board, hold on tight and enjoy the ride. We guarantee, there'll be plenty of outstanding beer served along the way.