We release MANY beers throughout the year and, without fail, no matter what hoppy deliciousness we are talking about, we can't get through the comments and reactions without some plea for last year's Stone Xocoveza Mocha Stout. For a whole year now, we have heard: "bring it back," "I want Xocoveza," "this is my favorite stout, ever, so I'm signing a petition to bring it back." One even went as far (cough, cough Teague E. from VA) to say, "I personally promise I will buy at least three cases of this beer if it is ever released again. I can't accept that this beer has gone to the abyss until I am dead." Wow. Thank you.
Image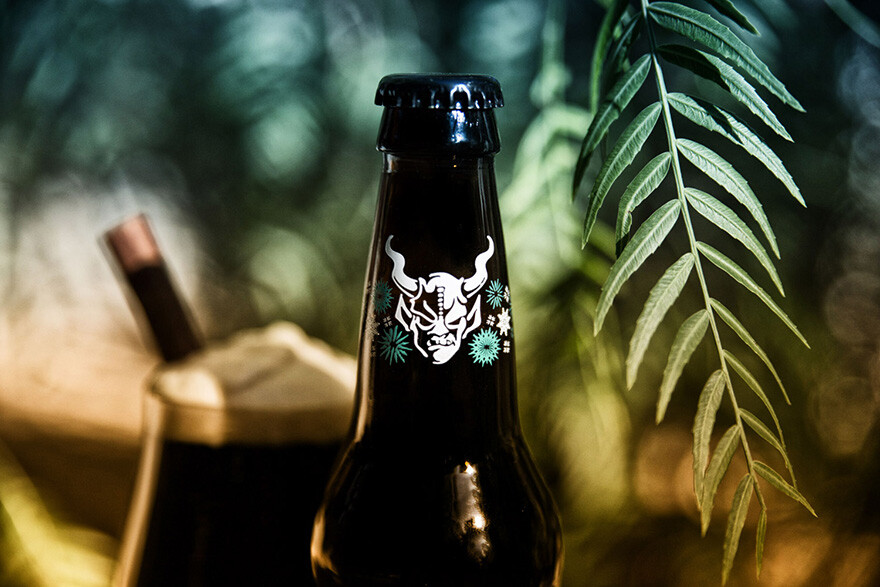 Your enthusiasm and passionate wishes for this Mexican hot chocolate inspired beer were not lost on us. While our pockets are not as deep as the jolly, fabled man that jumps down chimneys in his plush red suit to deliver toys all across the world, we did get all you good little beer drinkers exactly what you asked for this holiday season…your beloved mocha stout is officially back but with a new name.
Don't worry. We stayed true to the recipe of Chris Banker's Stone Homebrew Competition-winning creation, but we decided that it needed a more fitting name to let you know that, much to our and your spirited delight, it will be around every holiday and new year time for the delicious foreseeable future. So to stay true to our innate inclination to be brief, we landed on: "Stone Xocoveza for the Holidays and New Year."
Image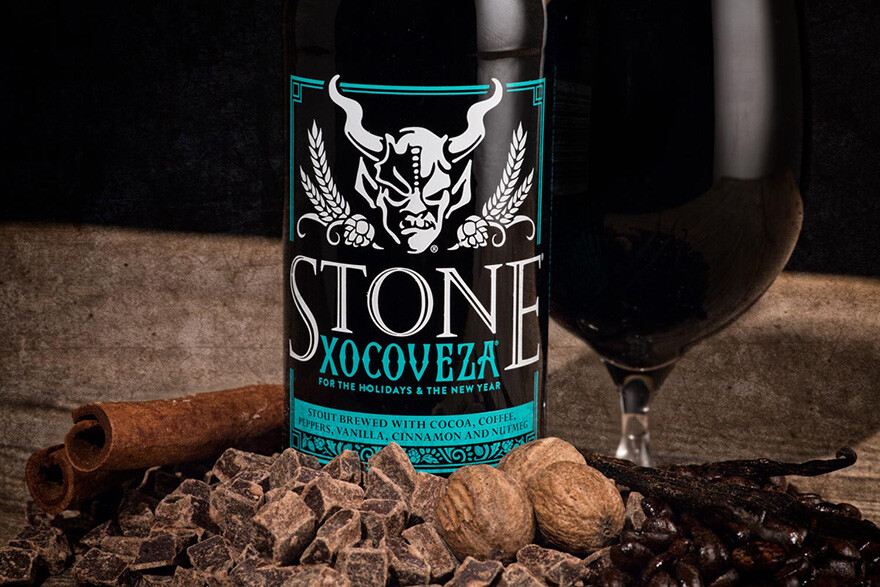 Still it couldn't hurt to stock up while you can. Based on the plethora of demands from those who had (and those that wished they had) our chocolaty, winter-spiced mocha stout, it's quite likely to be the number one special release item on everyone's holiday beer list this year. Plus, we don't think you'll want to be stretched out in front of a fire, wearing an ugly sweater, and miss out on sipping this bottle of beer that has been crafted with cocoa, coffee, dried pasilla peppers, vanilla, cinnamon and nutmeg. Just be sure to put out that fire at the end of the night to prevent any North Pole bags from getting torched. We can't help you with fulfilling any other holiday gifts on your list—unless your list includes a Stone Xocoveza Mocha Stout "ugly sweater"—because you can buy one for a beer geek or a geekess right here.
-----
Tasting Notes
Name: Stone Xocoveza for the Holidays & the New Year
Stats: 8.1% ABV, 50 IBUs
Availability: Limited 12-ounce six-packs and draft, beginning November 16
Hop Varieties: English Challenger, English East Kent Golding
Distribution: AK, AL, AZ, CA, CO, CT, DC, DE, FL, GA, IA, ID, IL, IN, KS, KY, LA, MA, MD, ME, MI, MN, MO, MT, NC, NE, NH, NJ, NM, NV, NY, OH, OR, PA, RI, SC, TN, TX, VA, VT, WA and Puerto Rico
Appearance: Pours black with a thick brown head.
Aroma: Intense cinnamon, cocoa and coffee are followed by nutmeg and peppers. As the beer warms up, the flavor combinations evolve and the cocoa and vanilla notes really start to open up.
Taste: Cocoa and cinnamon are at the forefront. The coffee, nutmeg and vanilla follow, and the fruitiness and heat of the pasilla peppers come through nicely on the finish.
Palate: Full bodied and very smooth with a light bitterness. The sweetness adds a lot to this beer without being too syrupy.
Overall: When we first brewed this beer in 2014, I think everyone on the brewing team was blown away by its multiple layers of flavor. The inspiration came from Mexican hot chocolate combined with coffee. We loved how wonderfully this beer showcases the spices, cocoa and subtle coffee roast flavors, so much that we were excited to bring it back as an annual Stone special release.
Suggested Pairings
Appetizers: Bacon-wrapped figs, roasted pecans sprinkled with cinnamon, jalapeño poppers, candied salmon, coconut shrimp
Soups: French onion, beef stew, pork chili, butternut squash, clam chowder
Entrees: Chicken mole, coffee-dusted filet, vegetarian green curry, stuffed poblano chilies, mushroom stroganoff, lamb chops
Cheeses: Camembert, Hook's EWE CALF to Be KIDding, Beehive Cheese Big John's Cajun, Point Reyes Original Blue, Maytag Blue
Desserts: Cinnamon rolls, pecan pie, chocolate lave cake, tiramisu, vanilla ice cream float
Cigars: Alec Bradley Prensado Robusto Corojo, Casa Magna Colorado Extraordinario, Rocky Patel 15th Anniversary Robusto, La Aroma de Cuba Mi Amor, Padrón 1964 Anniversary Series Maduro