Were this blog post dated April 1, it's doubtful anyone would take it seriously, for the subject of our latest communique is a most unusual beer that merits attention not only for its uniqueness, but for the art behind its crafting and its overall deliciousness. It's these qualities that led to it winning our 2015 American Homebrewers Association-sanctioned homebrewing competition. For the first time ever, that annual event was held at Stone Brewing World Bistro & Gardens – Liberty Station, providing plenty of room for attendees (the majority of which were recreational fermentationists) to roam about, tasting their way through the 27 homespun beers vying for bragging rights and the chance to be brewed at Stone and distributed across the country. That's a heck of a grand prize. As such, our judges—Stone Co-founders Steve Wagner and Greg Koch, Craft Beer Ambassador "Dr." Bill Sysak, and numerous members of our Brew Crew, Small Batch Team and Quality Assurance Department—spent a great deal of time and deliberation making sure the blue ribbon went to the most deserving and delectable of the bunch.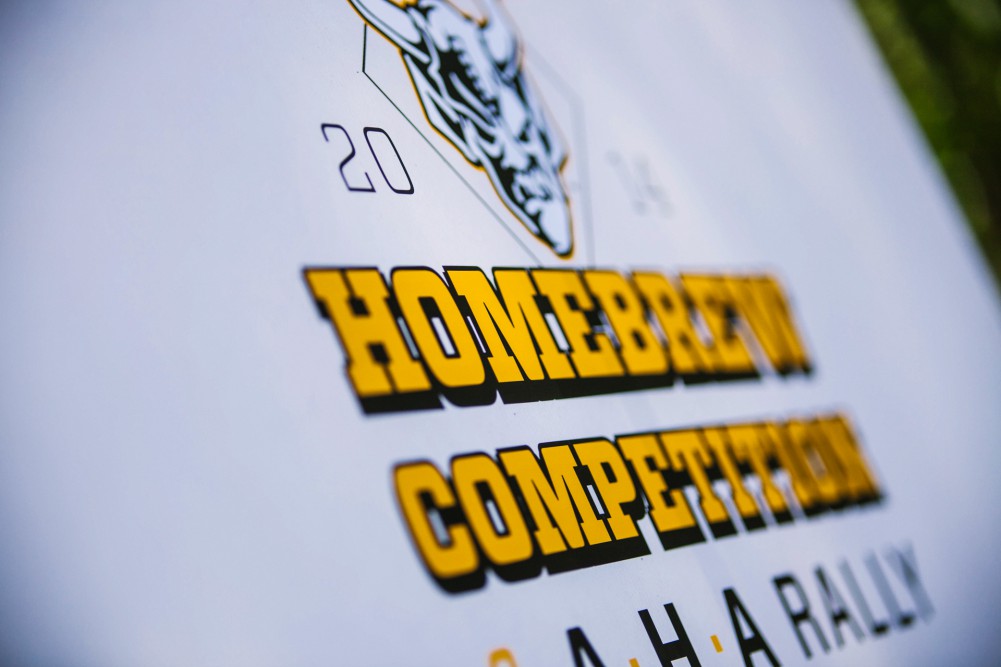 In the end it was Juli Goldenberg, a member of esteemed homebrew club QUAFF (Quality Ale Fermentation Fraternity) and founder of the San Diego Suds Sorority that took the top spot. She is the first female brewer to win this competition and joins previous winners Ken Schmidt (Ken Schmidt/Maui/Stone Kona Coffee Macadamia Nut Porter, Ken Schmidt/Iron Fist/Stone Mint Chocolate Imperial Stout), Kelsey McNair (Kelsey McNair/Ballast Point/Stone San Diego County Session Ale), Robert Masterson and Ryan Reschan (Robert Masterson & Ryan Reschan/Rip Current/Stone R&R Coconut IPA) and Chris Banker (Chris Banker/Stone/Insurgente Xocoveza Mocha Stout). So skilled is this collection of victors, that two of them have gone on to become professional brewers, with Masterson helming San Diego's work-in-progress Resident Brewing Company and McNair hard at work on his passion project, North Park Beer Co. We're not sure what Goldenberg's aspirations are, but given the creativity and prowess exhibited in her winning entry, it would seem the sky's the limit. So, what is her gold medal brew? Brace yourself. Sitting down? OK, here goes. It's a liquid version of carrot cake framed within the style parameters of a Belgian golden strong ale.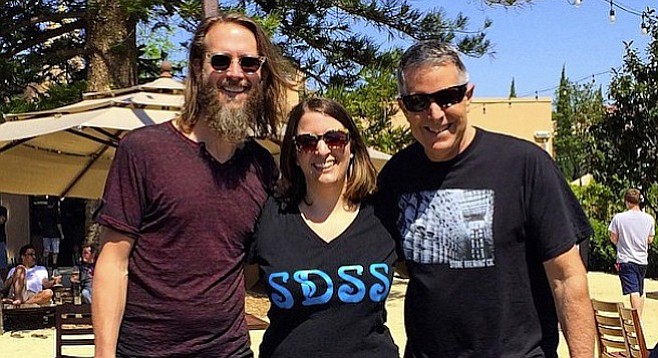 AHA Competition winner Juli Goldenberg poses post-victory with Stone Co-founders Greg Koch (left) and Steve Wagner.
It seems hard to believe anyone could accomplish this, much less do so in a manner so impressive that the resulting beer would be good enough to beat out hop-heavy IPAs, strong ales, robust stouts and other more mainstream, universally adored styles. Yet, that's just what Goldenberg did. To the extent where our judging panel was eager to find out just how she did it; concoct an ale that brings in the vegetal, spicy, confectionery essence of such a classic dessert. She started with two key ingredients—20 pounds of whole, grated carrots and golden raisins. The latter were puréed with the wort and both were added to the boil. Though a less obvious specialty additive, beet juice was also included in the recipe to help bolster the eventual orange color of the finished beer. Cinnamon was also added, post-fermentation, to round out the cake flavors, but Goldenberg didn't stop there. She also wanted to tackle carrot cake's iconic cream cheese icing. To do that, she incorporated milk sugar (lactose) in the boil and vanilla beans post-fermentation, resulting in a semi-creamy mouthfeel with a flavor reminiscent of fluffy, decadent frosting. When the beer is brewed for real here at Stone, there's one other special ingredient she'll draw on, which wasn't a part of her original recipe—the brewing knowledge and might of downtown San Diego's Monkey Paw Pub & Brewery, the brewpub she selected as the third collaborator for this strange but sultry beer.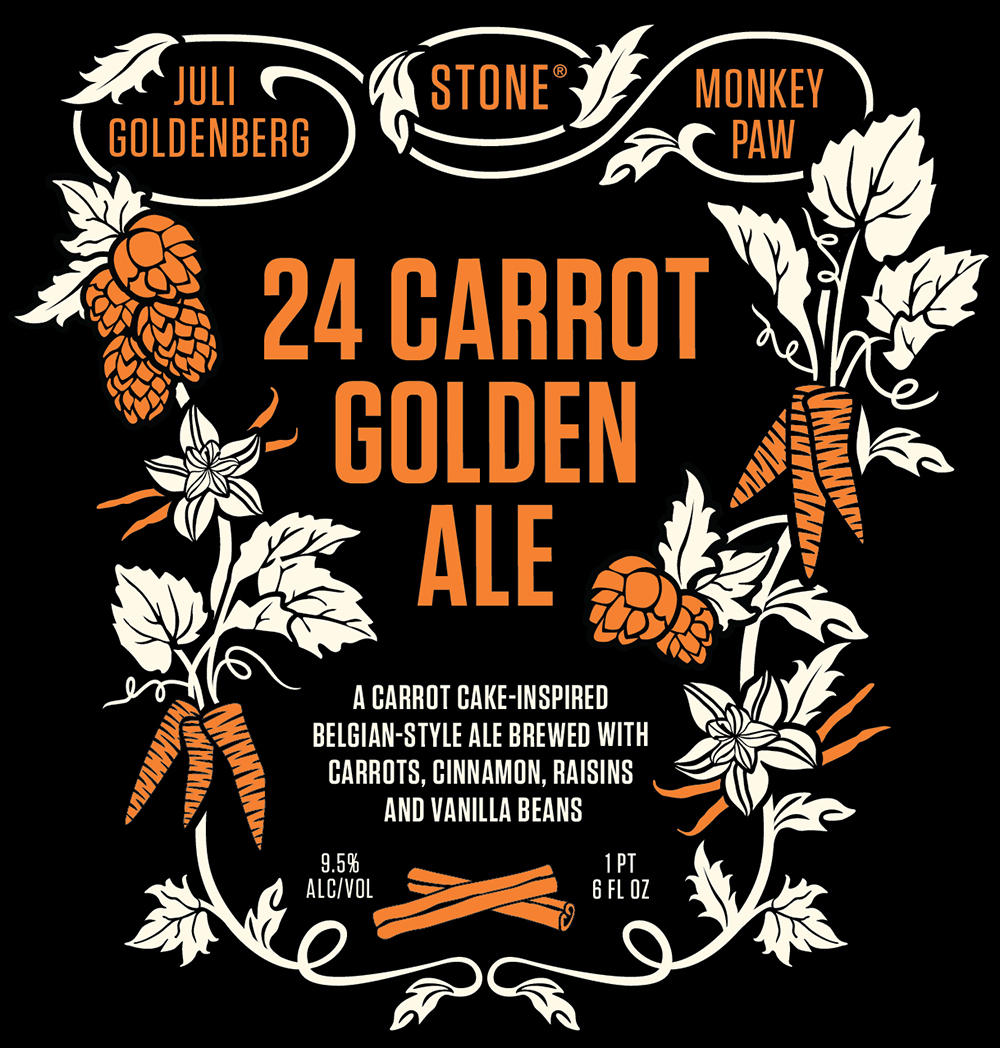 Look for Juli Goldenberg/Monkey Paw/Stone 24 Carrot Golden Ale (see what we did there?) to start hitting shelves across the country in places Stone beer is sold in September. Until then, enjoy a sneak peek at the conceptual artwork for this award-winner and maybe let it inspire you to explore uncharted territory on the homebrewing front from the comfort of your abode.