Counting the number of IPAs we have brewed over the years would take some time. However, there was ONE that introduced our fans to our unapologetic obsession with hops and it was also our first: Stone IPA. Brewed without even a pilot batch, this golden beauty—exploding with citrusy, piney hop flavors and aromas—not only helped universally define the style, it helped define us…
SOME ARCHIVED IPA HISTORY

Back in 1997 when we decided to release Stone IPA for our first anniversary, IPAs were strictly in the realm of the extreme beer enthusiast. In order to help get the beer sold into bars and stores, we actually had to create materials to define what an IPA is and educate them on why the hoppy bitterness was a good thing and not a mistake. We also had to spell out the beer style in the name: Stone India Pale Ale because this style was still pretty foreign. Now, 19 years later, this style is the style and it is synonymously known by its three-letter abbreviation—one right up there with LOL, BRB and WTF. Even the baby boomers are in on this lingo…
OUR ICONIC WEST COAST STYLE IPA
Being that it was one of the first brewed, bottled and kegged IPAs distributed outside of Southern California and seeing that it's still one of the most highly regarded IPAs, we thought we should acknowledge this accomplishment. So with our new design update—led by graphic designer Jade Blessinger—we call it out right on our bottles and boxes.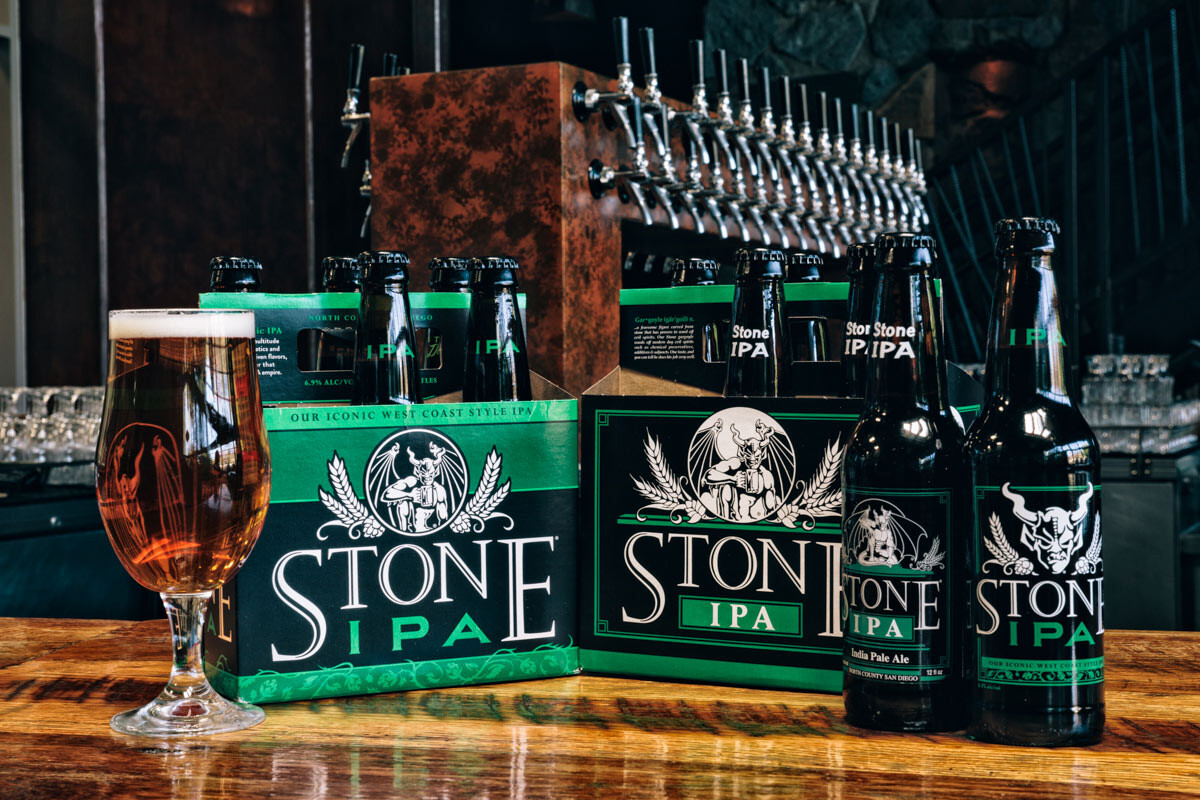 "I am a native San Diegan, Team Stone member and, above all else, craft beer fanatic; therefore, updating Stone IPA's look was no easy feat, but I was ready to take on the challenge. The goal was to liven up and refine the packaging to a point where it would excite new fans yet preserve the beer's bold character for the tried-and-true fans who have been with us since the beginning."
-JADE BLESSINGER, STONE GRAPHIC DESIGNER
THE IPA THAT LAUNCHED GENERATIONS OF HOP FANATICS
Frankly, people used to be bitter about hops. But with the current popularity of IPA, it's safe to say generations of Americans have developed quite a fondness for hops. To play up how this beer delivers in spades when it comes to hops, Jade freshened up the design with a custom hop illustration of wild hop bines to symbolize our (and our fans') evergreen and ever-growing obsession.
Image

While the changes in this new packaging refresh might be subtle, our obsession with hops never will be.  Look out for the new artwork rolling into stores and bar coolers gradually over the next few weeks. We hope you're a fan of the new art as much as you are for this crisp, extra hoppy beer!
Image