Taking place from May 13 to 19, American Craft Beer Week (ACBW) will provide quality beer fans and first-timers across the country a chance to celebrate the growing craft brewing industry and its members' delicious wares. Dubbed by the Brewer's Association as "the mother of all beer weeks," this seven-day span is comprised of thousands of pint nights, tap takeovers, beer dinners and meet-the-brewer events put on by the nation's 2,200-plus breweries. We've created a listing of more than 50 events we're holding throughout the country for your itinerary-building pleasure, but don't feel compelled to limit your activities exclusively to Stone happenings (though if you did, we'd be flattered). This is about every craft brewing company in America.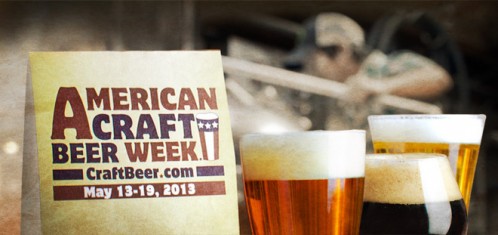 Our CEO and Co-founder Greg Koch put out an impassioned call to action to our industry comrades encouraging everybody to get involved. There are plenty of self-motivated individuals in the beer biz, but we'd be lying if we said we didn't think the following persuaded at least a few brewers to go the extra mile for ACBW. "I encourage all of you, my contemporaries, co-conspirators, collaborators…my brothers and sisters in craft beer, to work with your staff and the accounts that rightly provide tap and bottle space for craft beer to set up your own events and raise your glasses along with us. Together we are strong. Participating [in ACBW] is not only a show of solidarity, but a symbol of yet another small victory in a battle that, make no mistake, we are winning, thanks to the combined efforts of every single hard-working, scrupulous, forthright craft brewing company employee in America!" This dissertation certainly inspired members of Team Stone to get busy planning events. Not only will Stone be poured with great gusto from the West Coast to the East Coast and everywhere in-between, but our brewers and various other Stone representatives will be on-hand at each of those events.
https://www.youtube.com/watch?v=w4IAAAeYPvQ
During ACBW, the taps at Stone Brewing World Bistro & Gardens – Escondido will be stocked exclusively with American craft beers. Our farm-to-table restaurant will also host a trio of events, including two meet-the-brewer nights with San Diego County brew brethren Cosimo Sorrentino of downtown center of esotericism Monkey Paw Pub & Brewery, and Travis Smith and Douglas Constantiner of young upstart Societe Brewing Co. Stone Brewing World Bistro & Gardens – Escondido will also host the third edition of its popular 12 Brewers, 12 Casks, 12 Mallets event where 12 members of Team Stone simultaneously tap specialty casks of Stone beers enhanced with the addition of flavorful ingredients ranging from jasmine and sarsaparilla to tangelos and winter green leaves (check out the video above for more information on our Stone Brewer's Cask program). The mass tapping will happen at 4:45 p.m. on Thursday, May 16 and lead into an ACBW first—a coast-to-coast toast celebrating craft brewers and craft beer lovers alike. Regardless of where you are, it's something you'll definitely want to be a part of.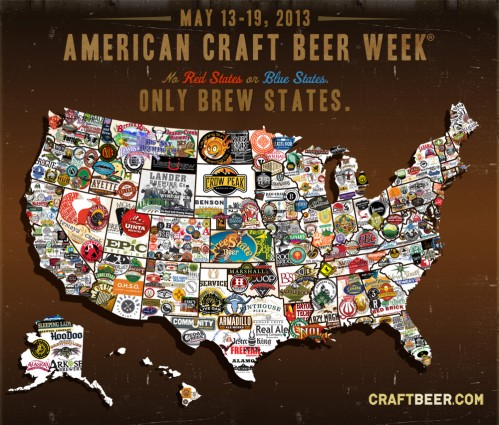 ACBW was established as a way to reach people thirsting for something more, and it's been a huge success for our industry, but as much as it's about brewers and, of course, beer, it's also about craft beer enthusiasts ranging from newcomers who just had their first "a-ha moment" to hard-core beer geeks. Without their extraordinary passion and impeccable taste, the craft beer culture in our nation would be nowhere near as spectacular and vibrant as it is. We thank each and every one of you for your support and positive impact on the state of beverage choices in this country, and hope the events we've put together serve as a humble symbol of our gratitude. Cheers and best wishes for a memorable American Craft Beer Week!