Stone Brewing Co. has been in business now for 17 years. (We know, we can hardly believe how quickly the time has flown, either.) Over that span, we've lifted pints, snifters, bombers and magnums of aggressively hopped, intensely flavored craft beer like vibrant, flashy banners proclaiming our mission and progress in pushing the American craft beer movement forward. But accomplishing that has been about more than making great beer. We aim to elevate everything about the craft beer culture. That includes events ranging from beer education to food-and-beer symbiosis to beer festivals. We think we've done a heck of a job with the latter, offering fests devoted to sour beer, barrel-aged beer and dark beer. But our expertise at putting on grand-scale festivals springs from extensive experience putting on our yearly, incrementally more incredible Stone Anniversary Celebration & Invitational Beer Festival. It's never the same, yet it never disappoints, and this year will be no different.
https://www.youtube.com/watch?v=uxbUCzzeKYU
Our annual advancement starts, aptly, with the beer. We'll have more than ever—more than 100 from over 50 guest breweries (click here for a full list)—and guests will be able to experience more than ever. Last year, we offered 10 tasters per person. This year, admission entitles revelers to 15 tasters. We figured if we were going to offer as much amazing beer as we are (click here to look over the downright exhaustive list), the least we could do is up the number of them our fans could sample. (And we're sure those same fans agree 100%...or at least an increased 50%.) Further enhancing our pair of Saturday sessions, there'll be a section devoted to special Stone cask beers, live music and various other forms of entertainment, two new flavors of beer-infused ice cream purveyed by roving Stone ice cream carts, a photo booth to help guests commemorate a special day of awesomeness, and chilled water to help cleanse palates and hydrate fans.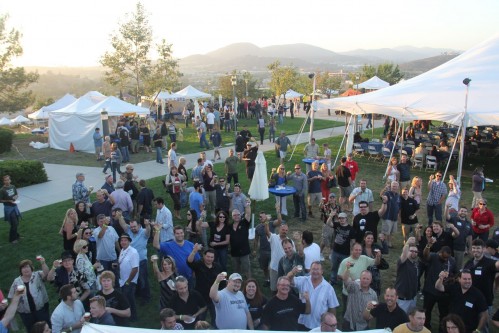 Still not enough for you? First off, what's wrong with you? (Answer: Not a damn thing…you're right to want more and we support that big time!) Second, we have plenty more to offer courtesy of our Friday Night Brewers Reception the evening before our Saturday festival. In addition to getting unlimited pours of beers—including 31 selections that won't be poured the following day—guests will get to rub elbows and chat with professional brewers from Stone and our invited breweries. There will also be even more food than last year, including beer cheese from our long-time Creative Director and master of fromage, Mike Palmer. Then there's the cigar lounge featuring an array of stogies curated by our knowledgeable bon vivant "Dr." Bill Sysak. The footprint for the event will be larger (enough so that we can put the cigar lounge a considerable distance away from the beer serving area for those who prefer their smoke in rauchbier or 2013 Stone OAK-SMOKED Old Guardian Barley Wine form), allowing more room for roaming and imbibing.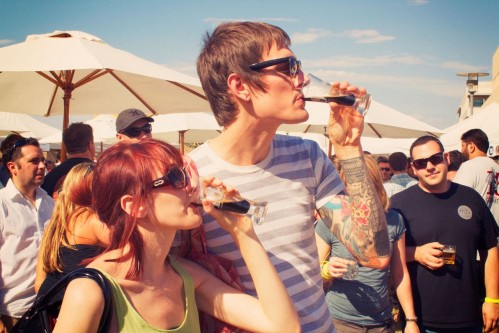 Of course, not everything has to change. We don't make a habit of fixing things that ain't broke. Case in point: As in years past, every cent of proceeds from this massive two-day extravaganza will be contributed to charity organizations including Surfrider Foundation, The Boys & Girls Club of San Marcos, The Palomar Family YMCA and Fight ALD. Throughout the past 17 years, our anniversary events have raised more than $1.5 million for these and other non-profit and humanitarian organizations. For that, and for supporting Stone all these years, we thank you from the bottom of our hearts and steins. You are what has the past 17 years at Stone possible and we hope you'll make time to come help us celebrate in style. Tickets are going fast (our VIP Session is sold out and the Brewers Reception is almost full as well), but there are still tickets available online for anyone who wants in. See you there.