Even if it's just the oxygen coursing through our lungs, come this time of year, we all have something to be thankful for. We are all blessed to varying degrees and, without question, those of us who know, appreciate and get to enjoy spectacular craft beer have plenty to be thankful for in a day and age when there are so many high-quality ales and lagers available to satiate our palates.
Surely, anybody reading this latest entry in the Stone Blog will be enjoying one or many tasty brews with their Thanksgiving Day vittles. We are very much in favor of that, but would like to suggest taking your Turkey Day artisanship to the next level by incorporating your beverage of choice directly into the food that graces your table. To help facilitate that, we've tapped one of our talented chefs, Jeff Stanko from Stone Brewing World Bistro & Gardens – Escondido, to provide a trio of Thanksgiving recipes made all the more delicious thanks to potent doses of Stone beers. Put down the Stove-Top and other fowl offerings, and give you and yours even more reason to be thankful this year.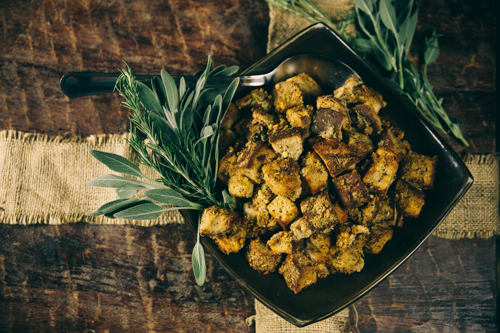 Beer-Brined Turkey Yield: 1 turkey
1 gallon plus 1 quart water
1 cup light brown sugar
1 cup kosher salt
¼ cup mustard seeds
2 Tbsp black peppercorns
10 bay leaves
8 sprigs fresh thyme leaves
4 sprigs fresh rosemary leaves
3 onions, chopped
¼ cup garlic, chopped
72 ounces Stone Smoked Porter
1 12- to 15-pound turkey
Whisk together 1 quart of the water, brown sugar, salt, mustard seeds, peppercorns, bay leaves, thyme and rosemary in a large pot over high heat. Stirring frequently, bring the mixture to a boil. Remove from heat. Add the onion and garlic. Transfer the mixture to a large bucket or cooler large enough to hold the turkey. Add the beer and the remaining water. Place the turkey in the brine, breast-side down. Add more water if necessary to completely submerge the turkey. Cover and refrigerate for 24 hours. Preheat oven to 350 degrees Fahrenheit. Remove the turkey from the brine, brush off the herbs and seeds, then pat dry. Transfer the turkey to a roasting pan fitted with a rack, placing the turkey breast-side up. Roast the turkey until a thermometer inserted into the thickest part of the thigh registers an internal temperature of 165 degrees Fahrenheit. Remove from heat and cover the turkey loosely with aluminum foil. Let the turkey rest for 20 to 30 minutes before carving.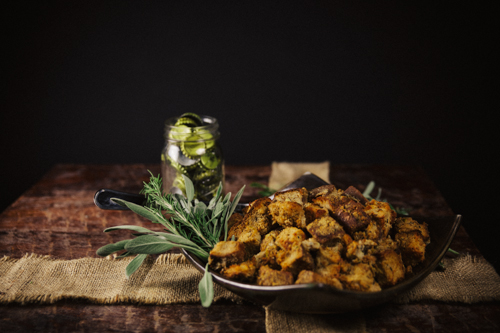 Beer & Sausage Stuffing Yield: 10 to 14 servings
2 Tbsp unsalted butter
½ pound spicy Italian sausage, crumbled
2 cups yellow onions, diced
2 cups celery, diced
1 cup leeks, white part only, thoroughly washed and diced
2 cups chicken stock
12 ounces Stone Pale Ale
2 Tbsp fresh sage
2 Tbsp fresh thyme
12 cups bread, diced and toasted to crouton consistency (preferably, a combination of French and rye bread)
salt and fresh-ground black pepper to taste
Preheat oven to 350 degrees Fahrenheit. Melt the butter in a large pan over medium-high heat. Add the sausage and sauté until browned, 8 to 10 minutes. Add the onions, celery and leeks and cook until the vegetables are translucent but still have crunch, about 6 minutes. Add the stock, beer, sage and thyme. Bring the mixture to a boil. Turn off the heat. Strain and reserve the liquid. In a large mixing bowl, combine the bread and sautéed ingredients. Stir in ½ cup of the liquid at a time, combining until the bread is moist but not soggy. Season with salt and pepper, then transfer the mixture to a greased baking dish. Transfer to the oven and bake, covered, for 30 minutes. Remove cover and bake until the top of the stuffing is lightly browned, about 10 minutes. Remove from the oven and serve.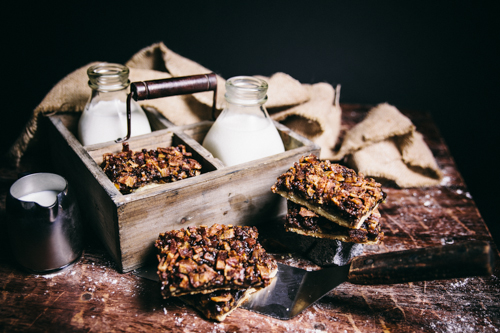 Bacon Maple Pecan Bars Yield: 16 servings
For the Crust
2 cups all-purpose flour
¼ cup light brown sugar
½ tsp salt
½ cup plus 2 Tbsp unsalted butter, chilled and cut into cubes
2 Tbsp water
For the Filling
1 cup Stone Imperial Russian Stout
½ cup unsalted butter
2 cups pecans, chopped
2 cups light brown sugar
½ cup pure maple syrup
¼ cup heavy cream
2 eggs, beaten
5 strips bacon, cooked and chopped
For the Crust Preheat oven to 350 degrees Fahrenheit. In the bowl of an electric mixer, combine the flour, brown sugar and salt. Cream in the butter, ¼ cup at a time until it is thoroughly incorporated. Add the water and mix well. If any dry flour remains, add additional water, ½ teaspoon at a time, until all of the mixture is homogenous. Line a 9-inch by 13-inch baking pan with parchment paper. Add the dough to the pan and press down with your fingers to create an even layer. Bake until light golden-brown, 10 to 12 minutes. Remove from oven and let cool. For the Filling Place the beer in a heavy-bottom pot over medium heat. Bring to a boil and allow the beer to reduce by 50%. Stir in the butter until it is completely melted. Remove from heat. Stir in the pecans, sugar, maple syrup and cream until all of the ingredients are completely incorporated. When the mixture has cooled to room temperature, mix in the eggs. Pour the filling over the crust, top evenly with the bacon and bake for 25 to 30 minutes. Remove from the oven and let cool. Cut into squares and serve.
Recipes courtesy Stone Brewing World Bistro & Gardens Executive Sous Chef Jeff Stanko