Sometimes you just get lucky. Maybe you take a chance on an obscure beer and happen to discover your new favorite. Or perhaps you stumble across a poor orphaned $20 dollar bill and decide to give it a home (after an exhaustive search for it's owner, of course). Recently, our luck came in the form of Dr. Bill. If you don't know who Dr. Bill is, then you haven't been going to the right parties. Bill Sysak, or "Dr. Bill," as he's known in the inner circle of craft-beerdom, is a master of zymurgical knowledge (made famous in part by his lavish beer tasting parties) and general beer wizardry. We're pleased to announce that he's our new Beverage Coordinator of Stone Brewing World Bistro & Gardens.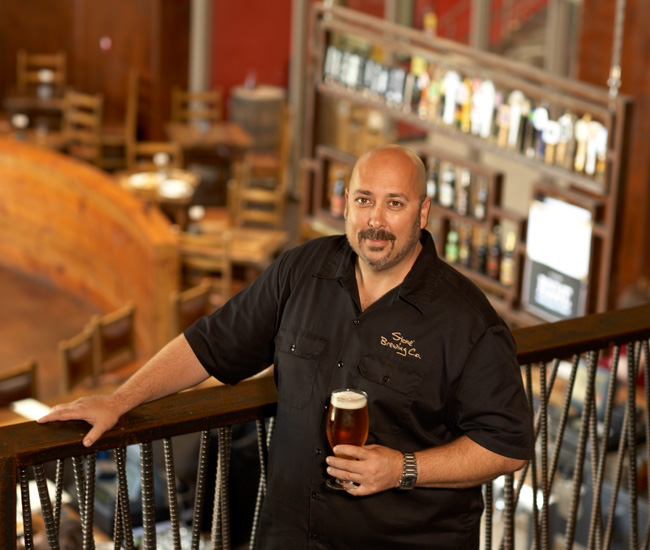 Our new Beverage Coordinator, "Dr." Bill Sysak
Right now you're either going, "Oh my god! Dr. Bill is working at Stone?!?" or you're asking yourself, "OK, so who the hell is this Dr. Bill guy and what is he a doctor of?" If your response is the latter, let me bring you up to speed. This is Dr. Bill's first professional foray into the beer industry, but he has long been a bit of a beer celebrity in the craft and specialty beer scene. Thanks to some well-guided mentoring from his father, Dr. Bill was exposed to great beer earlier than most. Every other Friday, Bill and his father would sample a dozen new beers, educating Bill about the variety of styles and complex flavor profiles available in the world of great beer (most of us aren't so lucky, and have to endure years of misguided beer drinking before realizing the errors of our ways!). Though Dr. Bill was ahead of the curve on great beer, he didn't earn his nickname through his near doctorate level of real-life beer scholarship. He earned it as a combat medic in the military, constantly responding to calls of "Hey Doc!" from fellow soldiers. Somehow the moniker stuck and Bill remained Dr. Bill long after he left the military to pursue a career in the medical field. So ingrained was his nickname that even actual Doctors referred to him as "Dr. Bill."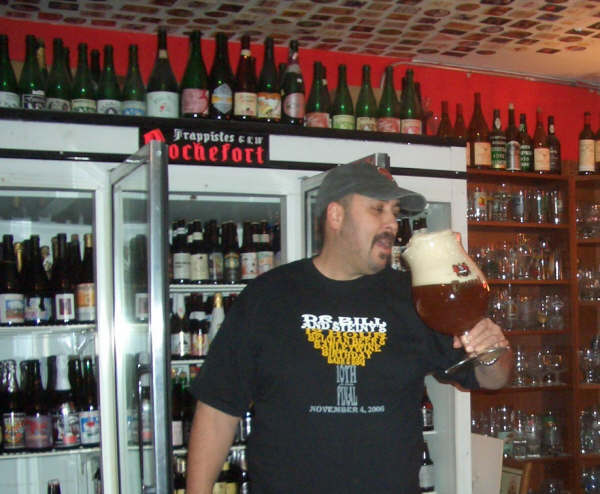 Dr. Bill enjoying a choice libation in his personal cellar
Bill's passion for beer continued to grow throughout his 25 years in the medical field, inspiring him to travel the world and visit over 500 breweries (he always respectfully declines the brewery tours after seeing his share of mash tuns). During one decidedly prolific three-year stint in Germany, Dr. Bill visited Belgium 30 times and stepped foot in roughly 300 breweries.
After his time in Europe, Bill moved to Seattle to immerse himself in the beer scene. He then moved back to his birthplace, Orange County California, where he spent the last eighteen years amassing one of the most extensive personal cellars in the world. Currently, Dr. Bill has about 1,000 bottles in his home cellar, but at its peak it contained nearly 2,500 bottles.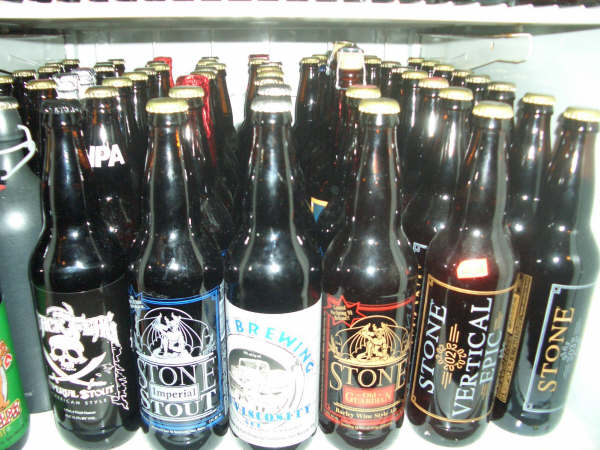 Do I spy a Stone 02.02.02 Vertical Epic Ale?
Throughout his tenure as a beer connoisseur, Bill has displayed a true talent for tracking down the rarest, tastiest beers from around the world. During his travels he garnered an impressive roster of connections in the beer industry, aiding him greatly in the acquisition of rare beer and augmentation of his cellar. However, Bill's deep roots in the industry and awe-inspiring cellar aren't the only things he's known for. His numerous extravagant beer-tasting events are nothing short of legendary. For a span of ten years, Dr. Bill hosted the "most extreme" private beer festival in the world. Along with a sizable gathering of SoCal beers, Bill and fellow beer enthusiasts would taste beers stretching from New York, England, Belgium, Washington and beyond. The largest festival Bill ever hosted featured 162 beers in two columns. One column consisted of all the rarest Belgian beers in the world, and the other had beers over 8%--but these weren't just any beers. They had to meet a certain standard to make the cut. (see below)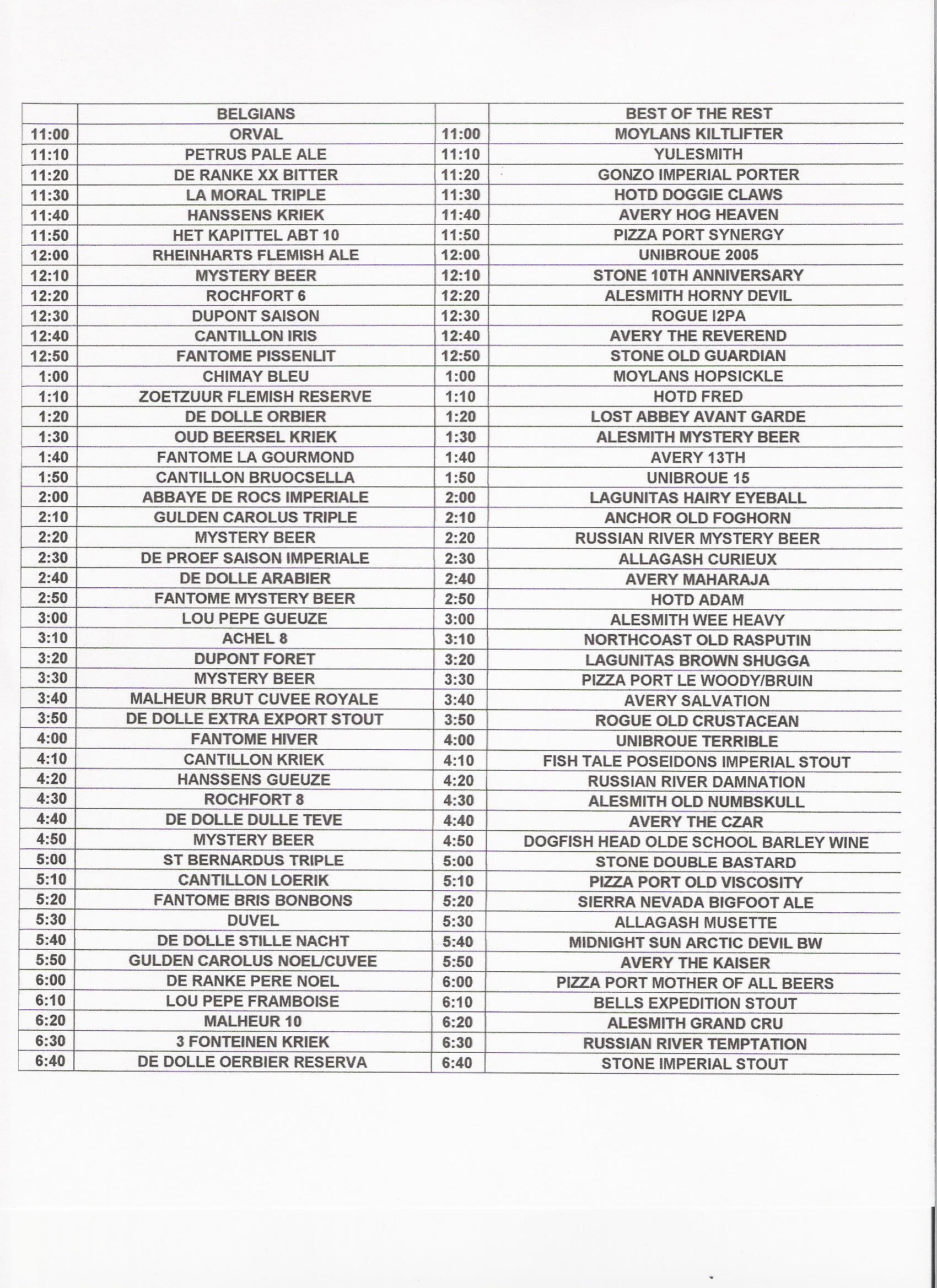 Page 1 (of 2) of the decadent beer list of Dr. Bill's 10th & Final Festival, complete with serving times...wow.
After a while the festivals evolved into Dr. Bill's birthday bash, and reached crazy levels of beer consumption. It was commonplace to go through 150 cases, which amounted to many thousands of dollars of beer. As if that wasn't enough, Bill used to provide up to twenty additional kegs courtesy of his brewery friends to quench the thirst of the patrons during the nine minutes between pours. Some of the kegs provided were Cuvee de Tomme, Fred from the Wood, and dry-hopped Stone 10th Anniversary IPA. The festivals became such a monstrous undertaking that Bill eventually enlisted the help of his good friend Steve "Steiny" Steinberg to co-host the 7th through 10th festivals, and the 6th through 8th were actually held at Steve's house. Dr. Bill and his festivals grew to an astonishing level of prominence. According to Dr. Bill, they used to say that Dr. Bill's house was one of the top three beer destinations in Orange County.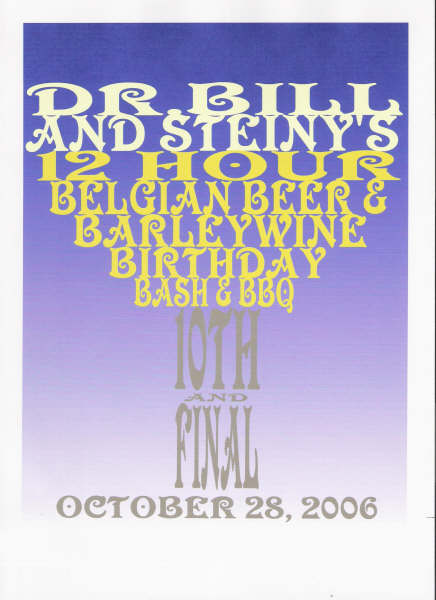 Dr. Bill's 10th and Final Beer Festival
Despite Bill's decadent past, the self-appointed "Grandfather of Beer Geeks," knows he has his work cut out for him here at Stone. The bar has been raised pretty high by our previous Beverage Coordinator, Peter Reeves. Peter put on an incredible Stone Sour Fest last year, and Dr. Bill admits that it won't be easy to top him--but he's up for the challenge:
"I love a challenge. I've always been able to accomplish whatever I set my mind to. We have a very nice, eclectic beer list, but I think we're going to make an even more eclectic beer list. I'm going to try to push the limits as much as I can, yet keep a wide range of beers for every palate and every person."
With events like Stone Sour Fest and San Diego Storm (more info coming soon) coming up, Bill will have plenty of opportunity to showcase his talent:
"I would love to be able to have the best Sour Fest ever. I'm going to be spending the time up to Sour Fest looking for the most rare sour beers I can possibly get, so it should be even better than before—if that's even possible."
Beer has been Dr. Bill's passion for years, and he's finally "bringing it to fruition by actually getting into the industry." So what took him so long?
"I've wanted to do it for a long time and it just so happened after 25 years in the medical field everything fell into place that I had the opportunity to take some time and look for something. I've known Greg and Steve since Stone's First Anniversary Celebration and I know how they run things. I know there's only one way, and that's the right way. So I put in an application, started talking to everybody and here I am."
We're confident that Dr. Bill will be a fine addition to Team Stone, and we can't wait to try all of the fantastic beers he'll get his hands on. Bill is also committed to communicating with the public on what he's getting on tap, so watch out for his Bistro "Beer Lineup" email newsletter. And just for the record—the doctor is in.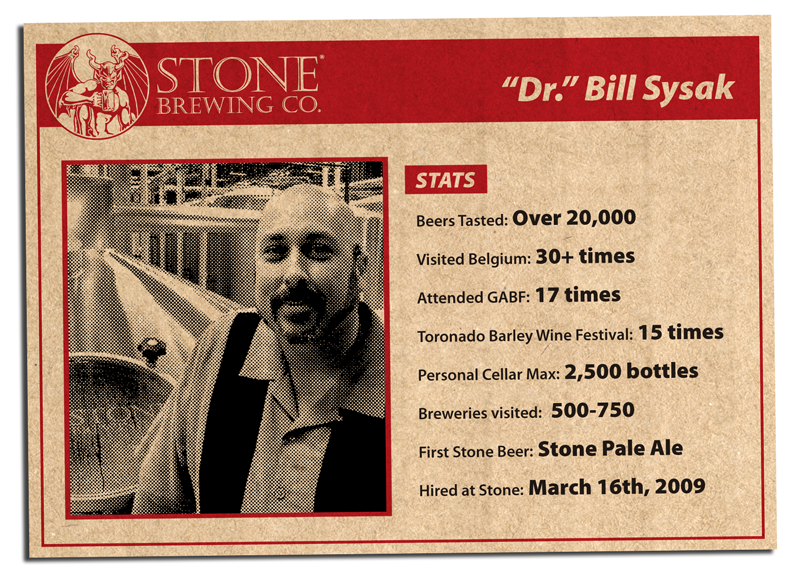 Get your Dr. Bill Trading Card Today!
-Matt Steele Check out our Dr. Bill flickr set for more peeks at his incredible personal cellar and general beer craziness Check out our Third Annual Stone Sour Fest on July 19th, where Bill will be showcasing his talent