Thanks to passionate craft beer lovers everywhere,
I Am A Craft Brewer
took on more of a life online than it did at the CBC. To borrow a trite social media buzzword, it went "viral." Within four hours of being posted on
Vimeo
it was viewed 1,500 times, and it sailed past 20,000 views just five days later. The video is currently hovering around a respectable 33,700 views. While the video stands alone as a testament to the camaraderie and integrity of the craft brewing industry, it was actually shown as the introduction to
Greg's keynote speech
at the 2009 Craft Brewers Conference in Boston, titled "Be Remarkable: Collaboration Ethics Camaraderie Passion." Famed beer writer Harry Schuhmacher said "It was the best speech I have ever seen," and while it isn't perfect, Greg's inspirational keynote successfully illuminates the many strengths of the craft brewing industry and demonstrates that "if we don't screw it up," craft brewing stands poised to thrive for many years to come.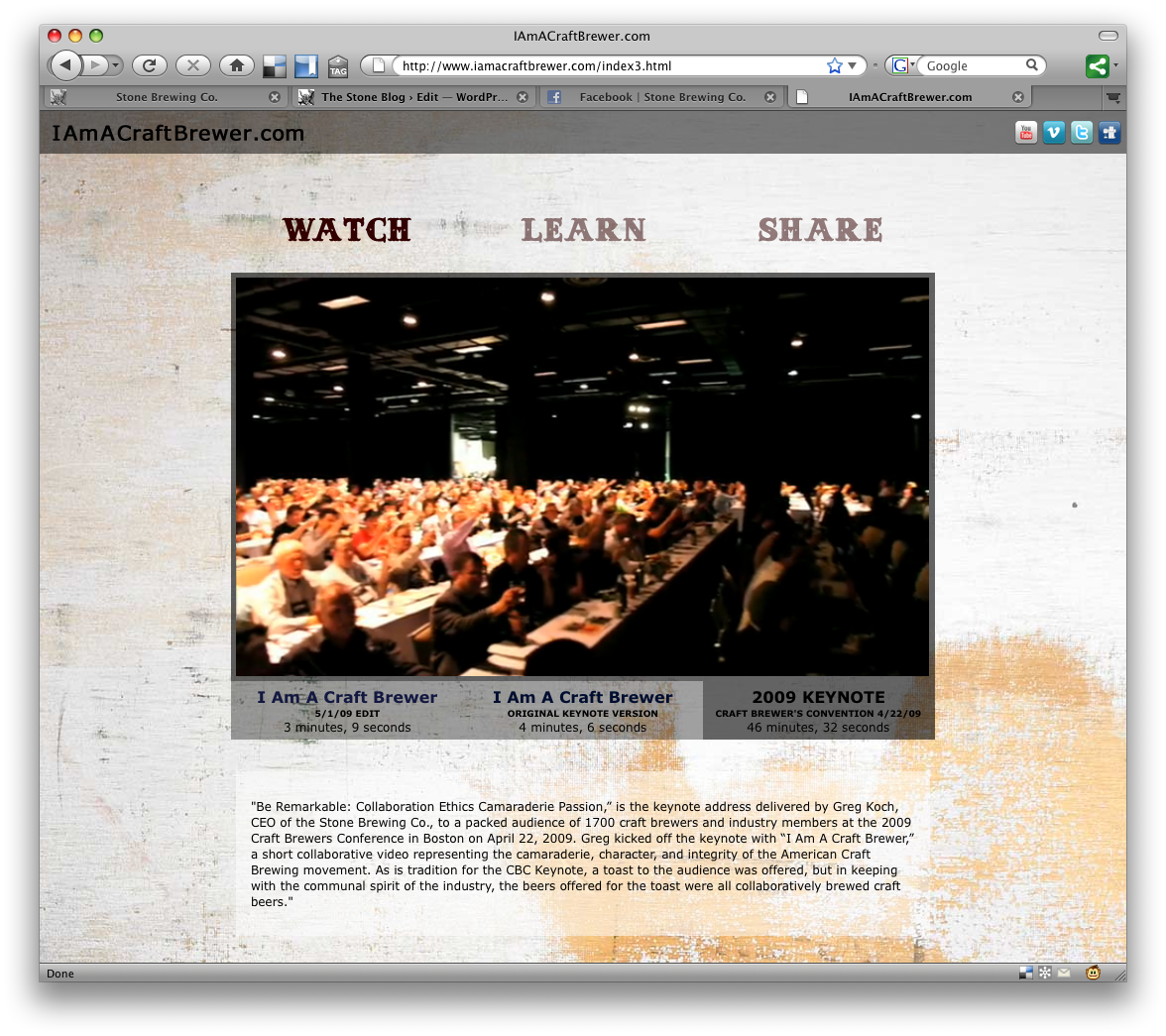 Click above to check out Greg's Keynote Address at IAmACraftBrewer.com
You can see Greg's keynote speech, complete with an impromptu musical performance with craft beer compatriots (perhaps they should stick to beer), at
IAmACraftBrewer.com
. Pour yourself a tall glass and settle into a comfy chair because Greg had a lot on his mind (the speech clocks in at 46 minutes). You can also find two different versions of
I Am A Craft Brewer
on
IAmACraftBrewer.com
, as well as a bevy of
quotes
from bloggers and media types raving about the video and Greg's keynote, and a short guide on how to
share
the video with as many people as possible to keep the movement rolling. Remember, we're all craft beer crusaders, and it's our job to spread the word about the spirit and integrity of the industry. Onward craft beer enthusiasts! -Matt Steele