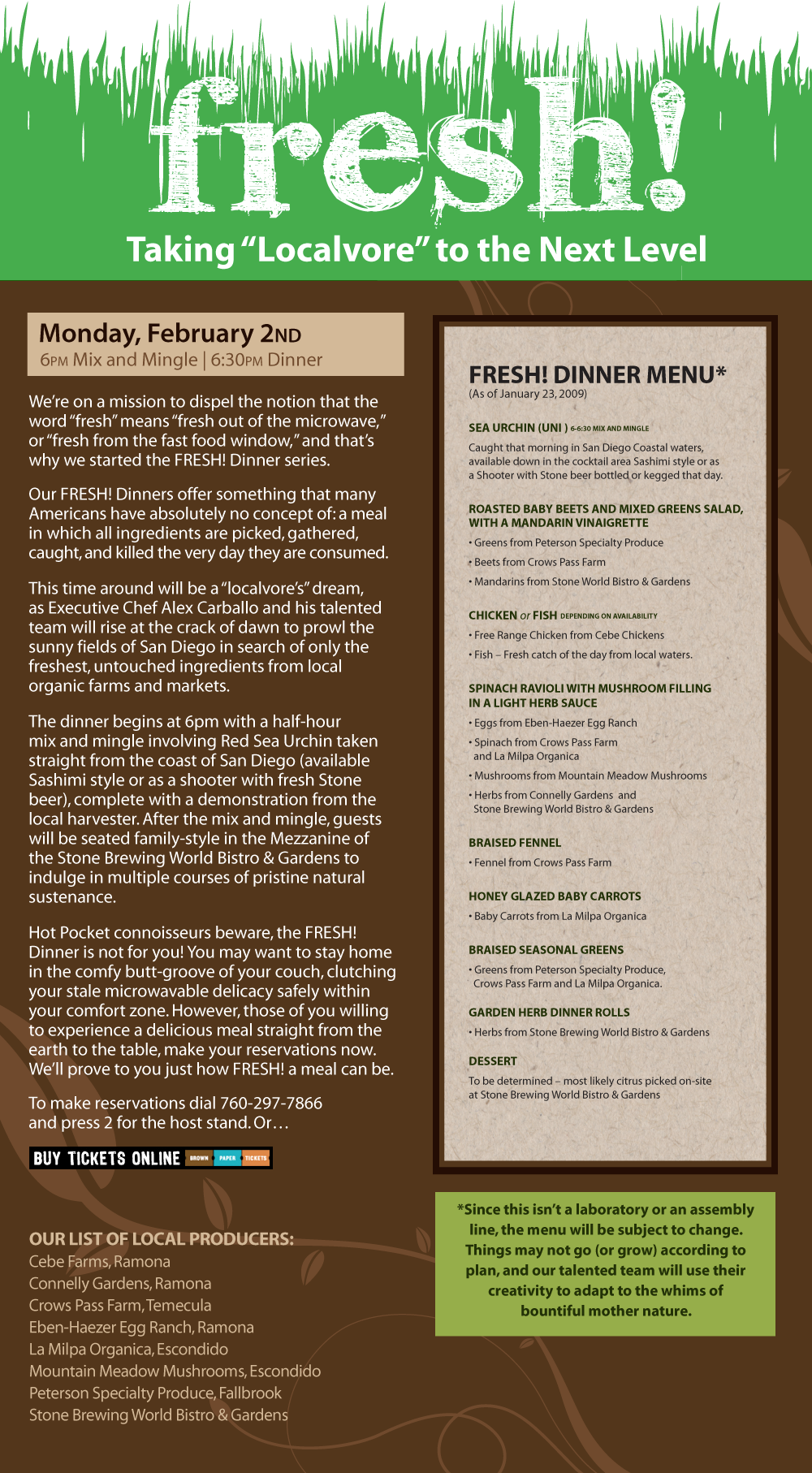 Click to view the menu, make reservations, and get more information

Growing up in this culture doesn't exactly foster an appreciation for the word "fresh." As a kid, I thought fresh meant "fresh out of the microwave," or "fresh from the fast food window." I grew up thinking that TV dinners, Hot Pockets, and quadruple cheeseburgers were perfectly acceptable forms of sustenance. I expected the ingredients in my food to have no less than eighteen syllables in their names, and to only be pronounceable by the highly learned. I also thought that, much like cockroaches, food should be able to survive the apocalypse (thanks to the complex cocktail of chemical preservatives graciously injected into it by men in white lab coats thousands of miles away). I don't blame my parents for raising me on less-than-fresh food. It was their only option for feeding three voracious boys in a fast-paced culture addicted to cheap, hastily-prepared, chemically-treated food. Thankfully, we are witnessing a slight shift in our culture's perception of food, as it slowly changes to favor more natural and sustainable consumption habits, but we still have a long way to go. That's why we started the FRESH! Dinner series. Our FRESH! Dinners offer something that many Americans have absolutely no concept of: a meal in which all ingredients are picked, gathered, caught, and killed the very day they are consumed. That means no Hot Pockets, and no men in lab coats.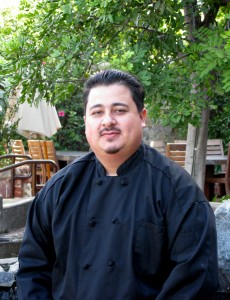 Executive Chef Alex Carballo, mastermind behind the FRESH! Menu
The upcoming FRESH! Dinner on February 2nd will be a "locavore's" dream. Executive Chef Alex Carballo (creative mastermind behind the FRESH! Menu) and his team will rise at the crack of dawn to hit the sunny fields of San Diego. They will be on the prowl for only the freshest, untouched ingredients from local organic farms and markets. The menu* will include delights such as Roasted Baby Beets and Mixed Greens Salad with a Mandarin Vinaigrette, Spinach Ravioli with Mushroom Filling in a Light Herb Sauce, Braised Fennel, Honey Glazed Baby Carrots, and Braised Seasonal Greens. There will also be a fish or chicken course, depending on which is fresher of course! The ingredients will be procured from local farms ranging from Crows Pass Farm in Temecula to La Milpa Organica in Escondido and Eben-Haezer Egg Ranch in Ramona. *Disclaimer: Since this isn't a laboratory or an assembly line, the menu will be subject to change. Things may not go (or grow) according to plan, and our talented team will use their creativity to adapt to the whims of bountiful mother nature. The mix and mingle portion of the dinner (6:00-6:00pm) will feature Red Sea Urchin, available Sashimi style or as a shooter served with fresh Stone beer that will be bottled or kegged that same day. The Sea Urchin (Uni) will also come complete with a demonstration from the local harvester, Chef Gordon Smith. After the mix and mingle, guests will be seated family-style in the Mezzanine of the Stone Brewing World Bistro & Gardens to indulge in multiple courses of pristine natural sustenance.
Eben-Haezer Poultry Ranch in Escondido, CA, where the chickens roam free!
Hot Pocket connoisseurs beware, the FRESH! Dinner is not for you. You may want to stay home in the comfy butt-groove of your couch, clutching your stale microwavable delicacy safely within your comfort zone. However, those of you willing to experience a delicious meal straight from the earth to the table, make your reservations now. We'll prove to you just how FRESH! a meal can be. Click here to view the tentative menu, make reservations, and get additional information. -Matt Steele
https://www.youtube.com/watch?v=T0NyYQfH36E&feature=youtu.be