The 29th annual Great American Beer Festival has finally come to a close. I say "finally" because getting through nearly a week of the GABF can resemble an uproarious endurance race. The yearly powwow of American breweries and craft beer fans features dozens of daily/eveningly events in addition to the 16 hours of actual beer-pouring, glass-dropping, high-flying Festival. Add to that the minimal oxygen supplied by Denver's thin, high-altitude air, and brewers can start to look a little worn around the edges by the time Sunday rolls around. I know, rough life we lead. Attending beer festivals, drinking endless varieties of the world's greatest libation, and schmoozing with hoards of adoring, appreciative, informed fans. Poor, poor us. Another reason to pity us is that Stone only took home two medals at this year's GABF. Granted, those two medals (a Silver in the Herb/Spice or Chocolate Category for Stone Smoked Porter with Chipotle, and a Bronze for Stone Sublimely Self-Righteous Ale in the newly minted India-Style Black Ale Category) mark a 50% increase in our total GABF medal count.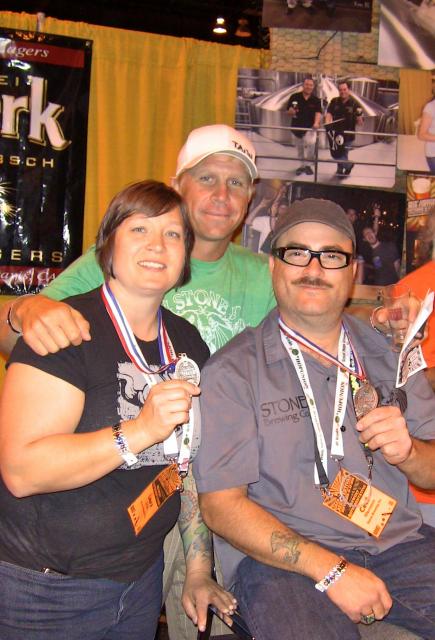 Stone brewers Laura Ulrich & Cecil Menasco show-off their hardware, flanked by Stone Sales Rep Marty Saylor
Nonetheless, we had a phenomenally good time in Denver. In addition to the Festival, we attended the "Pints For Prostates: Denver Rare Beer Tasting" at the handsome Wynkoop Brewery, an important awareness and money raising event. Fans greedily drank through our keg of GK's Mad Man Mix, a mash-up of Stone 10th Anniversary Imperial Russian Stout Blend, chipotle, sage, and a dash of Stone Sublimely Self-Righteous Ale. Additional charitable monies were raised by Greg, who signed copies of our DVD for $2 a pop at this event and the GABF, which resulted in a $650 donation to Pints For Prostates. We had a blast.
And Marty rejoices in the funds raised for charity
There were too many fantastic events to name. The long and short of it is that the GABF seems to get bigger, grander, and more wondrous every year. The host city, too, has added a substantial number of new craft beer-centric bars, a promising sign that Denver is beginning to fully embrace the breweries from near and far that help make the GABF America's most important beer festival. In fact, we can hardly wait for our next trip, which will mark the 30th time brewers have converged on the Mile-High City. Hopefully we'll see you there, and if you see us, give us a high five (or a low-five, if that's how you roll.)