You may remember a little idea bomb we dropped a few days before Christmas about potentially opening a brewery in Europe. Today we are taking a big step forward on that project with the release of our Request For Proposal. Just what in the hell is a Request For Proposal, you ask? Truthfully, we weren't really sure ourselves, so we decided to check some out. We learned, more or less, that they tell the world about your project, with the goal of finding people who can help make it happen. The problem: the ones we found bored us to tears…when we were able to stay awake long enough to conjure up those tears.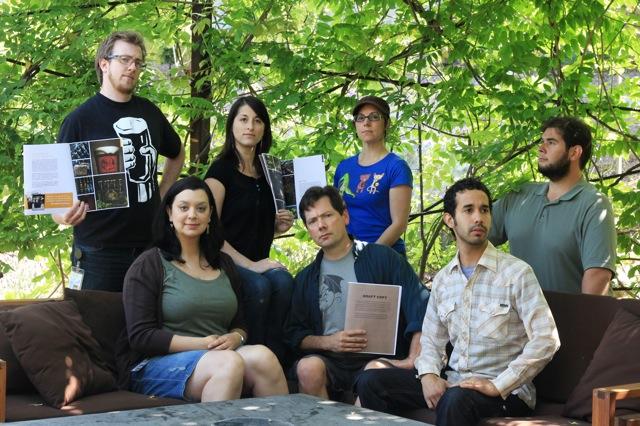 The team of fun-loving goofballs who made this zany RFP. Our sitcom premieres this Fall.
So we took the standard RFP and poured sauce all over it. Yummy, interesting, Stone sauce. Or, to put it literally, we designed and wrote our little hearts out in order to tell Stone's story as powerfully as possible. What we ended up with is an über-shiny overview of the brewery and what we're all about, along with some details about what we're looking for in a potential European location. The results were a little jarring even to us. It's glossy, polished, and maybe even a little businesslike, which is not how we usually think of ourselves. But we quickly realized that the RFP reflects the tremendous skills of all the Team Stone folks who created it. Turns out we've got some serious badasses working here. Collectively, we've got smarts, looks, and talent. We even want to ask ourselves out. Did I just say that out loud? Anyway, check it out for yourself, but keep in mind that at the end of the day, it's a business document. We're sharing it with all of you so that you can follow us on this crazy project from beginning to end. Without further ado, behold the most Arrogant RFP ever.