Those of you who follow us on Facebook & Twitter know that we recently brewed a beer called Baird / Ishii / Stone Japanese Green Tea IPA as a benefit for Japanese tsunami relief. Bryan Baird—brewmaster & founder of Numazu, Japan's Baird Brewing—and Toshi Ishii—former Stone brewer (1998-2001) & founder of Guam's Ishii Brewing Co.—joined Stone Head Brewer Mitch Steele in crafting this truly unique beer. As the name implies, this beer is "dry-hopped" with Sencha, a variety of whole-leaf Japanese green tea. Unique, no? Well, it's a first for us. But the excitement doesn't end there. The hop varieties used to brew this hoppy IPA are downright eccentric. The bittering hop is American Warrior (nothing crazy there), but then we used Crystal hops and New Zealand Pacifica hops for the flavoring addition. The first dry-hop addition featured those same flavoring hops plus a brand spankin' new hop variety from the Alsace region of France called Aramis. The second dry-hop addition features Sorachi Ace hops, which were originally developed in Japan, and the aforementioned Sencha tea.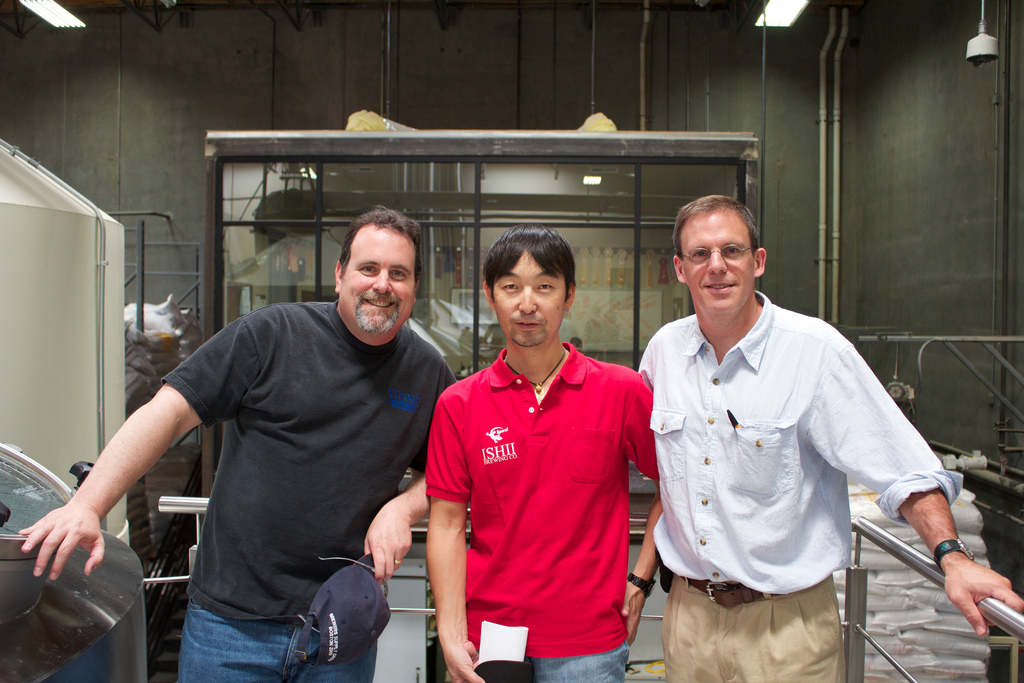 Mitch, Toshi, and Bryan pose for the camera
The tentative release date for this innovative new beer is July 11th. If you typically see our collaboration beers in your area, you'll very likely have access to this one. For those that care, Aramis is a high-alpha Strisselspalt derivative, typically clocking in around 8% alpha acid. That means it imparts more bitterness than its parent variety, while providing an amped up version of its aroma and oil. If you have an intense interest in new hop varieties. we'll delve a little deeper into the mysteries of Aramis in a future blog post. Anywho, the point is that this beer has a lot of "firsts" in it. We're looking forward to tasting it as much as you are.