by Samantha Loveira
Editor's Note: Samantha, a Stone Indoctrination Specialist and certified cooking geek, is back with another installment of her drool-inducing "Cooking with Beer" series (you can check out all of her recipes on her personal cooking blog.) This is the second of a two part vegan meal celebrating Meatless Mondays, which is enthusiastically embraced by the Stone Brewing World Bistro & Gardens. Next up we have beautiful (and sophisticated looking) mini-mushroom leek tarte tatins. This is an incredibly simple recipe that looks super fancy. The mushrooms and leeks are cooked briefly with Stone Levitation Ale to deepen their flavors and accentuate the earthy notes. I used (vegan) frozen puff pastry here because, as much as I love cooking, I prefer to spend my time eating. So, if you're really ambitious, go ahead and make your own puff pastry.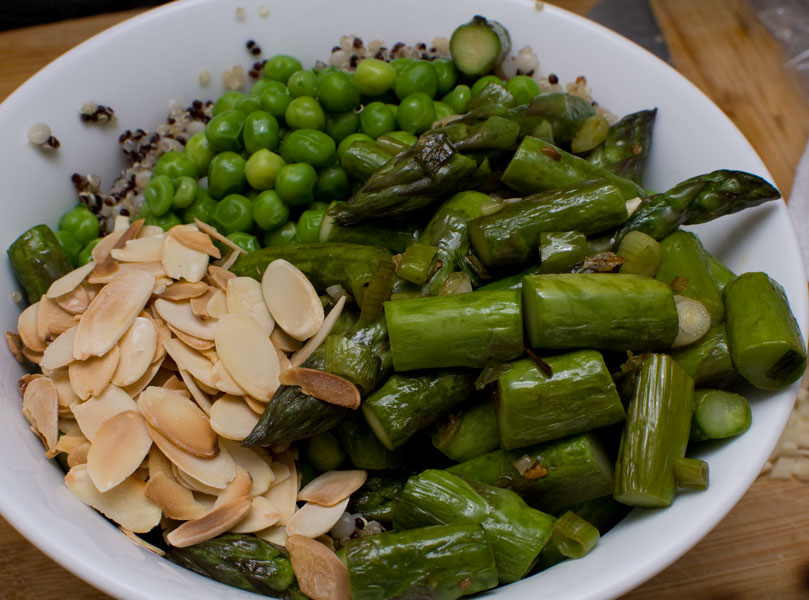 That's some healthy NOMNOM goodness
Mini Mushroom Leek Tarte Tatins with Stone Levitation Ale 3 c. mixed wild mushrooms, sliced (I used creminis, maitake, and oyster mushrooms) 3-4 Tbsp. fresh thyme leaves, chopped (more or less, depending on how thyme-y you want it) 2 leeks, halved lengthwise and sliced into ½ inch half-moons 1 large clove garlic, finely minced 4 Tbsp. Stone Levitation Ale, divided 2 sheets frozen puff pastry, thawed Olive oil Salt and pepper, to taste Preheat the oven to 375 degrees. In a large pan, heat 1 Tbsp. olive oil over medium flame. Add the leeks and cook, stirring frequently, for 7 minutes until lightly browned. Add garlic to pan and cook another 2-3 minutes until leeks are very brown and garlic is fragrant. Add 2 Tbsp. Stone Levitation Ale to pan and cook for a minute, scraping the pan with a spatula as you do. Set leeks and garlic aside in a bowl. Add a bit more olive oil to the same pan and heat. Add mushrooms and thyme and cook, stirring frequently until mushrooms are browned thoroughly, about 8 minutes. Again, add 2 Tbsp. Stone Levitation Ale to the pan to deglaze. Cook one minute and remove from heat. Season with salt and pepper.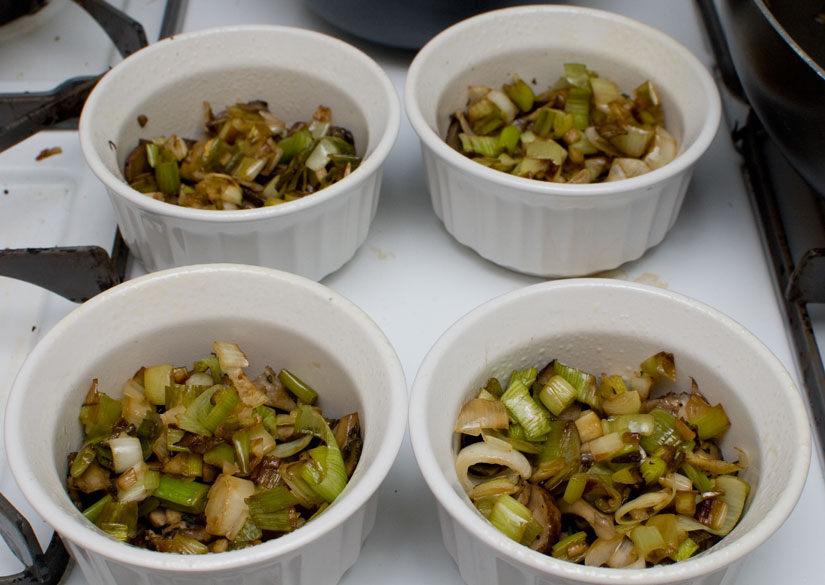 Fancy little dishes!
Spray four ramekins with nonstick cooking spray or grease lightly with olive oil. Unfold puff pastry sheets. Cut eight small circles the size of your ramekins (two for each tarte). Divide mushrooms among greased ramekins. Layer leeks and garlic on top of mushrooms. Top ramekins with two circles of puff pastry dough, each. Brush the tops lightly with olive oil (for nice browning), and poke the tops once with a fork for steam release. Place ramekins on a baking sheet and bake in preheated oven for 20-25 minutes (keeping an eye on them to make sure they don't burn).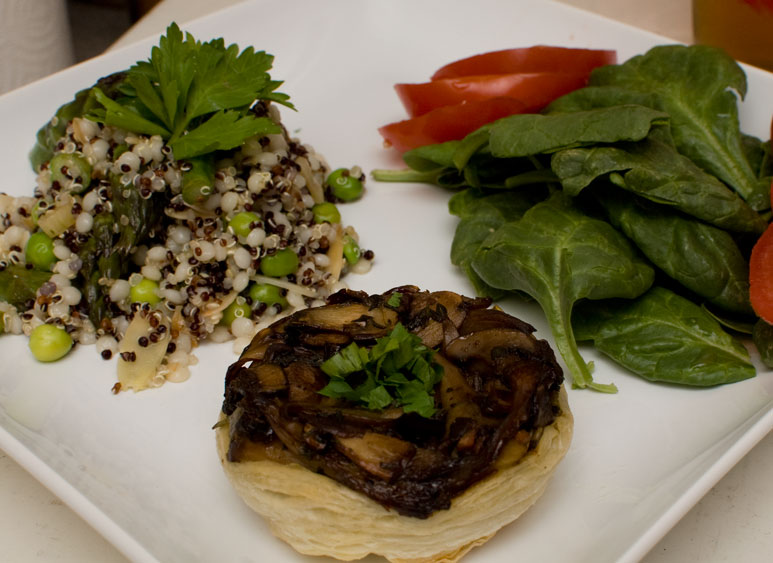 The finished dish, in all it's delicious vegan glory
Remove from oven. To serve, place a plate face down on top of each ramekin and invert. This will result in a flakey pastry base topped with a mound of caramelized mushrooms and leeks. Serve with mixed grain salad and a simple green salad.