It's no secret that we love making collaboration beers. We always have an amazing time brewing them, they've turned out great (if we may say so ourselves), and it gives us a chance to play around a little bit. To go a little further outside of the proverbial box. (Though admittedly, we were never quite certain about where this so-called box is/was, or how so many folks managed to find their way into it.) Each collaboration has its own story, its own inspiration, its own unique set of attributes. Our first collab of 2012 starts rolling out today, and we'll go ahead and say it: We've got another winner on our hands. "Bear Republic / Fat Head's / Stone TBA," as the name implies, is the work of Bear Republic Brewing Co. Brewmaster Richard Norgrove, Jr. (you can call him Ricardo), Fat Head's Brewery Head Brewer Matt Cole, and our own Brewmaster Mitch Steele.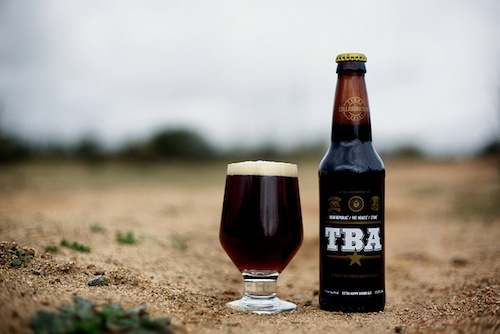 But what of the rest of the name: TBA? Like, as in... To Be Announced? Trusted Business Advisor? Text-Based Adventure? Tracheobronchial aspirate? Mmm... not quite. The acronym alludes to a classic but little-known beer style called Texas Brown Ale, which, strangely enough, has its roots in California. You see, back in the 80s, there was this homebrew recipe for a brown ale supercharged with Cascade hops that was floating around NorCal homebrew circles. And even while it started gaining popularity, beers that were made in this style failed to fare well in homebrew competitions since there was no recognized category they could be entered in. (They were wayyyy too hoppy and bitter to be considered a traditional brown ale.) But when a competition in Houston, TX, decided to judge such entries in what they would call the "California Dark" category, the American Homebrewers Association followed suit soon after, though they perplexingly changed the name to Texas Brown Ale. Bear Republic / Fat Head's / Stone TBA pays tribute to this style, while taking some inspiration from one of the pioneering beers of the time, Pete's Wicked Ale. (The original recipe though, not the lightened up imitation that was later introduced, which arguably led to its ultimate demise.) In developing this little homage to TBA (and Pete), we did incorporate a few new twists, like Ricardo's addition of brown sugar and molasses to add a touch more complexity. It also represented the first time Stone has ever used Cascade hops in our 15+ years, which Matt Cole just couldn't seem to believe. (Perhaps making up for lost time, we also brewed the recently released 2012 vintage of Stone Old Guardian Barley Wine with a healthy dose of Cascade!) All told, we couldn't be happier with the resulting beer, and it was an absolute pleasure having two fellow brewers that we respect fly out to make it with us. We got some great footage from the brew day and present it here for your visual enjoyment, along with the essential stats, tasting notes from Mitch, and some delectable pairing ideas from "Dr." Bill. Enjoy.
https://www.youtube.com/watch?v=YM6tzNbo9Ow&feature=youtu.be
---
Bear Republic / Fat Head's / Stone TBA Stats: 7.1% abv, 81 IBUs Availability: Limited 12oz bottles & draft, beginning February 27th Distribution: AZ, CA, CO, FL, IL, MA, NC, NM, NY, OH, OR, PA, SC, TX, VA, VT, WA Malts: Pale 2-Row, Crystal 60, Toasted Wheat, Victory, and Chocolate Malt Hops: Bravo, Brewer's Gold, Cascade, and Columbus Brewers:
Richard Norgrove, Jr. (Brewmaster, Bear Republic Brewing Co. | Healdsburg, CA | @brbcbrew)
Matt Cole (Head Brewer, Fat Head's Brewery & Saloon | Cleveland, OH | @FatHeadsBeer)
Mitch Steele (Brewmaster, Stone Brewing Co. | Escondido, CA | @StoneBrewingCo)
Twitter hashtag: #stonecollab
---
Tasting notes, provided by Brewmaster Mitch Steele Appearance:Beer pours a deep auburn brown with a light tan head and a light haze. Aroma: The first hit is a piney, herbal hop note followed by fruity fermentation esters. Beyond that, there is a complex molasses undercurrent. Taste: The taste starts off with a higher balance of malt flavors, with biscuity, dry roasted and wheat-like characters combining nicely with the herbal hop component. Mid-palate is some more fruit, molasses and brown sugar, and the finish is a bitter, intensely grapefruity hop linger. Palate: This beer has a medium body, finishes light with a nice lingering bitterness. Overall: A throwback to the early days of craft brewing with some interesting twists along the way. It has that classic Brewers Gold/Cascade hop presence, with combinations of herbs, pine and citrus.
---
Suggested pairings, provided by "Dr." Bill Sysak Appetizers:Stuffed mushrooms, bacon-wrapped shrimp, charcuterie Entrées: French Onion Soup with Gruyère cheese, Mexican mole, Texas-style BBQ, mushroom risotto, chili con carne Cheeses: Aged Gouda or Cheddar, Parmigiano-Reggiano, Swiss cheese (such as Emmentaler) Desserts: Apple strudel, toffee bars, snickerdoodle cookies, spiced carrot cake Cigars: Nestor Miranda Special Selection Coffee Break, Montecristo Petit Tubo, Tatuaje Cabinet Noella, Dunhill Signed Range Toro