July 26, 1996. A sliver in time that shall go down in history as the day the world changed forever! Well, perhaps a bit of hyperbole, but it was the day that the first keg of Stone Pale Ale was ever sold. (Kudos to our buddy Vince Marsaglia from Pizza Port Solana Beach for coming to pick it up! ... 'course back then, there was only one Pizza Port, so putting Solana Beach to its name wasn't necessary.) We're celebrating here as anybody should for their Sweet 16, with pillow fights, gossip, and a shiny new driver license a really stellar cake! Besides all the obvious perks of working at a brewery, we're fortunate enough to have a really talented kitchen crew at the Stone Brewing World Bistro & Gardens, and our pastry chefs were kind enough to whip something up for Team Stone as a small token of appreciation for all the hard work they do.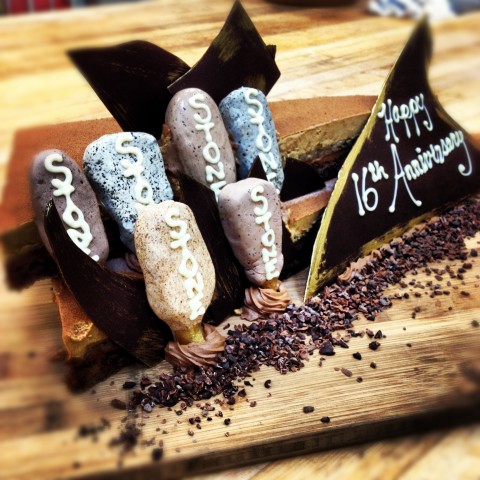 Reason #456,742,403 why it doesn't suck to work here
To answer your question, this deliciously decadent mochaccino cake made with layers of almond biscuit, pecan candy, chocolate cremeux, and coffee mousse was just as ridiculously good as it looks. And those mini "tap handles" you see? They're made of fondant mixed with various herbs and spices to resemble our original tap handles which were actual stones that Greg used to go out and find at the beach on his "days off." Pastry chefs Tony Martin and Tonya Ziegler (pictured below with GK) really knocked it out of the park!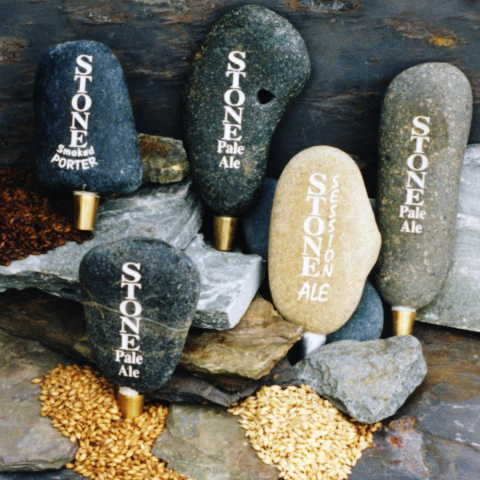 Stone tap handles from days of yore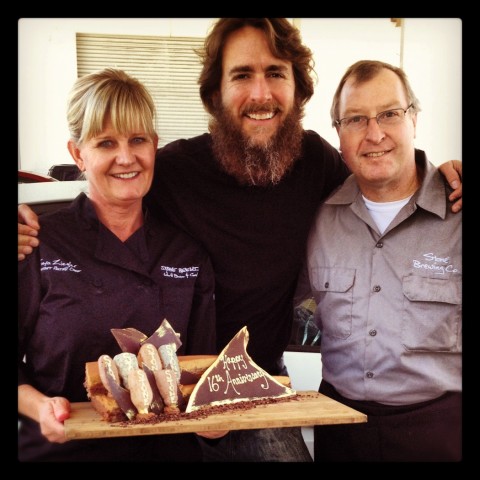 Pastry chefs Tonya Ziegler and Tony Martin show off their tasty creation with GK
In the midst of devouring this cake like rabid dogs who hadn't eaten in a week, we collectively took a moment to recognize the incredible growth that Stone Brewing Co. has seen over the past 16 years, and how we couldn't have done it without YOUR continued support and dedication! THANK YOU! And while we can't get each and every one of you a piece of cake, we can keep cranking out insanely good beers, and hosting epic events to showcase the glory of craft beer! (Like next month's Stone 16th Anniversary Celebration & Invitational Beer Festival.</plug>) Cheers to our first 16 years, and to the next 16! Thanks for being our friends.