The grassy perfume of freshly collected hops, rolling hills flush with lush greenery for as far as the eye can see, Mount Adams looming majestically on the horizon—this is what dreams are made of. Well, this is what dreams are made of if you are a craft beer fan reading the Stone Blog; a lupulin-hankering hophead unabashed in their love of bold, botanically driven India pale ales. We get it and we understand. There were plenty of moony, slack-jawed looks on the faces of Stone brewers who recently made the annual pilgrimage to Yakima, Washington to partake in the holiest of brewing industry traditions—hop selection. This is where we get our first look at the year's bounty and make decisions that will affect our ability to brew the unapologetically profound ales that, like those hops, you've come to crave.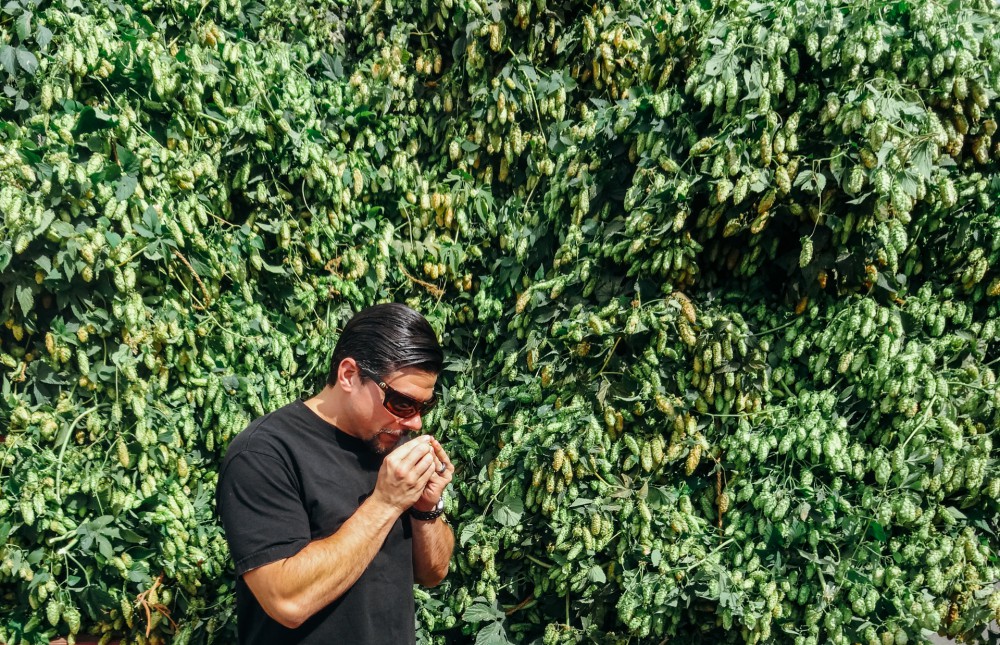 Making the more than 1,000-mile trek this year were Brewmaster Mitch Steele, Lead Brewer Jeremy Moynier and Brewhouse Supervisor Chris Sartori. Steele has attended the selection on five previous occasions, but this was Sartori's first time. (We have him to thank for the many great GoPro images in this blog post.) Stone uses a colossal amount of hops, so venturing to the region where the majority of them are grown in order to scrutinize the yield is of the utmost importance.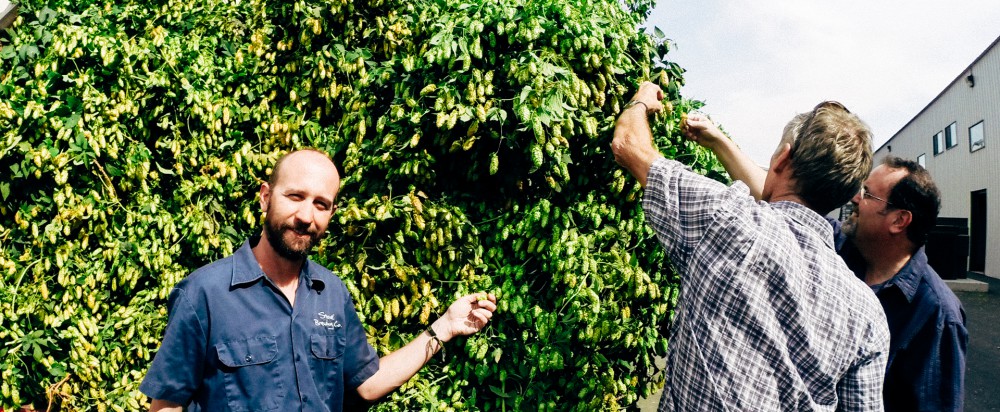 "Hops are a key ingredient for us. We buy a lot and are really dedicated to quality. Going to selection means we can choose the lots we like best to ultimately ensure the overall quality of our beer. Also, it's good to see the brokers and growers face-to-face so we can continue to build and strengthen our relationships," says Moynier, who was making his third trip to Yakima. "We want to be partners with our growers. We can learn from each other and, together, do our best to guarantee quality on both sides of the process. Plus, they often have new or experimental varieties that they want to share with us, which we can take back in sample batches to conduct brewing trials. We all learn from that, and growers often use the feedback we provide them to determine whether or not to pursue a certain hop variety."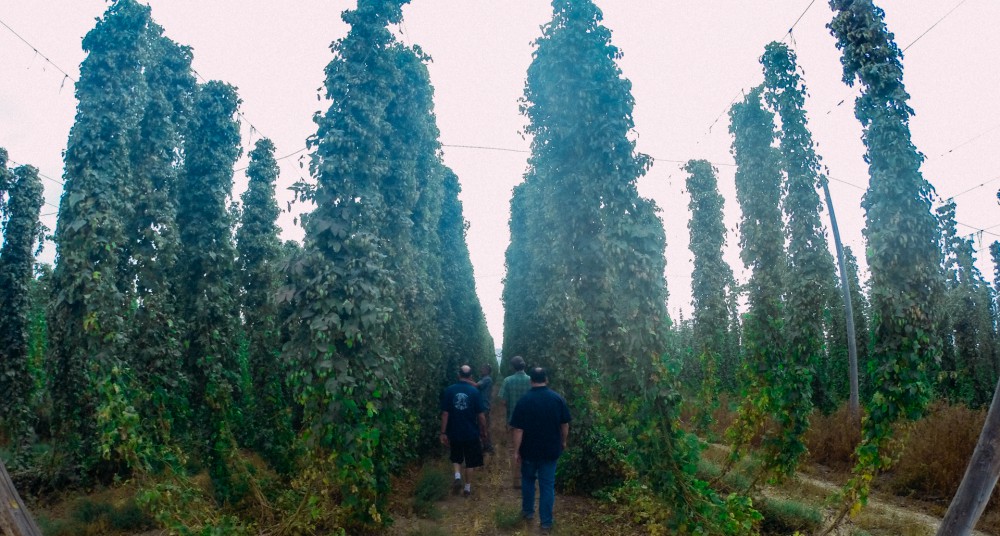 The selection process involves taking "brewer's cuts"—samples taken from bales of certain lots—and doing a "rub-and-sniff" test on every cut, while also visually evaluating all the hops. It seems like a pretty simple process, but it's something that can put one's sensory system into overload. "Citra continues to amaze me. It's such a fantastic hop!," says Moynier. "We use a lot of Centennial and look for that bright, lemon aroma, and when we find it, we're stoked! There were some cool new varieties this year. They're so new, that they haven't yet been named and are identified by designated numbers. Those are exciting and we look forward to doing trials with some of them."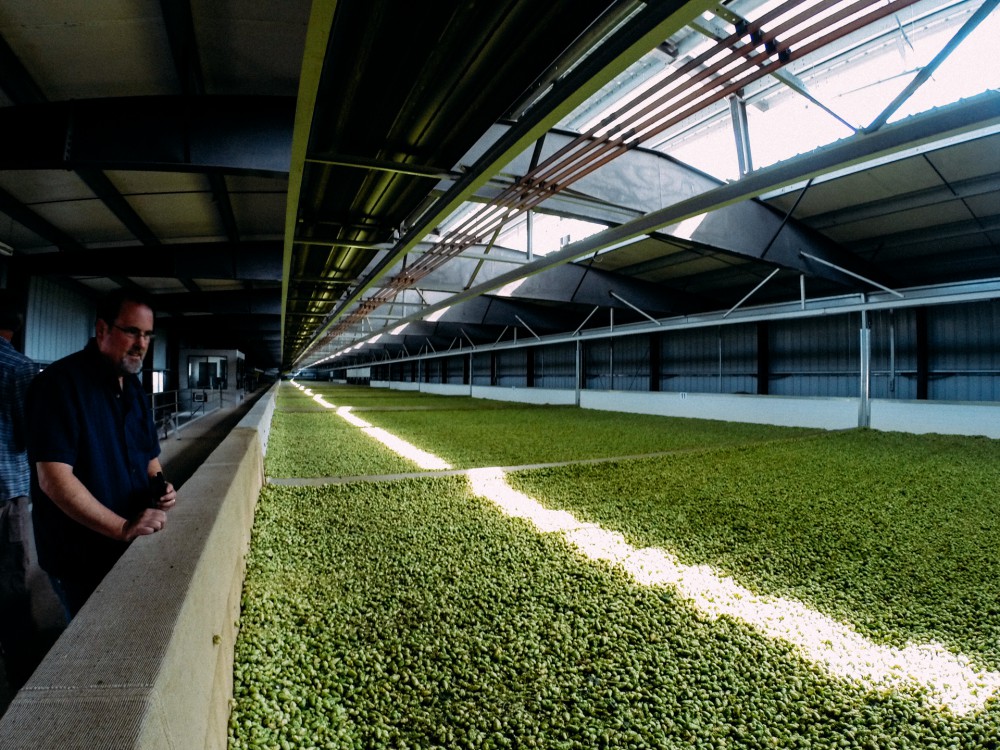 Some years yield far less hops due to natural phenomena such as wildfire and drought, but this year's crops seemed to fare quite well. "Early hop varieties like Cascade, Centennial and Amarillo were hit hardest by the hot weather, and yields on some fields were down five-to-40%. That being said, we confirmed that, with one small exception, all of our contracts will be completely filled. Phew," exclaimed Steele. "The other thing we heard a lot about this year was 'picking windows.' It's a critical factor that not all the hops ripen at the same time, because the kilning capacity can't handle it. So when different varieties ripen at the same time, it's a real problem for growers to manage. In fact, some of the breeding programs will toss out hops if they figure to conflict with other varieties ripening simultaneously."
All in all, the trio had a wonderful trip during which they met with colleagues, connected with brokers and growers, and most assuredly drank a few exceptional Pacific Northwest beers. "This continues to be a very important process for us, and I think we will do more next year," said Moynier. "Heading up to take part in hop selection, and being involved both in the Hop Research Council and the Hop Quality Group is important to help the industry and our brewing from a quality standpoint." When it comes down to it, quality is always of the upmost importance in everything we do at Stone. Attending the hop selection is one small but extremely important piece of the bigger picture, which is making the best beer we possibly can.