While we follow our own muse at Stone, we also pay attention to our fans. Believe it or not, even with more than 600,000 followers across all of our social media channels, we read each and every comment posted on Instagram, Twitter, Facebook and more. It's awesome to have fans that care enough to take time out to chime in on all things Stone, and every now and then, we glean suggestions that have serious merit. For instance, when we announced that our first ever beer, Stone Pale Ale, would be departing from our portfolio, we received a number of passionate comments. We went in knowing such an announcement would evoke emotional responses, because we, too, are fans of this 19-year-old mainstay. Early on in the social conversation, one of our fans asked for us to share the recipe for Stone Pale Ale so that, even though we won't be brewing it anymore, it can live on for those with the gumption and wherewithal to brew it at home. This suggestion was immediately run up the flagpole to Stone Co-founders Steve Wagner and Greg Koch, who applauded the idea. The end result is this blog post, which contains the recipe for the soon-to-be-decommissioned Stone Pale Ale. We're happy that this beer has meant so much to so many—ourselves included—and will have its place among craft beer enthusiasts beyond its lifespan in our brewhouse. Enjoy!

Stone Pale Ale Yield: 5 Gallons (about 54 12-ounce bottles or 30 22-ounce bottles)
10 pounds plus 7 ounces crushed North American two-row pale malt
1 pound plus 4.2 ounces crushed 60L crystal malt
4.8 ounces crushed 75L crystal malt
About 9 gallons water
0.44 ounce Columbus hops (12.9% alpha acid)
½ tsp Irish moss
0.77 ounce Ahtanum hops (6.0% alpha acid)
1.19 ounces Ahtanum hops (6.0% alpha acid)
1 (35ml) package White Labs WLP007 Dry English Ale Yeast or WLP002 English Ale Yeast
1 cup plus 3 Tbsp light dried malt extract
Clean and sanitize all of your equipment.
Mashing In a 10-gallon insulated cooler, combine the crushed malts with 3 gallons plus 12 cups of 172°F water. The water should cool slightly when mixed with the grain. Hold the mash at 156°F for 20 minutes. Add 2 gallons plus 2 cups of 184°F water. The mixture should come up to 165°F.
Lautering & Sparging Lauter the mash. Once the liquid is lower than the level of the grain, begin to slowly sprinkle 3 gallons plus 1 cup of 168°F water over the grains to start the sparge. Continue sparging.
The Boil Set the brew kettle of wort on top of a propane burner and add water to bring the wort level up to about 6 gallons plus 12 cups, if needed. Bring the wort to a rapid, rolling boil. As it begins to come to a boil, a layer of foam and scum may develop at the surface. Skim it off and discard. Once the wort is at a full boil, put a hops bag containing the Columbus hops in the kettle and set a timer for 90 minutes. Stir the wort frequently during the boil and be watchful to avoid boil-overs. At 15 minutes before the end of the boil, stir in the Irish moss. At 10 minutes before the end of the boil, put a hops bag containing the 0.77 ounce of Ahtanum hops in the kettle. When the boiling time is over, turn off the heat and put a hops bag containing the remaining Ahtanum hops in the kettle. Cover the kettle and immediately begin cooling the wort as quickly as possible.
Pitching Yeast & Fermentation Once the wort has cooled to 72°F, discard the spent hops and check the specific gravity of the wort with a hydrometer. The target starting gravity is 1.057 (14 Plato). Transfer the wort to the primary fermentation bucket. Pitch the yeast (or prepare a yeast starter). Allow the wort to ferment through primary and secondary fermentation at 72°F until it reaches a specific gravity of 1.014 (3.5 Plato).
Bottling When you're ready to bottle, clean and sanitize the bottles, caps and bottling equipment. Put the dried malt extract in a medium saucepan and stir in just enough water to dissolve it. Bring the mixture to a boil over high heat. Remove from the heat, cover and let cool slightly. Proceed with bottling.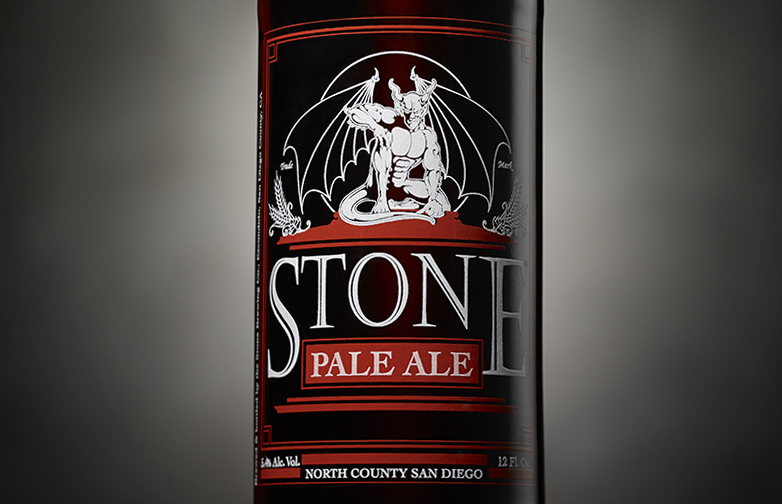 Stone Pale Ale (Advanced) Yield: 5 Gallons (about 54 12-ounce bottles or 30 22-ounce bottles)
87.0% crushed North American two-row pale malt
10.5% crushed 60L crystal malt
2.5% crushed 75L crystal malt
Conversion temperature 156°F
Mash out 165°F
0.171 lb/bbl Columbus hops (12.9% alpha acid)
[90 minutes]
0.30 lb/bbl Ahtanum hops (6.0% alpha acid)
[10 minutes]
0.46 lb/bbl Ahtanum hops (6.0% alpha acid)
[0 minutes]
White Labs WLP007 Dry English Ale Yeast or WLP002 English Ale Yeast
Pitch rate 16 to 18
Starting gravity 1.057 (14 Plato)
Final gravity 1.014 (3.5 Plato)
Ferment at 72°F