Stone has some pretty strict philosophies when it comes to food. We stand by local and organically cultivated ingredients because we know they're better for the environment, and they taste pretty darn good, too. You can get amazing items prepared with truly farm-to-table ingredients every day at our three Stone Brewing World Bistro & Gardens locations, but there are a few nights out of the year where we take it to the next level of freshitude—Fresh Dinners. These feasts are made solely from ingredients procured the very same day, and some of those ingredients come from our very own Stone Farms.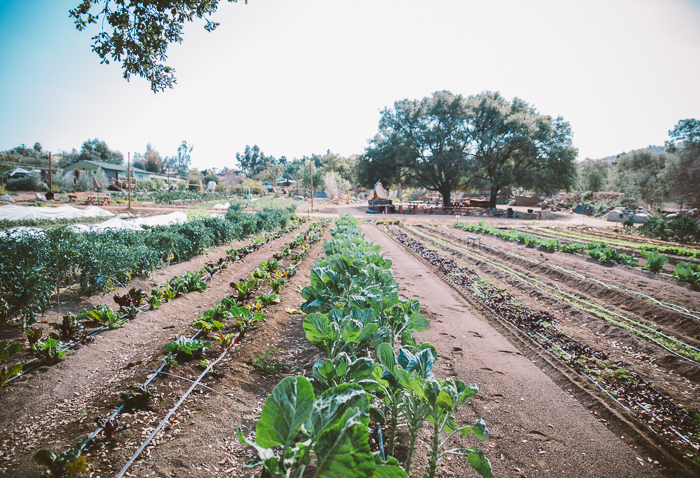 The same hard-wired philosophies that drive us to go to such extremes during these seasonal dinners (the next one will be March 18 if you'd like to go ahead and reserve your space) keeps us aiming to provide just as solid of a sustainable, incredibly vibrant experience to our fans year-round. But what does it take to provide ingredients that fresh, day in and day out? The answer: A LOT! And having our own farm helps us accomplish that big time! Stone Farms is a gorgeous patch of land in northern Escondido where we've been growing a variety of organic produce for more than two years. Since our restaurants are certifiably ginormous (300-plus seats in Escondido and more than 700 at Liberty Station), there's no way our humble five acres of farmed land can supply all the produce we need (not to mention the meat products…we don't plan on making any forays into butchery). But we're in good company–more that 60% of San Diego County's farms are less than 10 acres. We work with many other farms in San Diego to bring you drool-worthy outside-the-CSA-box dishes every day. Naturally (in more ways than one), Stone Farms is the purveyor that's closest to our heart. Here are a few ingredients that make the journey from our patch of earth to Stone's restaurants on a regular basis: Braising Greens: Thick, hearty, vitamin-packed greens like varieties of kale and chard, broccoli and Brussels sprouts, collards, amaranth, and spinach fit to bring out anyone's inner Popeye.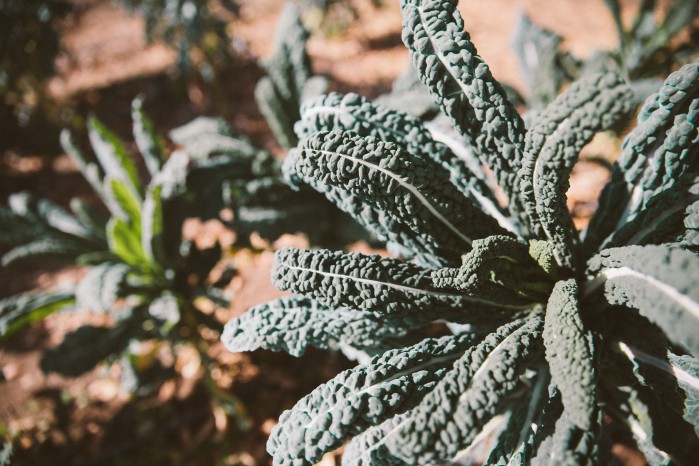 Signature Salad Mix: An über-zesty blend of common (red and green romaine, arugula) and not-so-common (mizuna, tat soi, minutina, frisée, escarole) greens, and we also grow  microgreens of the same varieties.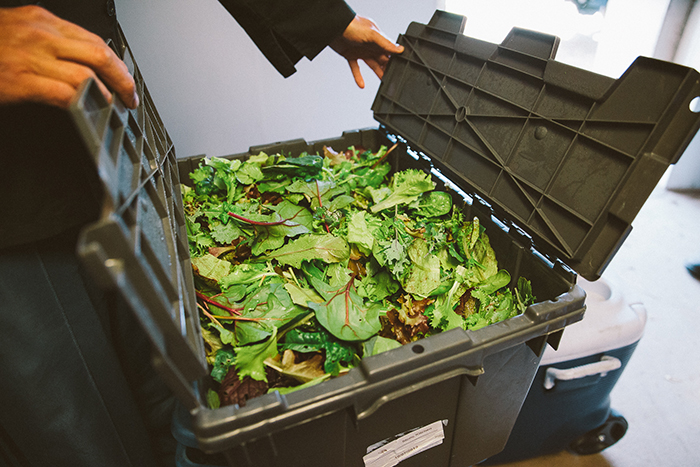 Chicken Eggs: From a variety of hens—and just like the chickens, the eggs come in many different colors and sizes.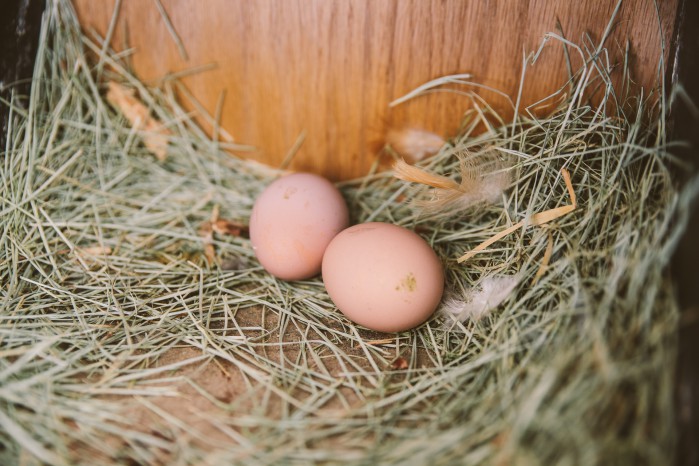 It All Begins with the Earth Plants either get their start as local organic nursery transplants or seeds we either purchase or harvest ourselves. San Diego County is quite dry, so our plants get just enough water to help them grow–practically the bare minimum. During the driest, harshest parts of the summer, we water them about once a day, but in this part of the year, as little as once a week does the trick. Of course, rare rainfall is always welcome to help lower our water bill! Being an organic farm means we don't use any chemical fertilizers. Nutrients for the soil come from compost that is generated by the Bistros and the farm itself, as well as manure from our chickens. Crop rotation is important to maintain the soil's natural balance, as well as deter pests by keeping them guessing. One of the many benefits of our climate is that we can grow many types of produce year-round. The difference is that certain plants naturally grow slower in the winter. Braising greens, depending on the variety and the weather, take about 50 days to become full-fledged, while the salad mix lettuces are ready in about a month.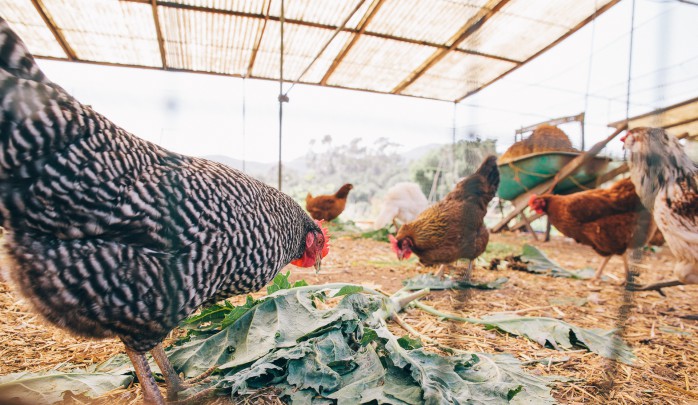 Even the eggs have their origins in our soil. Our chickens eat a diet that is supplemented by the farm as well as vegetable cuttings from the Bistros. After produce is prepared in our kitchens, whatever odds and ends are appropriate get fed to our chickens and goats, and the rest becomes compost, creating a cycle of sustainability.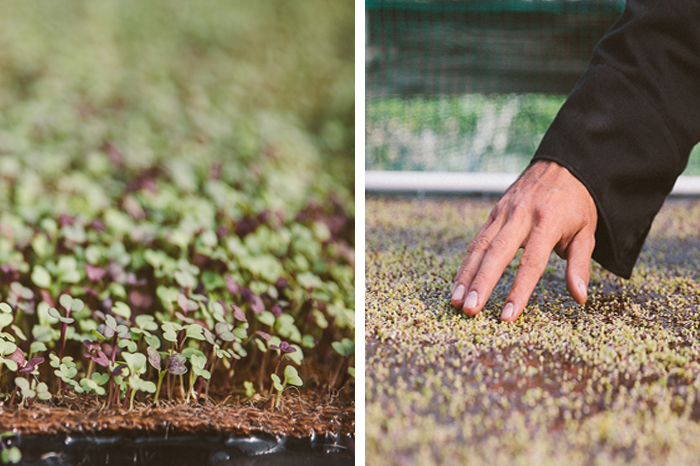 And we don't even need soil to grow our microgreens. (If you've ever wondered how microgreens differ from their "macro" counterparts, they really don't at all–they're just harvested at a very early stage in their growth.) We use the very same seeds that grow into full-size salad mix, but instead of planting them in the ground, they are grown hydroponically on elevated tables covered in burlap. The seeds grow into delicate, tender shoots in just a few days, and are tall enough to harvest in about two weeks. The hydroponic system recirculates the water, so it uses very little. The mixture of different greens results in a crazy combo of flavors as well as a wide spectrum of nutrients, and spicy greens like mustard and arugula give it a peppery kick! Harvesting the Bounty Once a plant is ready to give up its yummy gifts, our farmers will pick the choice leaves, wash them and store them for delivery, without completely depleting the plant so we can continue to harvest from it over several months. We have multiple areas where the same plants are at different points of growth, so the farm crew usually has some harvesting to do no matter what. Once a crop nears the end of its life cycle, it's time to start over. The larger, unwanted parts of plants are usually fed to our chickens and goats or composted, and the smaller parts are retilled back into the earth to fertilize it for future growth. It's all part of the circle of life. [Cue The Lion King music]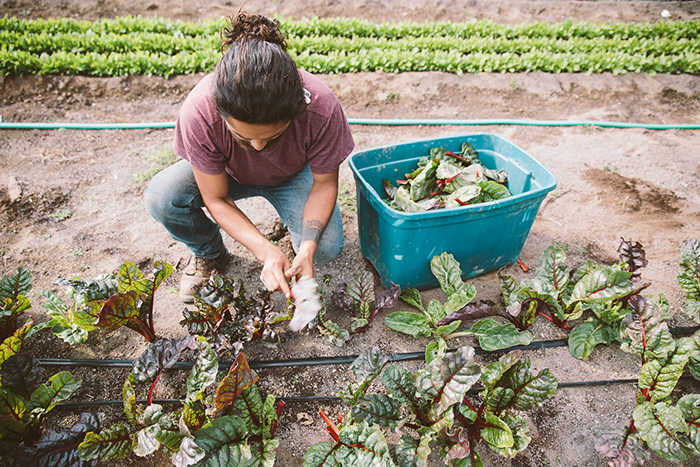 The kitchen at our Escondido Bistro is bigger than it used to be, but it's still pretty small for such a large restaurant. We also have a commissary kitchen in Escondido where most of the food goes to be prepped before making its way to one of the three Bistro locations. The commissary kitchen also provides us with more space to prepare food for some of the more gigantic events, like weddings, that we hold at either location. A delivery truck comes to the farm roughly three times per week to drop off compost and veggie cuttings from the kitchens, and trade them for fresh greens, eggs and whatever the farm has to offer that day. On a really good week, the farm can send up to 300 pounds each of braising mix and salad mix to our restaurants! From the nearly 20 varieties of chickens we house at the farm, we can collect around 180 eggs per week. All in all, the food has to travel about seven miles to the Escondido Bistro, and quite a few more to get to Liberty Station and our eatery in Terminal 2 of San Diego International Airport, both of which are in San Diego proper.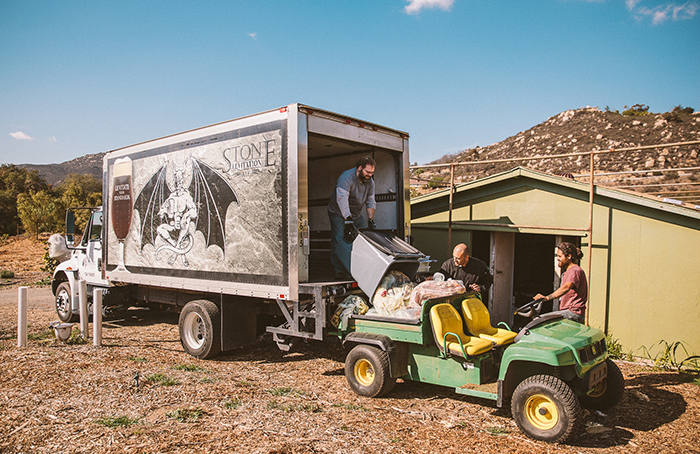 The Final Touch Once everything arrives at its respective Bistro venue, it's time to make some culinary magic. Our braising greens are served up as a side dish with items like our Artisanal Sausage Platter. Just a little sautéing (sometimes with a nice beer deglaze) can result in a delicious and ridiculously nutritious accent to any meal. The salad greens get topped off with hardboiled eggs, bacon lardons, candied pistachios, onions, orange sections and goat cheese to make our Stone Farms Salad, while the microgreens are used as a garnish on our BBQ Duck Tacos as well as other dishes. (Author's Note: Garnish shmarnish! I could power down a whole bowl of microgreens on their own. They are tasty!)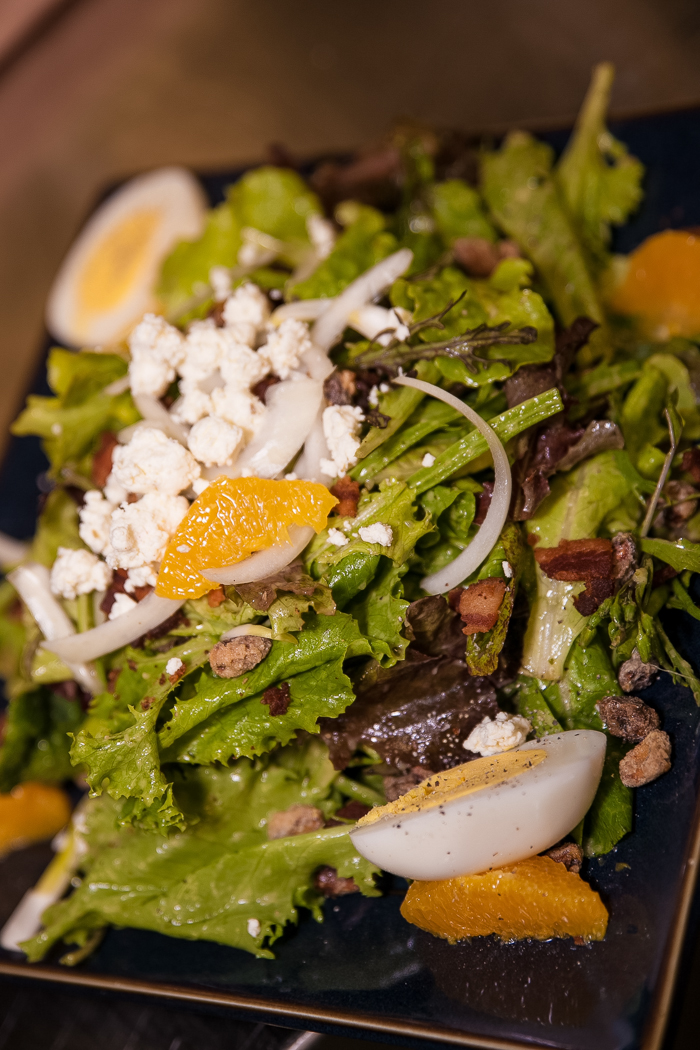 Eggs are most commonly used in our kitchens to make aioli, and Stone Farms' eggs mainly supplement what we get from other suppliers. Moving forward, we'll dedicate most of them to a Sunday omelet bar at our Escondido Bistro. Can you say, "customized breakfast of champions?" Spring Fresh Dinner As teased above, on March 18, fans of Stone beer and fine food will have another opportunity to enjoy dishes made with the freshest ingredients available to us at the Spring Fresh Dinner at our Escondido Bistro. We're not yet sure what exact Stone Farms ingredients we'll feature (that's the nature of such a thing), but you can bet it'll be incredible. (And if you spot microgreens, you'll know exactly where they came from!) Even visitors who don't attend the event, will have the chance to sample beers from local San Diego breweries that were kegged that very day, and even a Stone beer straight from the fermenter from 6 to 7 p.m. It should be obvious that there's nothing better than fresh ingredients for making great food. That's what makes our Bistro dishes so delectable. However, San Diego is a veritable treasure trove of locally produced food, so get out to your local farmers' market and see for yourself! Better yet, make a trip to Stone Farms this weekend to see where the magic happens. We're open from 1 to 6 p.m. every Saturday and Sunday, with beer on tap and lots of places to hang out. We'll be waiting!