Last week, we took to social media, asking Stone fans to tell us what time-honored holiday treats they'd like to see our test kitchen tackle in an attempt to make them better using craft beer. A wide variety of suggestions came back, some in the form of pleas. We took some of the most popular and got to work simmering, whisking and brushing a variety of brews into a pair of desserts that, when the dust of the confectioner sugar cleared, were all the better for it. Accept the recipes for both of them as our holiday gift to all of you. Cheers to craft beer, and more craft beer in the kitchen!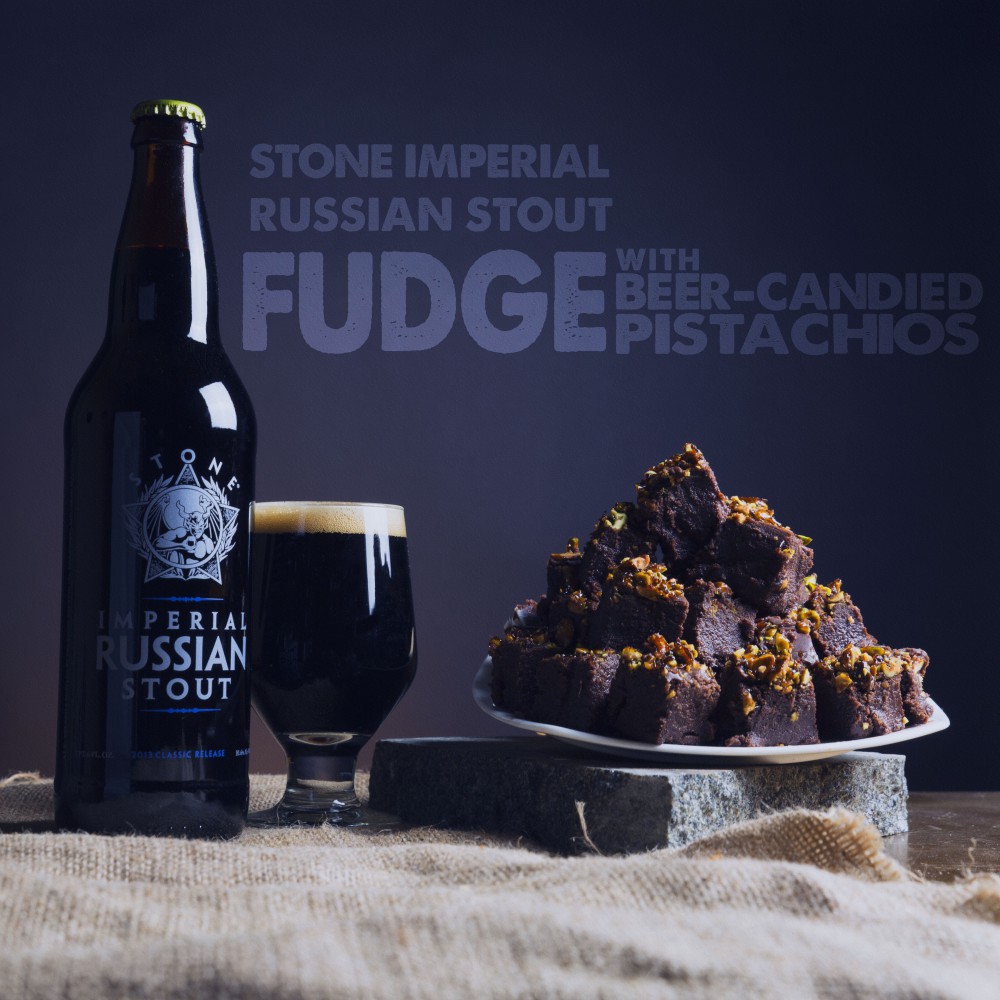 Stone Imperial Russian Stout Fudge w/Beer-Candied Pistachios Yield: 36 squares
1 cup plus 2 Tbsp granulated sugar
⅓ cup plus 2 Tbsp Stone Imperial Russian Stout
¼ cup dry roasted and salted pistachio nuts, shelled
3 cups miniature marshmallows
½ tsp salt
½ tsp vanilla extract
¼ cup unsalted butter
½ cup heavy cream
14 ounces plus ⅓ cup semisweet chocolate morsels
Preheat oven to 350º Fahrenheit.
Line a cookie sheet with parchment paper. In a small saucepan over low heat, whisk together 2 tablespoons of the sugar and 2 tablespoons of the beer until the sugar is fully dissolved. Continue to cook, stirring occasionally, until the mixture thickens, 8 to 10 minutes. Add the pistachios and stir until they are fully coated. Pour the mixture onto the parchment paper and spread into even layer. Place in the oven and bake for 8 minutes. Remove from the oven and refrigerate until fully cooled.
Line an 8-inch-by-8-inch baking pan with parchment paper so that the paper hangs over the edges of the pan. Grease the paper everywhere except the hanging portions. In a medium saucepan over low heat, combine the marshmallows, sugar, beer, butter, salt and vanilla. Continue to cook, stirring, until the marshmallows have melted. Stir in the chocolate until it is completely melted. Transfer the mixture to the baking dish, even out and let stand for 30 minutes.
Remove the pistachios from the refrigerator, transfer to a cutting board and chop. Sprinkle the chopped nuts in an even layer over the fudge and refrigerate until set, about 2 hours.
To serve, remove the fudge from the dish using the overhanging parchment paper. Cut the fudge into squares and arrange on a decorative platter.
—Recipe courtesy Sabrina LoPiccolo, Public Relations Specialist, Stone Brewing Co., and based on a recipe from Martha Stewart.
From the Cook:
I've always loved making fudge. It's a nice "go to" for a treat that's easy and delicious during the holidays. The "easy" part really ups the recipe's value during what is arguably the busiest time of the year. (Especially at Stone, we're working on lots of new beers to debut in 2015!) I had a hunch the inherent flavors of Stone Imperial Russian Stout would meld well with those of the fudge, because the beer's palate is predominantly coffee and chocolate, which nicely augment the fudge. Also, Stone Imperial Russian Stout isn't as hop-forward as other beers, but still has a little hint of bitterness that helps to balance the sweetness of this dessert.
When trying this recipe out at home, be sure to follow it exactly. Fudge is finicky and a little too much of this or not enough of that will make a big difference, especially where consistency and texture are concerned. Also, it's a good idea to open the bottle of the beer you're using for the recipe in advance so the carbonation level declines, thus making the beer better-suited for use as an ingredient. I like opening the beer a full day in advance. But don't worry, I set aside the beer I'll need for the recipe then make sure the remainder is properly and immediately consumed. We all know how important fresh beer is, after all.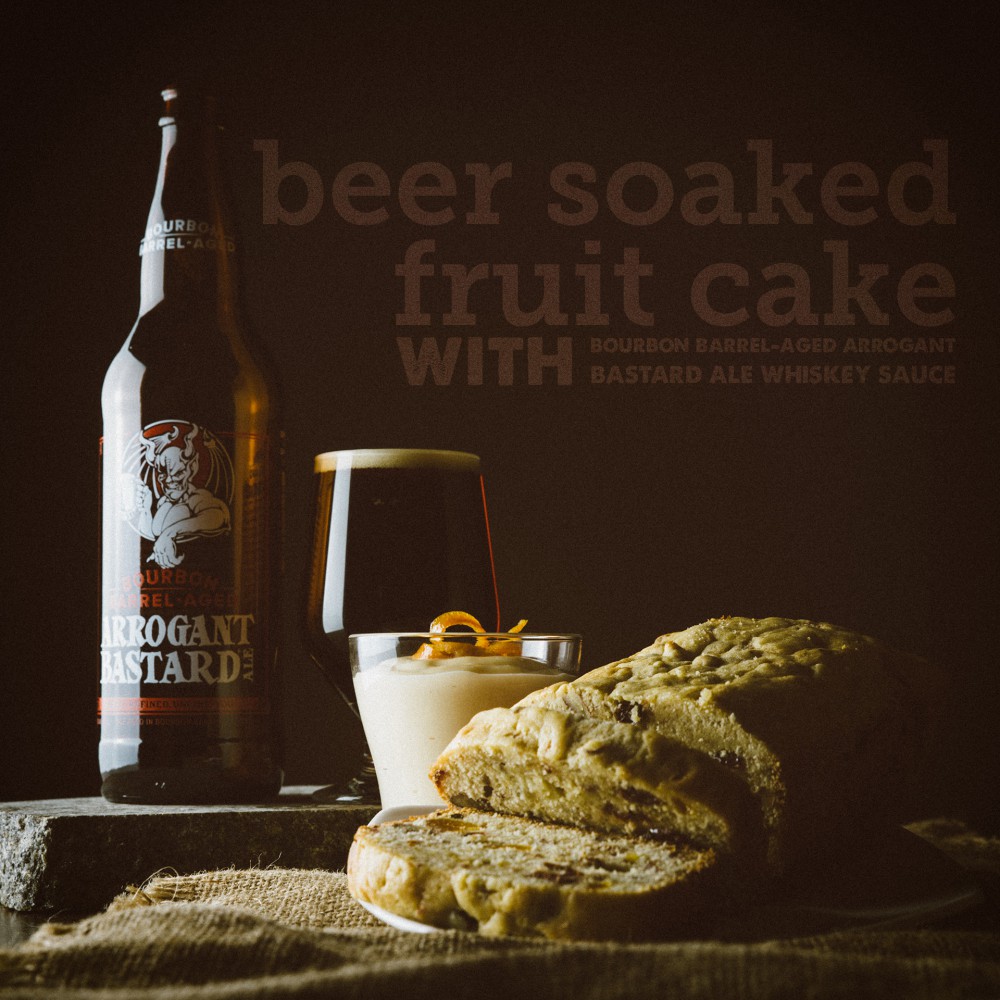 Beer-soaked Fruit Cake w/Bourbon Barrel-Aged Arrogant Bastard Ale Whiskey Sauce Yield: 4 large cakes or 16 miniature cakes
4¾ cups granulated sugar
2¾ cups Stochasticity Project Quadrotriticale (or Belgian-style strong/holiday ale to substitute)
juice and zest of 1 navel orange
¼ pound dried apricots, chopped
¼ pound dried cherries
¼ pound dried cranberries
¼ pound raisins (or currants to substitute)
1 pound unsalted butter, softened
4 ounces almond paste
8 large eggs
½ cup Grand Marnier (Cointreau or other orange-flavored liqueur to substitute)
4 cups all-purpose flour, sifted
2 tsp baking powder
¼ tsp salt
¼ tsp ground cinnamon
¼ tsp freshly grated nutmeg
1 cup almonds, slivered
1 cup pecans, chopped
1 cup walnuts, chopped
¼ cup Bourbon Barrel-Aged Arrogant Bastard Ale (or bourbon whiskey to substitute)
3 cups heavy cream
6 Tbsp cornstarch
Whisk 2 cups of the sugar into 2 cups of the Stochasticity Project Quadrotriticale in a saucepan over medium-high heat. Whisk in the orange juice and zest and bring the mixture to a boil. Reduce heat to low and simmer for 5 minutes. Remove from heat. Place the apricots, cherries, cranberries and raisins in a bowl and cover with the hot beer syrup mixture. Let steep for 10 minutes. Drain the liquid from the fruit and reserve.
Preheat oven to 350º Fahrenheit.
Place the butter, almond paste and 2 cups of the sugar in the bowl of an electric mixer fitted with a paddle attachment. Cream the ingredients together, scraping down the sides of the bowl with a spatula. Add ¼ cup each of the Stochasticity Project Quadrotriticale and Grand Marnier and mix until fully incorporated. Add the eggs, 1 at a time, until they are completely incorporated, scraping down the bowl as necessary. Combine the flour, baking powder, salt, cinnamon and nutmeg and add to the batter, 1 a cup at a time. Mix until all of the ingredients are completely incorporated, scraping down the bowl as necessary. Fold in the fruit and nuts, then transfer equal parts of the batter into 4 greased standard loaf pans or 16 miniature-sized loaf molds. Place the pans in the oven and bake for 45 minutes or until golden brown and fully cooked through. Remove from oven and transfer to racks to cool.
If serving fresh, whisk the Bourbon Barrel-Aged Arrogant Bastard Ale and the remaining sugar into 2½ cups of the heavy cream. Transfer the mixture to a saucepan over medium heat and whisk until the sugar has fully dissolved. In a separate bowl, whisk the cornstarch and remaining cream together until they are fully incorporated. When the cream and beer mixture reach a scald (when bubbles begin to form around the edges of the saucepan), whisk in the cornstarch slurry and cook the mixture, whisking constantly, until it thickens to a sauce consistency, 3 to 4 minutes. Remove from the heat and serve warm.
NOTE: If serving the fruit cake fresh, you may skip the following step, which is only required if you intend to present the fruit cakes as gifts.
Whisk the remaining Stochasticity Project Quadrotriticale and Grand Marnier into the reserved beer syrup and transfer to a sealable, refrigerator-safe container. The mixture will keep for up to 1 month. If giving as gifts, use a long toothpick to poke multiple holes in the surface of the fruit cakes that reach nearly to the bottom of each cake. Wrap the fruit cakes in a thin layer of cheesecloth then use a pastry brush to apply a coating of the beer syrup every 2 to 4 days over a two-week span. After applying the syrup, wrap the cakes in an airtight layer of plastic wrap and keep in a cool place to prevent spoilage.
—Recipe courtesy Brandon Hernández, Beer-and-Food Journalist, Author & Senior Communications Specialist for Stone Brewing Co., and based on a recipe from Emeril Lagasse.
From the Cook:
Tackling something as nearly universally abhorred as fruit cake was no easy task. To be clear, fruit cake in its authentic, traditional form is absolutely delicious and fully worthy of the place it's earned in the pantheon of enduring yuletide confectionery classics. However, just like beer, the industrialized notion of this gem has shorn the luster clear off it. Most peoples' only mental reference of fruit cake is the rock-hard doorstop iterations that can somehow, almost magically (but mostly thanks to food lab compounds and chemicals) withstand a decade or more of aging in the dusty backcountry reaches of grandma's pantry, a victim of multiple re-giftings from those with the good sense to avoid substandard desserts. Chocked full of sickening, fluorescent "jelly" fruits and laced with post-war preservatives and low-quality, high-octane booze (like grocery store "bourbon" aged 24 months on Caramel Color #42 dye), they barely resemble the dessert that inspired their widespread current-day facsimile. But fear not. All it takes to restore fruit cake's dignity is fresh, all-natural ingredients and a much upgraded bill of adult beverages.
I tested a number of our beers: Stone Smoked Porter w/Chocolate & Orange Peel, Stone Smoked Porter w/Vanilla Bean, Stochasticity Project Master of Disguise, Stochasticity Project Hibiscusicity and more. In the end, the best of the bunch was Stochasticity Project Quadrotriticale. This was hardly a surprise. Belgian-style quadrupels and strong holiday ales are built for cold-weather imbibing and bring forth the winter spice and dried fruit character that just so happens to be what fruit cake is all about. As such, you needn't rely on Stochasticity Project Quadrotriticale for the recipe. Any quad or non-hoppy, dark Belgian strong ale should fit the bill nicely. Honestly, all of the aforementioned beers I tried turned out delicious fruit cakes, too, so experimenting isn't all that risky so long as you avoid hop-heavy brews. Ditto the sauce recipe for those looking to entertain with this December staple. I altered a cream-based bourbon sauce, switching out Bourbon Barrel-Aged Arrogant Bastard Ale for the spirit, but other beers would work. In fact, a very tasty sauce can be whipped up switching out some or all of the beer for some unadulterated bourbon. It all depends how potent you want the whiskey level, so mess around and find what best suits your individual taste. No matter what you do, as with beer, opt for something all-natural and hand-crafted over something once mistakenly labeled and applauded as a modern technological marvel.