This holiday season we teamed up with our friend Sasha Rumage (aka "tattooed martha") to create a custom beer-based recipe suitable for any Thanksgiving or seasonal dinner spread. you can find the gluten-reduced Stone Delcious IPA used here by visiting our beer finder.
'Tis the season for turkey and every year I work on perfecting my recipe a little bit more for the ultimate fall feast.. Thanksgiving. I've done brines, butters, glazes and various methods of cooking it, but now I realize I was just missing good beer! It seemed like a no-brainer to choose the Stone Delicious IPA with it's naturally citrusy and hoppy finish to complement the fresh lemons, rosemary and thyme I used for this turkey. The fragrant lemon herb butter and sweet citrusy IPA glaze culminate after hours of roasting for a tender and juicy bird that leaves no leftovers behind!   – Tattooed Martha
---
Ingredients
Lemon Herb Butter:
Zest from 1 large lemon
2 Tbs fresh thyme leaves
2 Tbs fresh rosemary leaves
3 garlic cloves
1/2 cup (1 stick) unsalted butter, cut into pieces
Turkey:
1 (11 to 12lb) turkey, thawed
3 large lemons, cut in half
5-6 sprigs of fresh thyme
3-4 sprigs of fresh rosemary
1 1/2 cups chicken broth
Stone Delicious IPA Glaze:
1 (12oz) bottle of Stone Brewing's Stone Delicious IPA
1/2 cup unsalted butter
1/4 cup honey
Zest and juice from half a lemon
1 tsp fresh thyme, finely chopped
1 tsp fresh rosemary, finely chopped
Salt and pepper to taste
---
INSTRUCTIONS
To make the lemon herb butter, combine all of the ingredients except the butter in a food processor and pulse until finely minced. Add butter pieces and pulse until completely blended and smooth, scraping down the sides as needed. No food processor? No problem! It just means a little extra elbow grease is required by finely chopping the garlic and herbs by hand and blending the butter in with a fork or mixer.
Image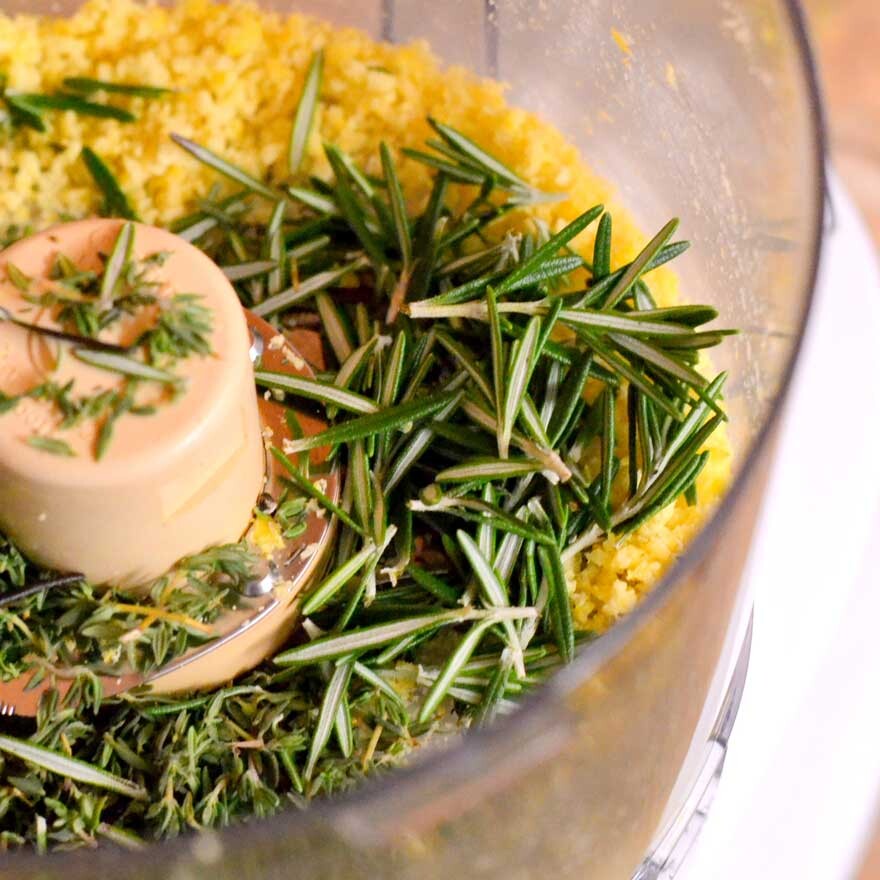 Preheat oven or a roaster pan to 325°.
Prep your bird by removing the giblets and neck. Rinse turkey with cold water, drain cavity well, and pat dry. Loosen and lift skin from turkey with your fingers, without totally detaching the skin. Spread lemon herb butter underneath and then carefully replace skin. Rub remaining butter on the outside of the turkey.
Squeeze lemon halves into the cavity, then place halves and herbs inside. Tie the ends of the legs together with string and tuck wingtips under. Place turkey on a roasting rack in a roasting pan, breast side up. Pour chicken broth in the bottom of the pan.
Image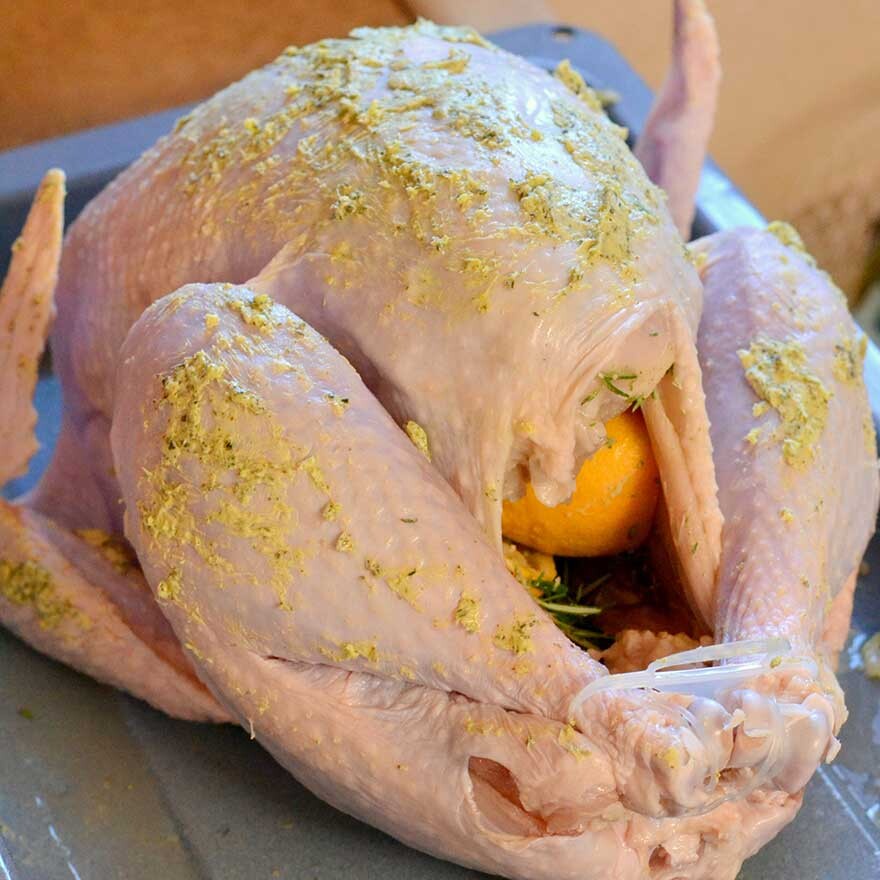 In a small saucepan over medium heat, combine beer, butter, honey, lemon zest, lemon juice, and chopped herbs until butter is completely melted and ingredients are well mixed. Brush about half the glaze onto the turkey, cover lightly with foil, and cook for 1 hour and 30 minutes. Uncover to brush and baste with glaze again about every 30 minutes for the next 2 to 3 hours or until a meat thermometer inserted into the thickest part of the thigh hits 165 degrees F.
Image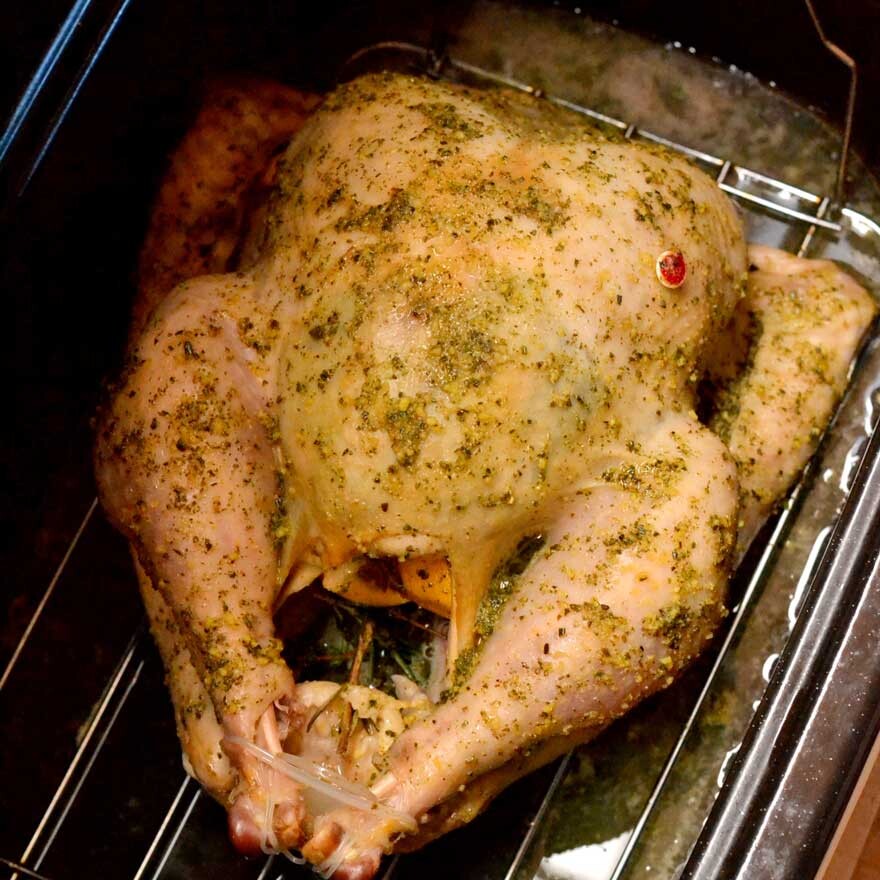 Cover with foil and let turkey sit for 20 to 30 minutes to allow juices to run back into the meat. I know.. it's torture to wait some more, but I promise you, it's worth it! Place that beautiful bird on a serving platter, carve it up, and serve it with a fresh IPA!
Enjoy!
Image