Just like the universe, we're expanding. All the time. You may recall from our big announcements back in May 2011 that we were embarking on a $50M+ expansion plan to include several new adventures including: Stone Farms, Stone Catering, Stone Brewing World Bistro & Gardens – Liberty Station, and arguably the coolest of all, the Stone Hotel. While some of those super sweet items have already been completed and others (like the Liberty Station restaurant and hotel) have been slightly delayed, we're very excited to announce that ground has officially been broken on the brand new Stone Packaging Hall! So what does that mean for you? Simple: MORE BEER. You see, we've been working 'round the clock to get our new 120bbl brewhouse installed next to our current one, but it's displaced quite a few fermentation tanks. The bottom line? We're running out of room!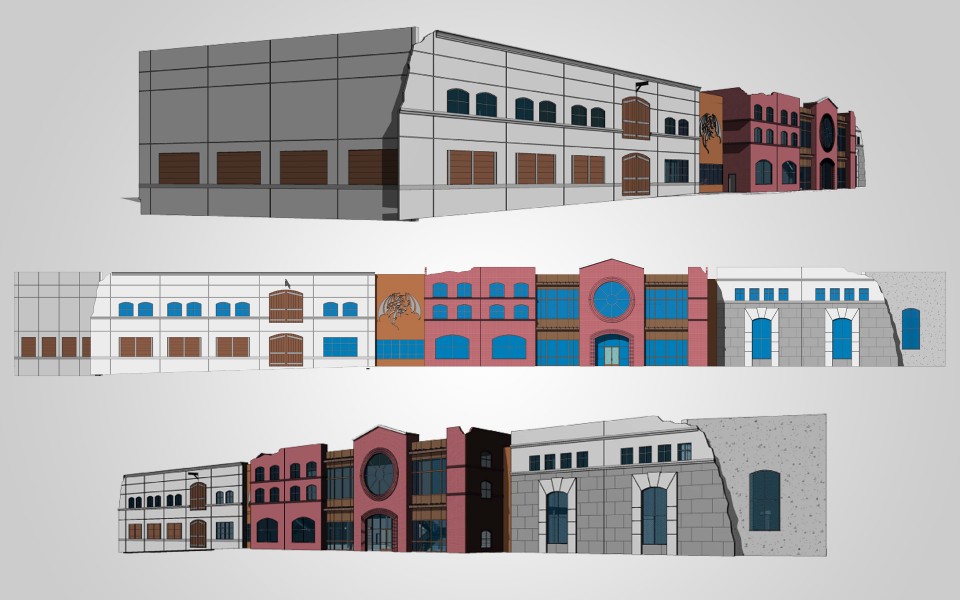 Stone Packaging Hall renderings
The 59,815 sq ft Stone Packaging Hall will house all of our bottling and kegging operations, as well as additional offices, QA labs, and some equipment storage. We invited out some city dignitaries, media peeps, and Team Stone to bear witness to our groundbreaking ceremony last Thursday, August 2, 2012. Greg and Steve rolled up in style, driving in on a bulldozer before speaking to the crowd along with Escondido Assistant City Manager Charles Grimm and Escondido Mayor Sam Abed.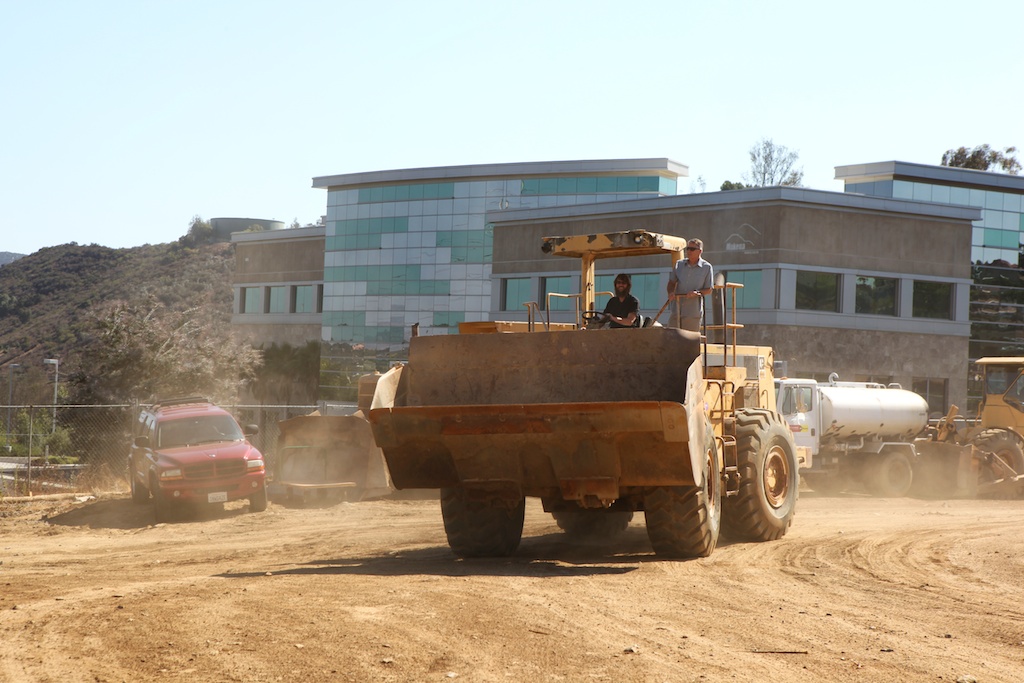 Greg & Steve pull up to the groundbreaking ceremony in style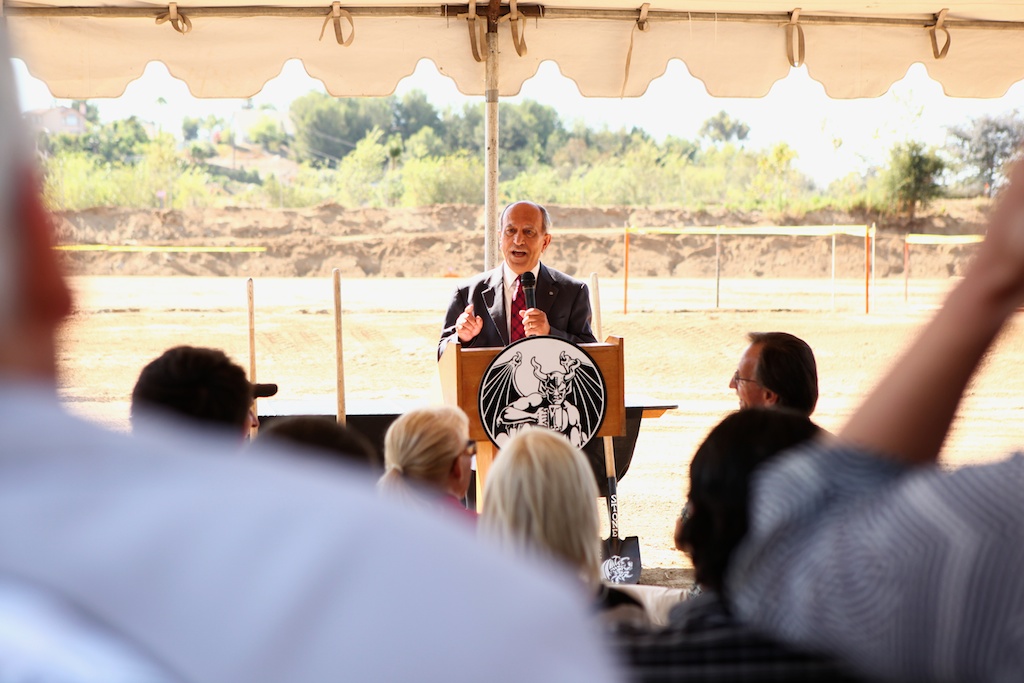 Escondido Mayor Sam Abed addresses the crowd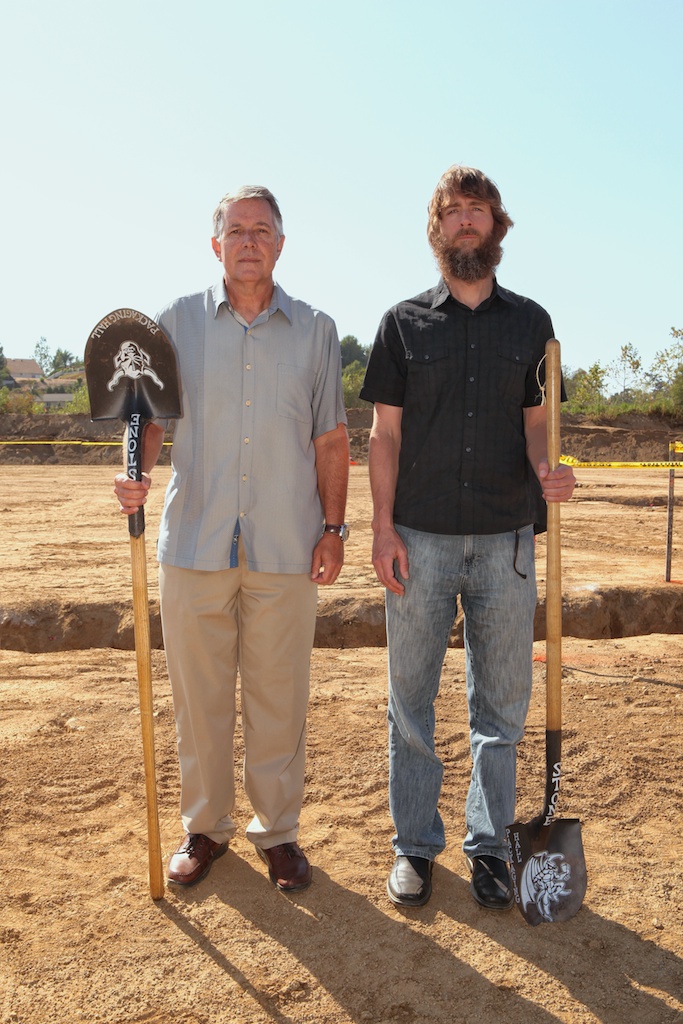 Steve & GK channel their inner American Gothic. (Shovels courtesy of our friends at Steven Smith Landscape Inc., decorated by our Head Gardener "Chili")
To further mark this momentous occasion, we created a time capsule out of an old keg that we placed underground where the Stone Packaging Hall will stand. (We're projecting that construction will be complete by year's end, with equipment up and running inside by early 2013.) We placed a bunch of Stone merch in it, a few bottles of beer (including the Stone 16th Anniversary IPA, naturally), a copy of our book, and a proclamation signed by all those in attendance, which reads:
 "I WAS THERE, MAAAANNNN…" On this, the second day of August in the year two thousand and twelve, I proudly bore witness to the groundbreaking ceremony which officially began the construction of Stone Brewing Co.'s new packaging hall at 1999 Citracado Parkway in Escondido,California. Stone's monumental year-to-year growth has caused them to outgrow their existing 55,000 sq. ft. brewing space. In order to form a more perfect Union, creating this additional 59,815 sq. ft. facility is the first step of many necessary to continue allowing Stone's incredible beers to flow like water, quenching the seemingly insatiable thirst of responsible adults everywhere. This noble document, emblazoned with my signature to commemorate my attendance, shall be forever contained within a time capsule buried deep under the glorious complex that will soon stand on the dirt lot where we've assembled together today. May the future civilization that unearths it get a small chuckle out of our hubris, and perhaps even offer up a toast in our honor with a heavily hopped beer. (There are hops in the future... RIGHT?!?!)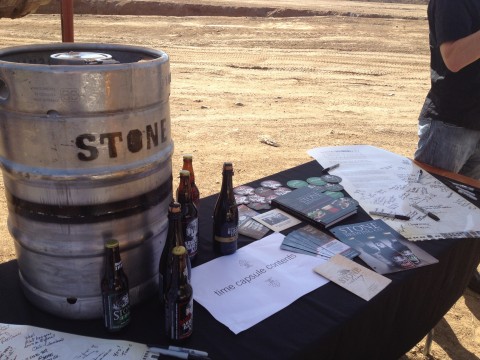 Stone Packaging Hall time capsule, made from a decommissioned keg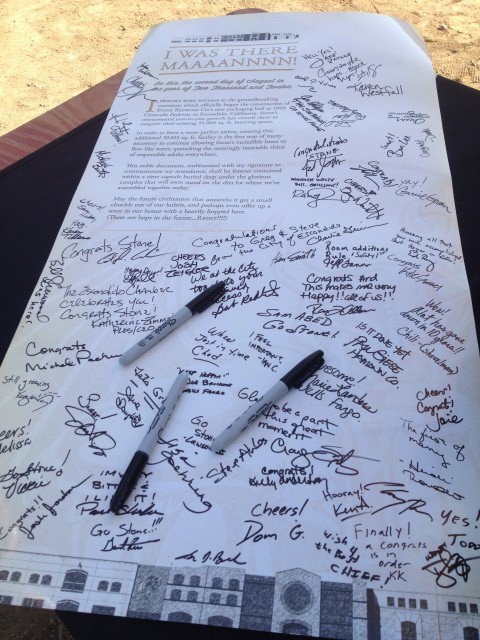 Stone Packaging Hall groundbreaking proclamation
For updates on all of our expansion news, check out our Upcoming Projects page!