Craft beer is life here at Stone. In the best cases, however, our beer has the ability to make positive impacts on the lives of others. Such is the case with one of the first beers brewed up on our brand new ten-barrel brewhouse at our equally new second farm-to-table restaurant, Stone Brewing World Bistro & Gardens – Liberty Station: Operation Homefront IPA. Liberty Station Brewing Manager Kris Ketcham joined the ranks of several brewers across the country to craft this beer for Operation Homefront, a non-profit organization supporting and bettering the lives of U.S. Military families, as part of their Hops For Heroes initiative. That program was supported not only by American craft breweries including Left Hand Brewing Company, Cigar City Brewing and 21st Amendment Brewery, but also Major League Baseball and Louisville Slugger, making for a great example of strength in numbers being channeled into making a big difference through great beer and even better intentions.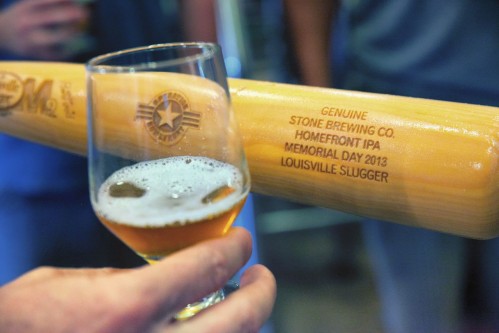 Operation Homefront IPA is an India pale ale brewed with orange peel and hopped with Chinook and Cascade, then rested in fermenters atop untreated maple Louisville Slugger bats. The result is a beer with plenty of citrus oomph and a multi-faceted woody character unlike anything we've ever tasted. When it was time to remove the bats from the tank, several members of the San Diego Padres came over from PETCO Park to do the honors. That group included our Operation Homefront player liaison, catcher John Baker, relief pitcher Luke Gregerson, infielder/outfielder Kyle Blanks and utility infielder Logan Forsythe, all of whom thought it was immensely cool and avant-garde to use their tools of the trade to lend flavor to a beer.
When the bats came out, they were coated in hop residue (which, in our opinion, is far superior to pine tar). It smelled so richly of inviting hops that Gregerson couldn't resist the urge to take a taste. Soon, his teammates followed suit. Forsythe proved the biggest hophead of the bunch, going in for seconds. We'd like to think that lupulin dosage helped fuel them for their game that night versus the St. Louis Cardinals, but we won't take credit. We will, however dole it out to our MLB co-conspirators, all of whom echoed Baker's sentiment that, though baseball players are often looked on as heroes, it's the men and women of the U.S. Armed Forces who protect our liberties and way of life who are the ultimate heroes. Like us, Baker and company were thrilled to have the opportunity to show our respect for our soldiers, sailors, airmen and Marines, and take a step toward reciprocity for their sacrifices in some small way.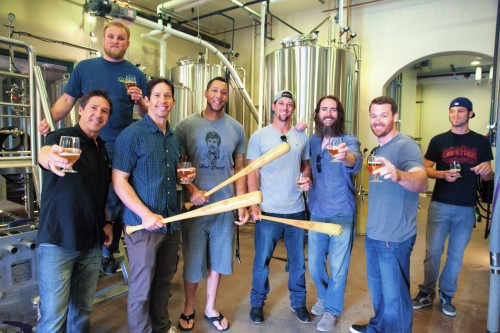 (left to right): Stone Community Relations Manager Chris Cochran, Liberty Station Brewing Manager Kris Ketcham, Padres Catcher John Baker, Infielder/Outfielder Kyle Blanks, Pitcher Luke Gregerson, Stone CEO Greg Koch & Padres Utility Infielder Logan Forsythe
All of the breweries involved with Hops For Heroes brewed the same recipe in creating Operation Homefront IPA. All of the versions of the beer will go on sale Memorial Day. Stone's iteration will be available at Stone Brewing World Bistro & Gardens locations in Escondido, Calif. and the Liberty Station section of San Diego's Point Loma neighborhood as well as Stone Company Store locations within San Diego County. Proceeds from the beers will go directly to Operation Homefront. For more information on the organization, Hops For Heroes and Operation Homefront IPA, click here. Go team!