They say good things come to those who wait. Fermentation has proven this true for us time and time again; however, we are, at our core, pretty darn impatient. We have grand aspirations and want to push the craft beer envelope by providing new ways for people to experience hand-crafted ales and lagers. Grand aspirations require grand gestures. Grand gestures take grand effort. Grand effort mandates a boatload of time, and that equates to a whole lot of waiting for our grand aspirations to be forged into reality. Never has this been truer than in the case of construction of our second farm-to-table restaurant, Stone Brewing World Bistro & Gardens – Liberty Station. It took us years to take it from the grand aspiration phase to the tangible and absolutely magnificent (if we do say so ourselves, and we just did) brick-and-mortar bastion of good beer and quality cuisine it's become. The waiting was the hardest part, but, once again, it was all worth it. Stone Brewing World Bistro & Gardens – Liberty Station is open for business and Worthy all of the hard work it took to get it to that point. Allow us to show you around…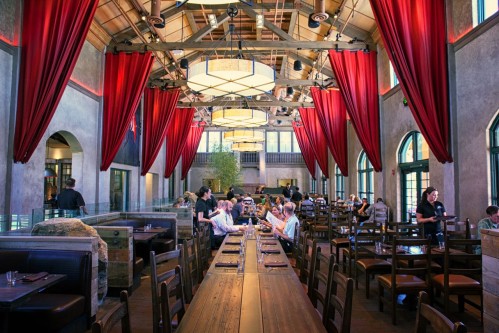 The main dining room at Stone Brewing World Bistro & Gardens - Liberty Station
Installed in the heart of San Diego's Liberty Station, a multi-use retail and residential development in the repurposed site that was formerly home to the U.S. Navy's Naval Training Center, Stone Brewing World Bistro & Gardens – Liberty Station was constructed within several interlocking Navy buildings. Aptly, those structures include NTC's original mess hall. During construction, it was important, both to us and the local historical society, that we maintain the historic integrity of the space. As such, we went to great lengths to pay homage to the venue's former life while bringing in plenty of fresh features to celebrate its new identity as not just a restaurant, but a Stone restaurant. To that end, there are aspects of our "industrial becoming organic" motif, which combines elements of reclaimed wood and metal, plant-life, water and, of course, stone, to create a multi-faceted yet cogent aesthetic that's both comforting and thought-provoking.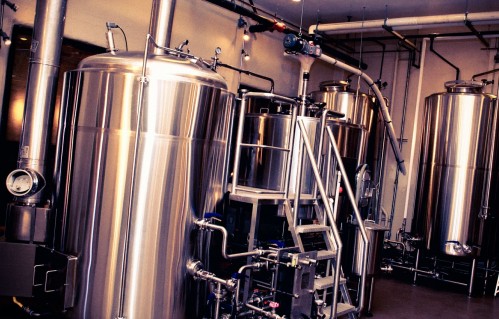 The shiny new brewhouse is the domain of Liberty Station Brewing Manager Kris Ketcham
So, the place looks great, but what better way to really make this a Stone restaurant than to add a brewing element? Answer: there is no better way! Knowing this and playing off our long-standing desire to construct a brewery separate from our main facility in North County San Diego, we built in a 10-barrel brewhouse with six 20-barrel fermenters, two of which are situated in the cold box with lines siphoning the freshest beer possible straight to the interior bar, creating yet another high quality craft beer experience that goes beyond traditional keg setups. Longtime Stone brewer, Kris Ketcham, oversees all brewing operations in his new stomping grounds and, to date, has already created half a dozen new beers with the help of a rotating staff of Stone Brewing Production Team personnel who've lent their time and creativity to our new venture. Those beers include Stone Brewing World Bistro & Gardens – Liberty Station  Commemorative Imperial Stone Pale Ale, J's OT Stout, Hoppy Brownie Hemp Ale and Operation Homefront IPA. Many of these beers will only be served at the restaurant.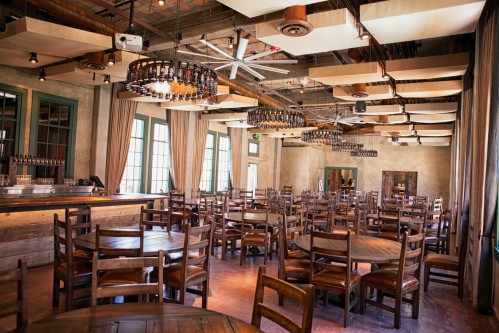 The dining room and indoor bar in between the cinema area and bocce ball courts
Stone Brewing World Bistro & Gardens – Liberty Station can seat 600 people at a time in four interconnected interior dining rooms, two of which are equipped with bars serving a wide variety of draft beers as well as a bottle list boasting more than 100 different Stone-approved craft brews. But wait, there's more. While the restaurant's interior accounts for a great deal of cozy convivial dining and drinking space (more than almost any restaurant in San Diego), the exterior comes in at over 12,000 square feet all on its own. Remember, the lengthy name of our restaurant includes the word "gardens." As such, you can expect plenty of lounge-ready outdoor space to explore. That acreage is made lush with the addition of beautiful flora and fauna (including a historic tree on the site's extreme southern border), and further beautified courtesy of immense water features and inlaid stone paths and flooring. Separate from our main garden is a small, turf-laid outdoor area equipped with its own bar, from which we'll project cinematic masterpieces as part of the Stone Movie Night tradition we plan on extending from our original restaurant. There's also another al fresco section that includes a pair of bocce ball courts that have quickly become some of the venue's most in-demand real estate.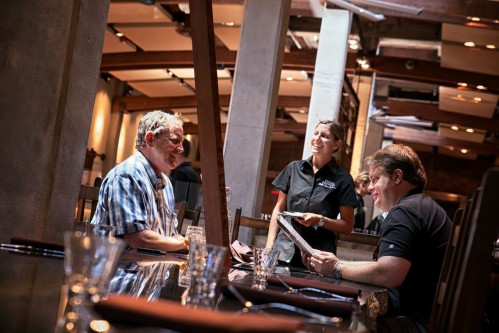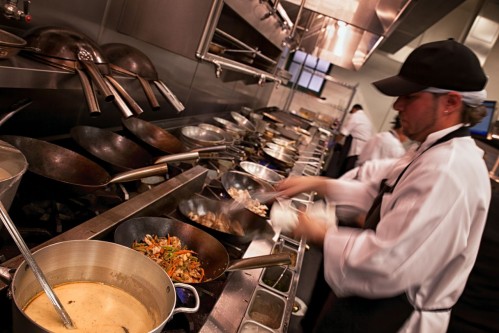 A long line of sizeable gastronomic might commanded by Executive Chef Tausha Lopez
On the food front, it's business as usual. The menu is made up of favorite recipes popularized at Stone Brewing World Bistro & Gardens – Escondido, with new dishes developed by Stone Brewing World Bistro & Gardens – Liberty Station Executive Chef Tausha Lopez. Everything on the bill of fare, whether it be lunch, dinner, brunch or dessert, is composed of ingredients plucked from local purveyors including our very own Stone Farms in Escondido (which is now open on weekends for tours and sales of produce, merchandise and specialty Stone beers like Stone Pale Ale infused with lavender straight from the farm). The same responsible philosophies that guide all we do at Stone has survived the move to San Diego proper intact, and our food—and our guests—will be all the better for it! Come on by and you're sure to see what we mean. (And if you can't make it, click here for even more photos of the Bistro.)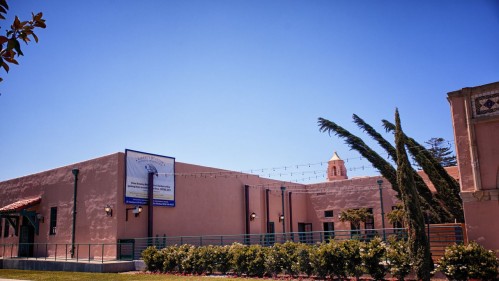 Stone Brewing World Bistro & Gardens – Liberty Station is located at 2816 Historic Decatur Road, San Diego, CA 92106. For reservations and more information (do you really need more after this brilliant dissertation…OK, go ahead) check out the venue's official website or call (619) 296-2100. The restaurant is open from 11 a.m. to 11 p.m. Monday through Thursday and 11 a.m. to midnight Fridays and Saturdays.Brunch is also offered from 10 a.m. to 3 p.m. Sundays. Even with all those seats, reservations are highly recommended. We look forward to serving you up a slice of our newest unique craft beer experience. See you soon!