Stone Brewing was founded in San Diego County, California in 1997 by Greg Koch and Steve Wagner. Unsatisfied with how difficult it was to find great beer at the time, Greg and Steve set out to give beer lovers more choices by brewing bold, innovative beers of the absolute highest quality. In the 25+ years they led the company, they helped grow Stone from a micro-brewery in a small warehouse to a leader of the craft beer revolution around the globe. Throughout Stone's history, we've embraced a few key values that guide our every decision: creative risk taking, revolutionary spirit, and commitment to craft, community, and sustainability.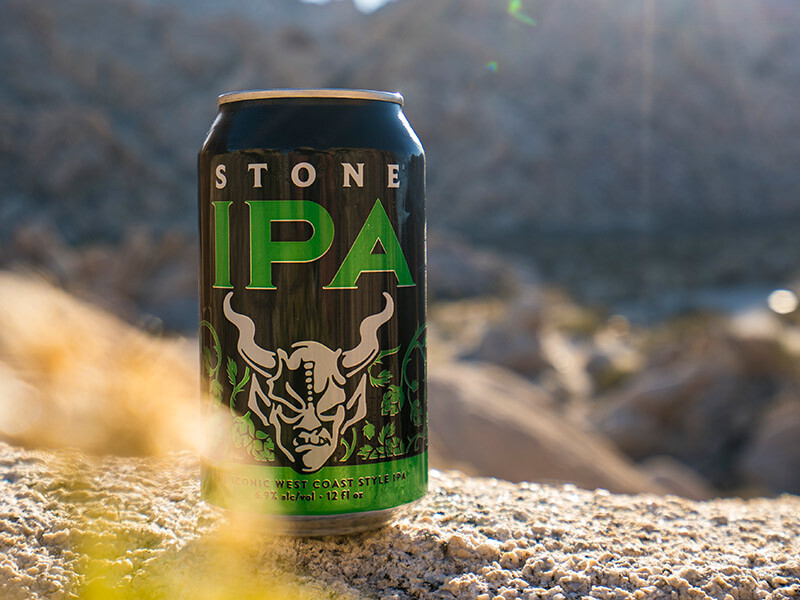 Creative Risk Taking
Stone was among the first to pioneer the West Coast style IPA, helping to fuel the modern craft beer revolution and inspire generations of hop fanatics. Stone IPA is still our #1 selling beer.

Arrogant Bastard Ale was far too intense for the average beer drinker. It was creatively propositioned to fans with a label that declared, "This is an aggressive ale. You probably won't like it." In the end, it became a true phenomenon. Proof in point: In 2021 it was named among Thrillist's "30 Beers That Changed America".

Stone Ruination IPA was released in 2002 and went on to become the first full time bottled west coast style double IPA.

Stone Distributing Co. was founded on creative risk-taking. It was Stone's solution to being denied by big distributors. The team decided to self-distribute and brought along other small craft brewers too. This ultimately played a significant role in the growth of craft beer in SoCal.
Stone Brewing World Bistro & Gardens transformed the brewpub experience and challenged expectations with sprawling gardens, no TVs (gasp!) and world-inspired cuisine.
Stone became early adopters of the Tap Room model, beginning with the Stone Company Store – South Park, which brought beers to fans in walkable urban neighborhoods separate from the often-industrial locations of breweries.
Stone Brewing World Bistro & Gardens – Liberty Station has been heralded for its restoration of the historic 1924 San Diego Naval Training Center. It later won an "Orchid" from the San Diego Architectural Foundation for its design.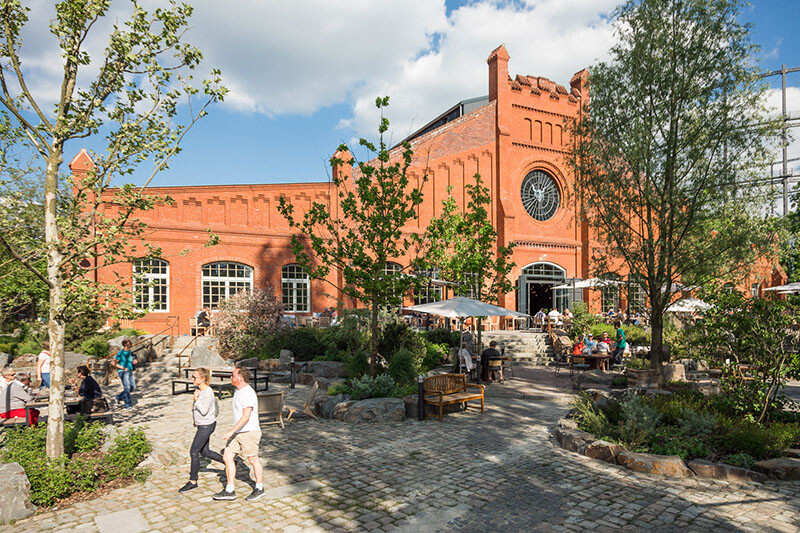 Stone Brewing - Berlin

In 2016 Stone became the first American craft brewer to independently build, own and operate its own brewery in Europe.

It was recognized by IHK Berlin (the Chamber of Commerce in Berlin) as best "Overall sustainability concept" for commercially used outdoor facilities.

Bier Bars & Brauer named Stone Brewing – Berlin among the top 10 breweries of 2017 in all of Germany, and Stone Brewing World Bistro & Gardens – Berlin the #1 best beer / gastronomy venue in the country.  

Stone Brewing - Berlin was eventually sold to Brewdog and has undoubtedly left a positive influence on the develoment of craft beer in Berlin and beyond. Stone now distributes beers to more than 40 countries across the globe.

In 2018 Stone Brewing Tap Room – Shanghai became the first tap room to be opened by an independent American craft brewery in China. In its first six months it was voted "Best Craft Beer Bar of 2018" by That's Shanghai and "Best Beer Bar of the Year" by Time Out Shanghai. It was even named 2019 Craft Beer Bar of the Year by That's Shanghai.
Stone Brewing – Napa was a massive undertaking in which Stone restored a historic 1877 building that had been abandoned for 2 decades. In the end it was awarded a national SARA (Society of American Registered Architects) Award for Historic Preservation-Adaptive Reuse project of the year.  
If all this creative risk-taking feels dreamy, it's because Greg Koch himself was a visionary. Koch was granted the California Dreamer Award, presented by Visit California.
"Mr. Koch's innovation, passion, and business savvy has elevated the visibility of California around the world."

- Caroline Beteta, president and CEO of Visit California.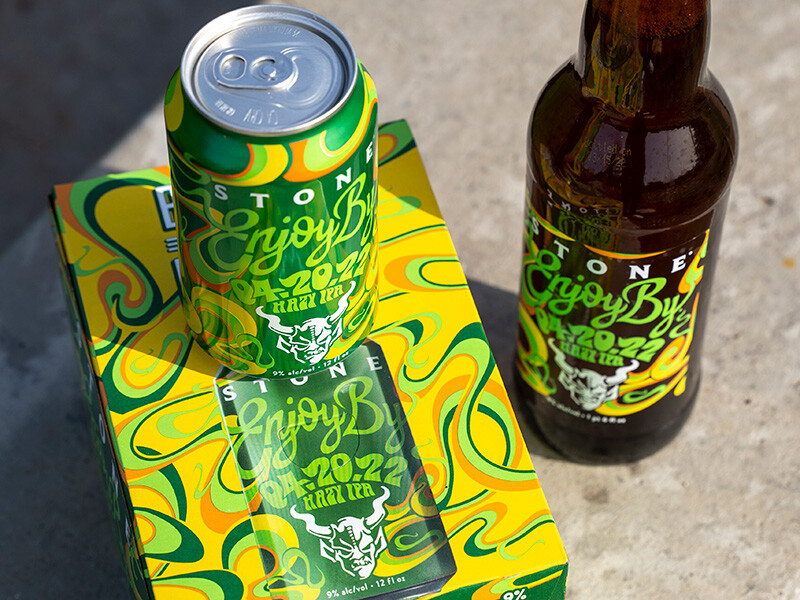 Revolutionary Spirit
Stone revolutionized freshness in beer. It was among the first to print clear Bottled/Canned On and Enjoy By dates on each and every one of its packages. Stone even introduced the Stone Enjoy By Series to emphasize the importance of freshness, revolutionizing expectations of beer.
"Stone's Enjoy By series is one of the most reliably outstanding items you can find on a bottle shop shelf." ​

-  The Post and Courier, December 16, 2020
Stone actually established the Imperial Russian Stout as an officially recognized style, regardless of its place of origin. This required extreme diligence in proving to the TTB that the imperial Russian stout nomenclature was not misleading, but instead quite historically and statistically correct. The last time a change like this had been made was in the late 1930s when the government ruled that India Pale Ale was a generally recognized style as opposed to mark of origin.

Stone has always taken a stance and stood up for what's right. The team even sued beer giant MolsonCoors for infringement of the STONE® trademark and won the case, awarded $56M in damages by the jury.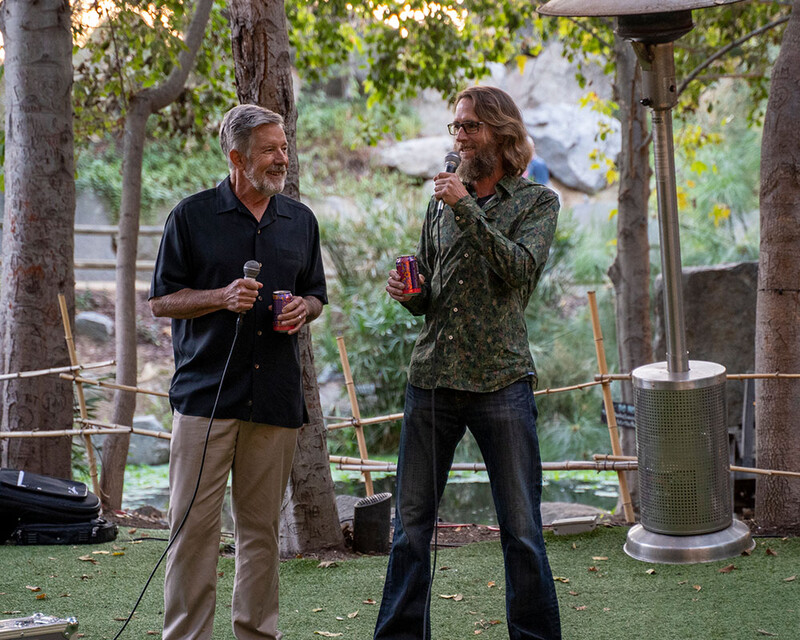 Commitment to Craft
Stone's co-founders have long been leaders in the craft beer community and tireless proponents of craft.  Early in Stone's existence, Greg Koch founded the San Diego Brewers Guild. Meanwhile, Steve Wagner led the Brewers Association on its board of directors for 4 years and served 10+ years on the board of the California Craft Brewers Association, 9 of those as President.

Stone has always subscribed to the belief that the rising tide raises all ships and has been a part of countless collaborations both in beer and beyond. Some notable ones include:

Drew Curtis / Wil Wheaton / Greg Koch Stone Farking Wheaton w00tstout

Kyle Hollingsworth / Keri Kelli Stone Collective Distortion IPA

Jonah Ray / Stone Notorious POG

Metallica's Enter Night Pilsner

In the beer industry, there have been countless collaborations. So many that the team lost count! Often these collaborations were with breweries smaller than Stone, even with homebrewers. They span across the US and internationally.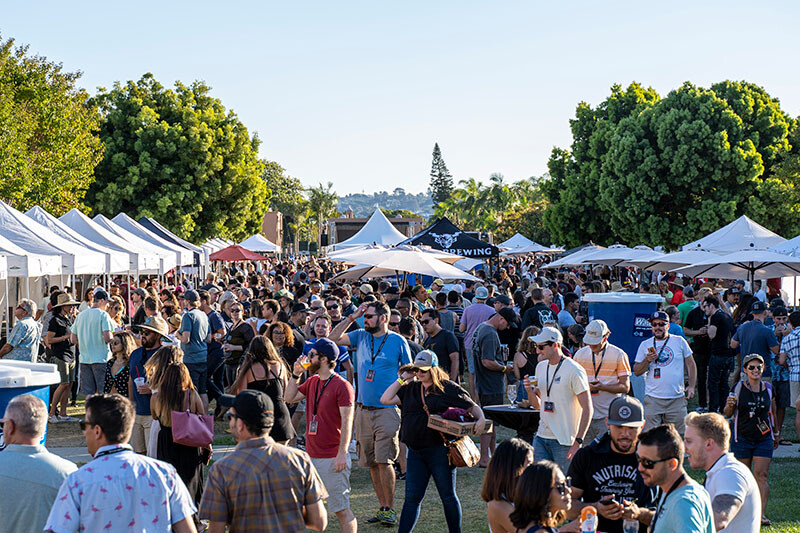 Stone loves homebrewers. Each year Stone hosts the National Homebrewer Association Homebrewer Competition, often elevating winners' beers to be brewed at Stone and distributed nationwide. This is how Stone Xocoveza came to be, which went on to be an annual release for almost a decade.
Stone's annual Anniversary Celebration & Invitational Beer Festival was a first festival of its kind in San Diego, bringing the best in brewing together in celebration of craft beer.
Over its entire history, Stone has lent the tools and expertise of its Quality Assurance Lab in Escondido and Richmond, VA to other breweries who lacked the specialty equipment needed.
If you were ever fortunate enough to make it to Stone Farms, you were among the many who experienced something truly special. Stone worked with the same farmers who had been managing the land for years to maintain an organic farm and beer outpost that provided produce for Stone's Bistros and took compostable food waste to them as well. Stone even had a CSA program! Now that's going the extra mile.
And all this commitment to craft paid off. Greg Koch became an honorary knight by the Belgian Knighthood of the Brewers' Mash Staff. He was knighted alongside Charlie Papazian (founder of the Brewers' Association) and the Alstrom brothers from BeerAdvocate.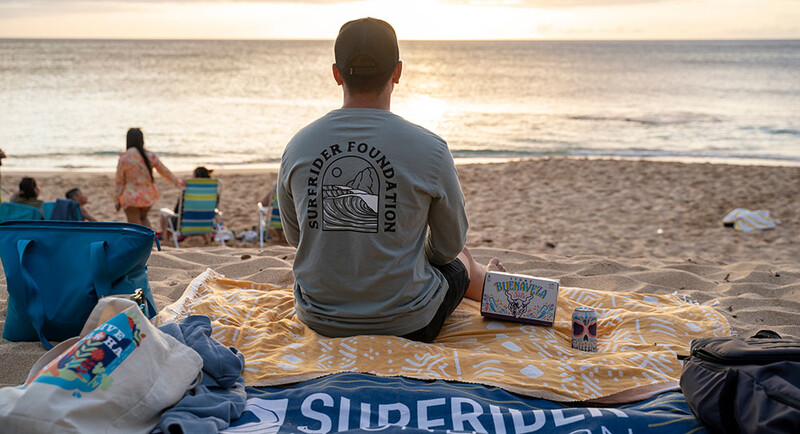 Commitment to our Communities
Stone has donated nearly $4M to local organizations and even became the single largest donor to some, like the San Diego Surfrider Foundation. Stone continues to donate to non-profits in many ways including:

A portion of proceeds from every brewery tour.

Proceeds of beer sales for select initiatives totaling large sums for disaster relief and other causes.

Participation in countless collaboration charity beers like Black is Beautiful, Brave Noise Collaboration and San Diego Brewers United.

Stone has long supported the Boys & Girls Club of San Marcos in Stone's hometown. In fact, co-founder Steve Wagner served 10 years on the board of directors and two terms as Chairman.  

Steve has also supported Cal State San Marcos for many years as Vice-Chairman of the CSUSM Foundation board and seven years as a member of the board. He's offered so much support that he earned an honorary doctorate from Cal State San Marcos.

Stone, and co-founder Greg Koch have been major contributors to the Cal State San Marcos Brewchives, preserving the history of San Diego's craft beer community.

Stone has made Richmond, VA home as well. When building its brewery, Stone hired 20 local minority-owned businesses. To-date, Stone has raised more than $250K for local organizations in Richmond.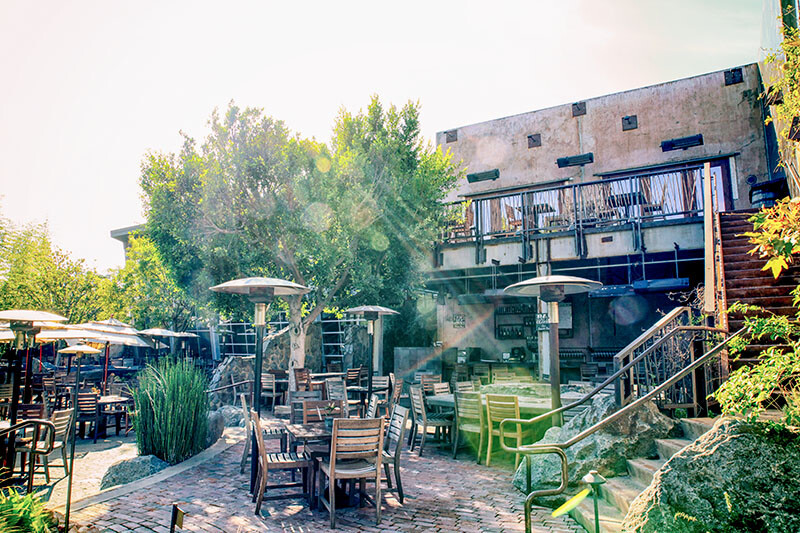 Commitment to Sustainability
Stone Brewing – Richmond is proudly LEED Certified – Silver.

In Escondido, Stone maximizes water efficiency with a state-of-the-art water reclamation facility on site. In 2020, Stone repurposed 17M gallons of water, the equivalent of 500 homes' annual usage in our city.

Stone has even established a symbiotic relationship with water authorities in San Diego and RVA. In Richmond, for example, Stone's brewing byproduct plays an important role in the health of Richmond's waterways. More than 1M gallons per year of ultra-high strength brewing byproduct from Stone is sent to the local wastewater treatment plant as a methanol offset. The treatment plant uses this to fight nitrification in the publicly owned treatment works. That water ultimately flows to waterways like the James River and on to the Chesapeake Bay watershed – a federally protected and threatened natural resource.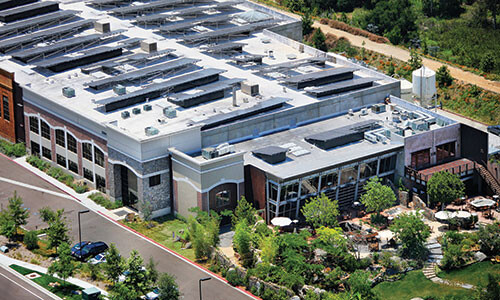 Stone Brewing World Bistro & Gardens – Escondido achieved SITES certification for its innovative sustainable design. This includes stormwater recapture as a design feature, drought-tolerant landscaping, use of salvaged and reused materials in construction and a commitment to sustainable and organic maintenance.
Stone's Escondido rooftop solar panels alone prevent approximately 1.5M pounds of CO2 from entering the atmosphere annually. Upon installation in 2008, this system was among the largest 10% of PV installations in California.
Approximately 140,000 lbs/day of spent grain from the brewing process is repurposed as animal feed by local farmers and mulch in Stone's gardens. Stone was among the first craft breweries to repurpose hops, spent grain and yeast for cattle, goat and chicken feed. It's also used to produce locally made soaps and dog biscuits!
Stone takes a leadership role in hop production. Stone is a member of: Hop Growers of America, Hop Research Council, Hop Quality Group, and the Brewers Association Supply Chain Subcommittee, all of which have a pillar of focus on sustainability.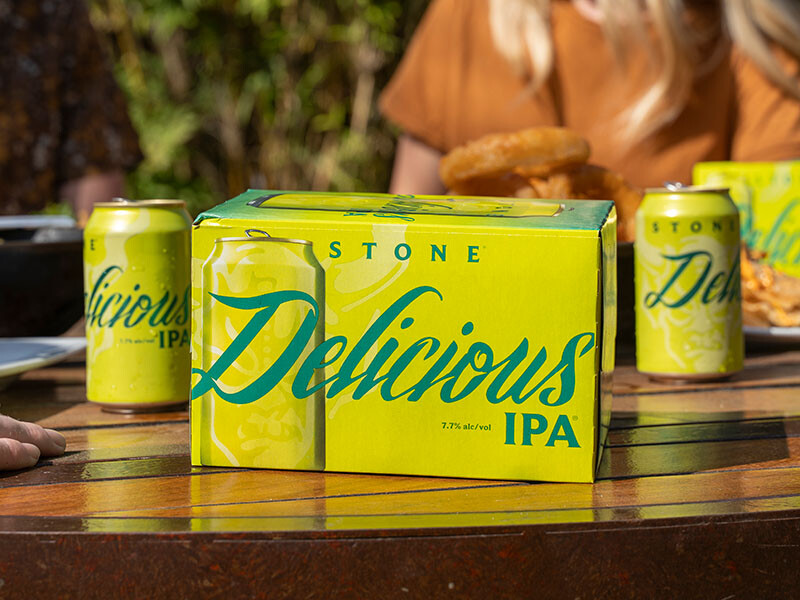 Commitment to Excellence
Stone has been listed on the Inc. 500 | 5000 Fastest Growing Private Companies list 12 times.

Stone has been called the "All-time Top Brewery on Planet Earth" by BeerAdvocate magazine twice.

Stone was named among VinePair's 35 Most Important Breweries of the Decade (2010s).
"….there's no denying Stone's American-made success" 
Greg Koch was awarded the title of 2012 Most Admired CEO among San Diego County's privately held companies by San Diego Business Journal. 

Stone got to brew the official beer of Metallica after the band approached Stone and later took Enter Night Pilsner on the road in their 2019 tour.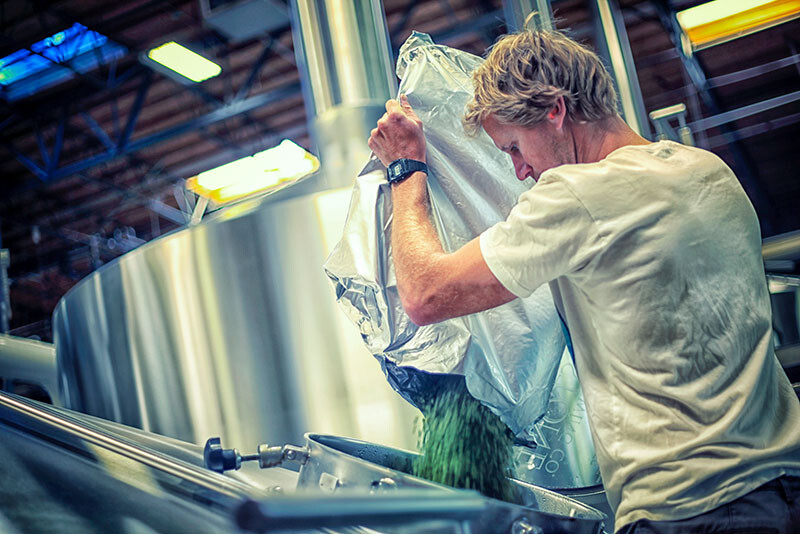 The Legacy Continues
In 2022, Stone joined forces with Sapporo, Japan's oldest brewery. This east-meets-west partnership ushered in a new era for Stone. Both production breweries in Escondido, CA and Richmond, VA experienced immediate expansion to begin brewing Sapporo beers alongside Stone beers. While the Sapporo partnership allowed Stone to expand its facilities, team and scope, the legacy and core values of Stone Brewing continue to grow and flourish.