Stone Hop Revolver IPA
A rotating single-hop series
Available only in the Stone All IPA Mixed Pack
The aim of this experimental, hop-centric series is to demonstrate just how dramatically a single hop can impact a beer. We're going to periodically fire off a variety of single-hopped variations of this IPA for some good brewing fun! Empty the bright tank with one. Reload it with another batch. Rinse. Reload. Repeat. We invite you to enjoy along with us.
12oz bottles in Stone Mixed Packs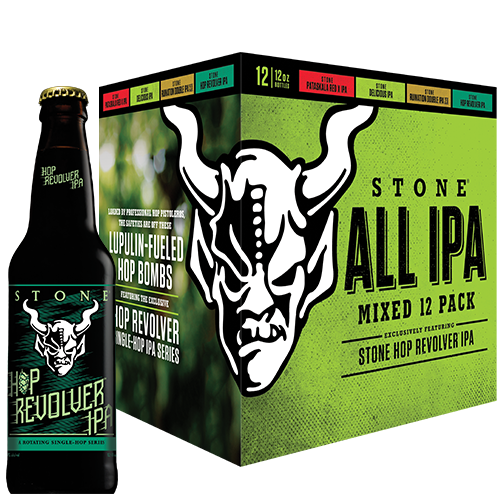 Featured Hops
Spring 2017 - Loral
Spring 2017 - Mosaic
Spring 2017 - Ella
Tasting Notes
Pours clear golden with a white head.
A beautiful big floral nose with lemon zest and pine.
Fruity and citrus with tropical notes, berries, melon, ripe green pear, and a light herbal backbone.
Crisp and clean. A delicate palate that really allows the hops to shine through. Balanced bitterness.
The first in our hop series is a newer hop which has graduated from its experimental number of 291 to the appropriately named Loral. The recipe is a scale up of our Lupulin Loop series, from our Liberty Station Brewery, showcasing single hops. It is a pleasure to share some of our favorite single hop trials we have done with our fans!
The Lupulin Loop and Stone Hop Revolver IPA
The opening of Stone Brewing World Bistro & Gardens – Liberty Station in 2013 provided our brewers with the additional opportunity to experiment with single hop IPAs beyond their work on the pilot brewery in Escondido. Exploring new hops and existing ones in a singled out fashion has been an important part of the team's innovation practices since the brewery's inception.
"Our love of hops has led us to years of experimentation and seeking out new and different varieties. We have worked with so many great hops over the last 20 years from our early love of Centennial in IPA, to all the trials with El Dorado and Lemon Drop that led to Stone Delicious IPA and our current fascination with HBC 291 (now called Loral™). We got to see that hop in its infancy, walking the Hop Breeding Company plots with Jason Perrault at Perrault Farms a few years back. In recent years we have been able to further share this excitement with our fans through the single hop trials in The Lupulin Loop series from Kris Ketcham, our senior manager of brewing & innovation down at Liberty Station. Releasing these single hop IPAs in wider release through the Stone Hop Revolver IPA series is the next step in inviting our fans to share in the joy of hops!"
-Jeremy Moynier, senior innovation program manager
Stone Hop Revolver IPA
NATIONAL DISTRIBUTION
Alabama
Alaska
Arizona
Arkansas
California
Colorado
Connecticut
Delaware
Florida
Georgia
Hawaii
Idaho
Illinois
Indiana
Iowa
Kansas
Kentucky
Louisiana
Maine
Maryland
Massachusetts
Michigan
Minnesota
Mississippi
Missouri
Montana
Nebraska
Nevada
New Hampshire
New Jersey
New Mexico
New York
North Carolina
North Dakota
Ohio
Oklahoma
Oregon
Pennsylvania
Rhode Island
South Carolina
South Dakota
Tennessee
Texas
Utah
Vermont
Virginia
Washington
West Virginia
Wisconsin
Wyoming
District of Columbia
AL
AK
AZ
AR
CA
CO
CT
DE
FL
GA
HI
ID
IL
IN
IA
KS
KY
LA
ME
MD
MA
MI
MN
MS
MO
MT
NE
NV
NH
NJ
NM
NY
NC
ND
OH
OK
OR
PA
RI
SC
SD
TN
TX
UT
VT
VA
WA
WV
WI
WY
DC