Miguel Ceja Andrade / Brandon Berube / Stone Merc Machine
An Unfiltered Hop Explosion From Our Heroes For Hire
STYLE
Double India Pale Ale
ABV
9%
IBUs
48
AVAILABILITY
Nationwide
Since 2014, the Stone Spotlight Series competition allows our brewers to create two-person teams and vy for the chance to have their recipe brewed and distributed nationwide. This year, Brandon and Miguel rolled in like a team of mercenaries and were crowned champions. The victorious creation was the result of their mission to brew a play on the trendy unfiltered IPAs of the day, but make it their own. "How would Stone do this?", they asked themselves. The result is one of the most intense hop experiences we at Stone Brewing have ever created. (And that's saying something.) 
Image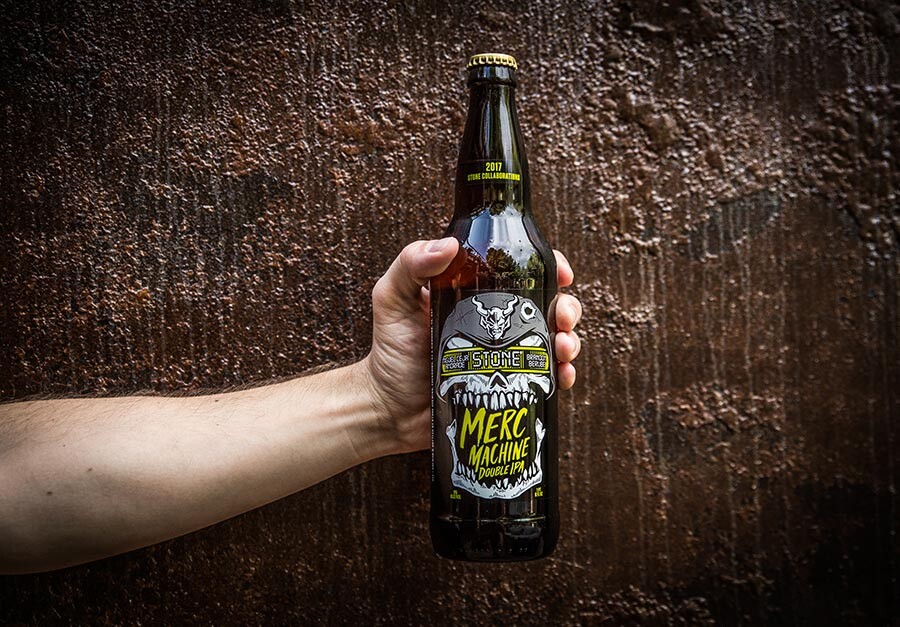 Image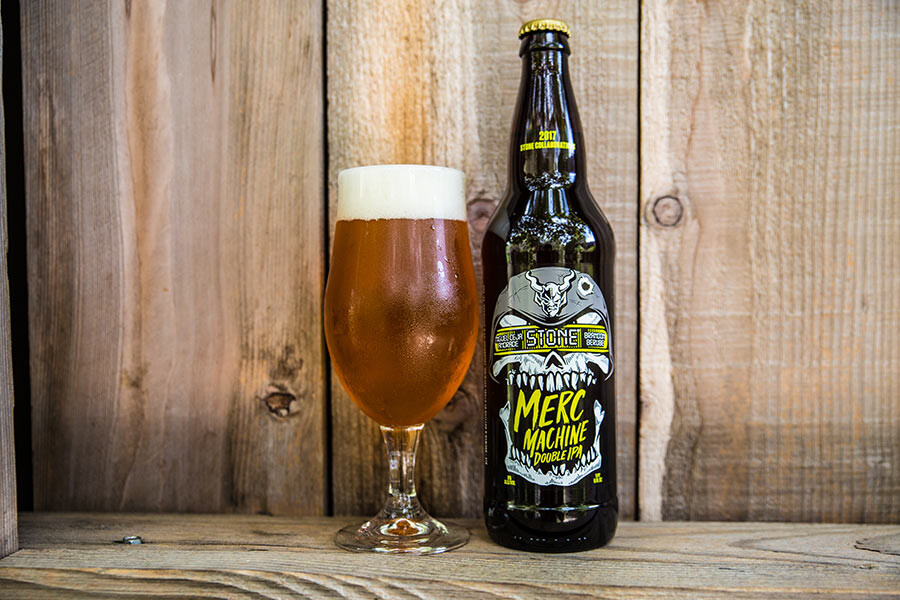 ABOUT THIS BEER
Release Date
November 6, 2017
FEATURED HOPS
Cascade
Citra
Simcoe and Amarillo
NATIONAL DISTRIBUTION
INTERNATIONAL DISTRIBUTION
Australia, Costa Rica, Germany, Hong Kong, Japan, Korea, Mexico, Singapore and Thailand
Tasting Notes
Appearance
Golden with some haze and a stable white head with fine bubbles. This beer is unfiltered and therefore some settling of natural ingredients may occur.
Aroma
Fresh fruit, peach, tropical, floral, with a hint of dankness and an underlying biscuit malt aroma.
Taste
A touch of wheat flavor unfolds into apricot, red berry, tropical fruit, and dankness.
Palate
A light malt backbone supports a full palate of fruit with a lingering clean finish. There's moderate bitterness and a touch of alcohol.
Overall
This year's Stone Spotlight Series Competition was undoubtedly worthy of a national release! Two of our brewers, Miguel Ceja Andrade and Brandon Berube, came up with this recipe out of their passion for awesome IPAs. A blend of West Coast and East Coast style, this beer has a lot of fruit character and is juicy with moderate bitterness and dankness.
Pairing Notes
Starters
Seitan Satay Skewers with Peanut Sauce, Oysters on the Half Shell, Humus with Crackers, Amaebi (sweet shrimp sushi), Marinated Jumbo Shrimp wrapped in Crispy Egg Noodles, Olas y Cesped Tacos**
Soups and Salads
Butter Lettuce and Radicchio Salad with Raspberry Vinaigrette, Toasted Barley and Spinach Salad*, Winter Fruit Salad, Butternut Squash Soup, Scotch Broth
Main Courses
Corned Beef and Cabbage with Spicy Mustard, Chicken Pot Pie, Stone Shrimp & Grits*, Zaru Soba, Misr Wat (Ethiopian red lentils) with Injera, Salmon Chraimeh*, Pulled Pork Sandwich
Desserts
Crème Brulee, Strawberry or Raspberry Tart, Vanilla Custard, Trifle, Cannoli
STAY INFORMED
Be the first to know about new beer releases & all things Stone.
(Plus something special for your birthday every year.)