As posted on
BrewDog's Blog
01.08.2009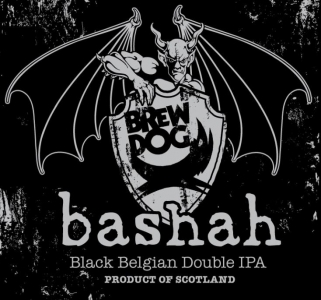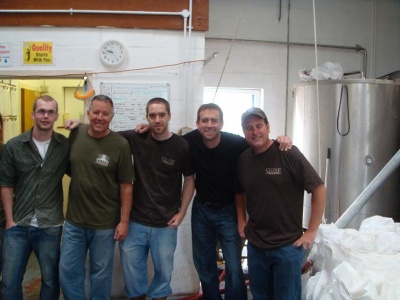 Graeme Wallace, Steve Wagner, Martin Dickie, Greg Koch and Mitch Steele. Just about to mash in!
Greg Koch, Steve Wagner and Mitch Steele, all of
Stone Brewing Co
. from California, have spent the last couple of days at
BrewDog
. Stone, and in particular the approach of founders Greg and Steve, was a huge inspiration to Martin and myself when we started BrewDog. For all at BrewDog, having Greg, Steve and Mitch over and brewing with us is pretty much like a crazy music fan being able to go on stage and rock out with their favourite band.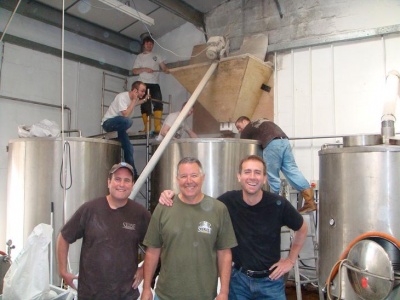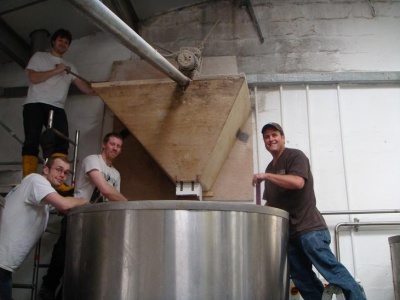 Matteo Milan, Graeme Wallace, Stewart Bowman and Mitch Steele checking on the mash.
We brewed a special Stone-BrewDog collaborative beer, a double black Belgian IPA called bashah. We are going to release some more details about the beer itself later; there are a few pretty exciting twists to it.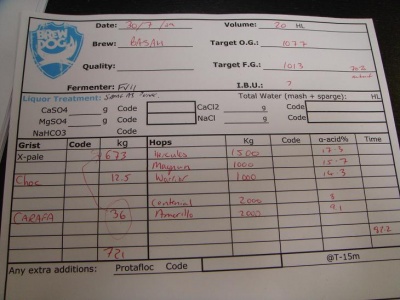 Matteo Milan (our Italian Brewer) prepared a stunning BBQ at the end of the brew-day; our brewing system is quite labour intensive so everyone worked up a good appetite.
We had some amazing beers with our food including a
2003 Stone Vertical Epic
and a 2003 Speedway Stout, oh and some Tokyo* (much to our amazement, drinking this beer did not lead to the downfall of Western Civilization). Narayanan gave us some excellent signing and Martin conducted a kick-ass whiskey and chocolate tasting. We also shot the first few scenes of a soon to be huge hit movie,
The Bare Mitch Project
, a porn-horror thriller starring Mitch Steele and Graeme Wallace shot in our very own Canteen of Death.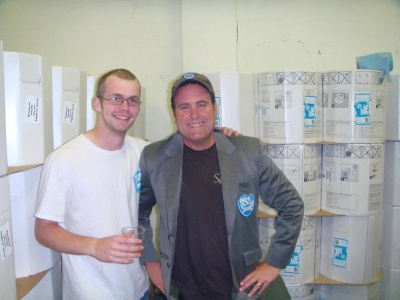 Stars of the new movie: Graeme Wallace and Mitch Steele.
On Friday Greg, Mitch and I went lobster fishing, caught some mackerel then sweet-talked my Grandmother into cooking the mackerel when we got safely back into port. Other highlights of the visit included a beer and food extravaganza at
Musa
which is our favourite restaurant in Aberdeen and a tour and whiskey tasting with the guys from
Duncan Taylor
.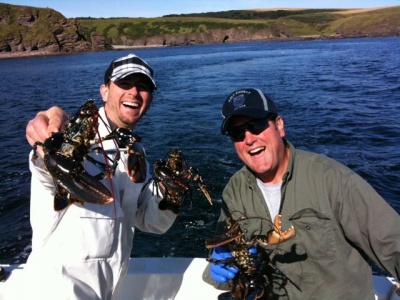 Greg and Mitch doing some North Atlantic lobster fishing.
The label text for bashah was written by Greg and myself while driving to dinner on Friday evening, hopefully that is not going to show too much in the final copy! We all had a blast brewing and hanging out with the Stone crew, for us their visit is the most exciting thing that has ever happened at BrewDog - it was a real privilege to be able to brew with our heroes! The first release of the beer should be around mid September. Watch
this space
.
Greg Koch's thoughts on the collaboration:
"James, Martin and the entire team at BrewDog really went to a lot of energy to show us a great time...and they sure did! We packed the two-and-a-half days (just 1 1/2 for Steve) solid. Castle visiting, distillery visiting, brewing, dining in a 150+ year old banana hanging warehouse in Aberdeen, selecting used single malt Scotch whiskey casks from a rare whiskey collector/broker (by tasting the whiskeys that used to be in them of course) for diversion of some of the bashah for aging, touring the small, lonely, windy roads of the countryside and seaside in Jame's hold-on-for-dear-life driving style, BBQing at the brewery, lobstering and mackerel fishing w/James' father and granddad (w/said mackerel subsequently being artfully cooked up by his epitome-of-hospitality grandmother), and finally as a testament to the sheer exhaustion at the end of the day: successfully falling asleep in the little hotel with the pub attached on Friday night at Midnight in the middle of horrid karaoke renditions of Bon Jovi songs in Scottish accents by the local, VERY inebriated town folk (We momentarily thought about checking out the pub, but then Mitch and I decided that the risk of accidentally offending the wrong soccer team -- with something presumably as simple as a "sorry...what did you say?" -- and thus leading to an even quicker "lights out" might not have been worth it.  Sure we would have risked it for a pint of BrewDog but they didn't have the good taste to serve their beer, and we definitely weren't going to go in for an uninspired pint of Euro lager! It's not like we'd had a shortage of beer after all.). "I definitely can't wait to taste the result of 'bashah'-- the world's first ever (as far as we know) commercially brewed Black Belgian Double IPA!" -GK (
@StoneGreg
)