When I hear the term "epic," I think of things like Beowulf and Jan Crouch's hairdo. However, the term isn't solely reserved for grandiose tales of heroism and towering pink wigs. It can apply to finely crafted beer too, as we've proven year after year with our Belgian-inspired Stone Vertical Epic Ale series. Beginning with the first release in 02.02.02, our Stone Vertical Epic Ale series is an eleven-year series with a new edition released one year, one month, and one day after the previous, culminating in a truly Epic vertical tasting on 12.12.12.

Stone 09.09.09 Vertical Epic Ale
The last few Stone Vertical Epic Ales have been lighter in color, but this year's Ale is a sinfully dark Belgian Porter, and instead of using American hops like last year, we're using two European hop strains: Perle and Magnum. Staying true to the series, this year's batch also comes packed with some unique, mouth-watering ingredients. If you follow us on Twitter, you already know what some of them are. Check out what we tweeted on June 1st. The ensuing deluge of fanatic @replies reaffirmed what we already know: Stone 09.09.09 Vertical Epic Ale is going to make sweet, sweet love to your palate. Before we allow you to spend too much time on any visual imagery from the previous sentence, let's move right along and ask and answer the question "So how did this divine libation come into being?"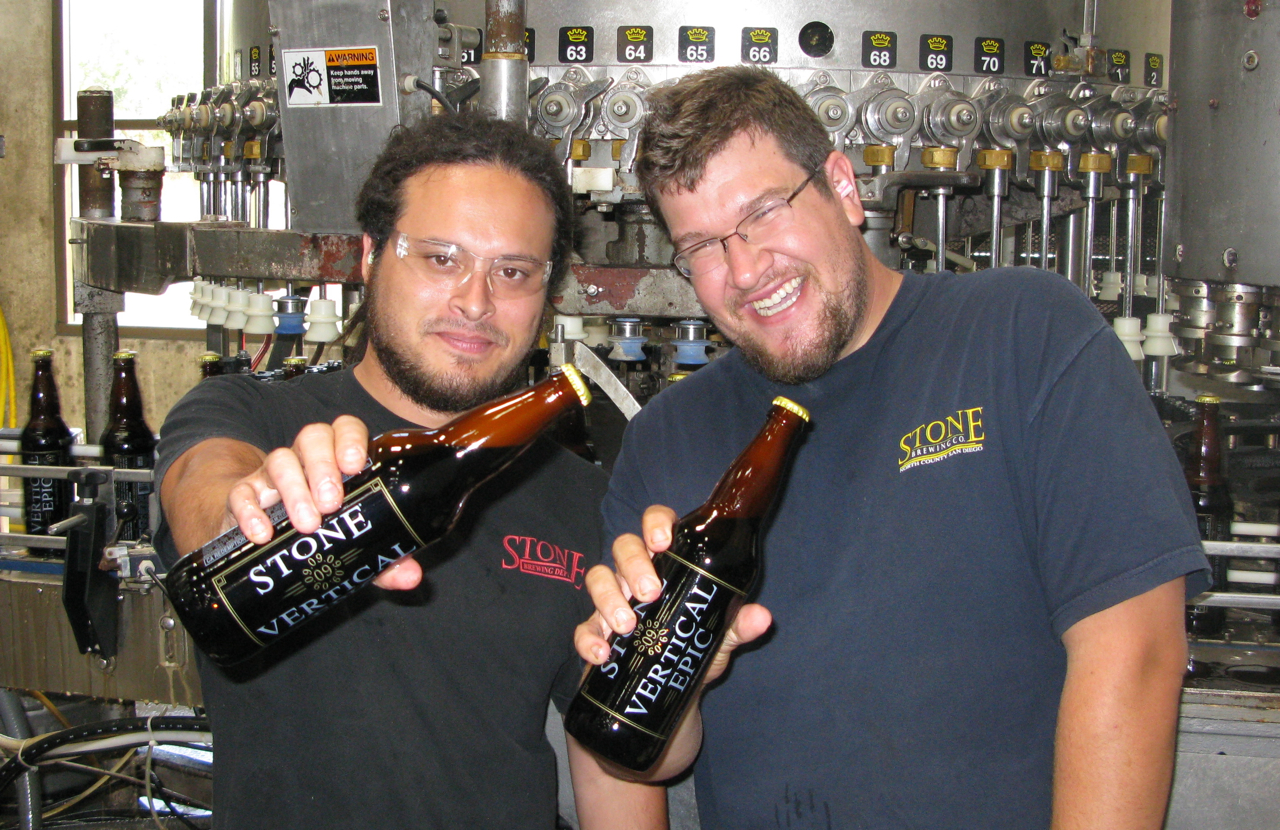 Our Head Brewer, Mitch Steele, had a dream. And that dream involved a beer with orange and chocolate in it. "I've always liked orange and chocolate," said Mitch, "and always wanted to brew a really chocolaty beer with some orange in it." Turns out that Stone CEO Greg Koch's favorite childhood dessert was orange sherbet with hot fudge (fairly irrelevant really as that fact did not come into play in the creation of this beer, but instead was simply inserted by him as he was reviewing this blog post and no doubt is an attempt to simply see his name worked into the blog somewhere). The delicious combination of tangerine peel and chocolate malt lends the beer its orange-chocolate character, and the addition of vanilla beans actually enhances the chocolate character of the chocolate malt. Stone Assistant Brewer Jessica Gilman, who helped Laura Ulrich bring Mitch's creation to life, confessed her love for the beer. "It was fun to brew, and the brew day actually went really well. When I was checking the gravity the other day, I couldn't help noticing that it smells really good—the tangerine peel is CRAZY in that thing!" As if the beer wasn't decadent enough, the brew crew decided to age it on French Oak, further enhancing the vanilla character and adding to the overall complexity. I'll give you a moment to wipe up the drool. We'll assume it's from the description of the aroma and flavor, and not from the previous paragraph above that. Sicko.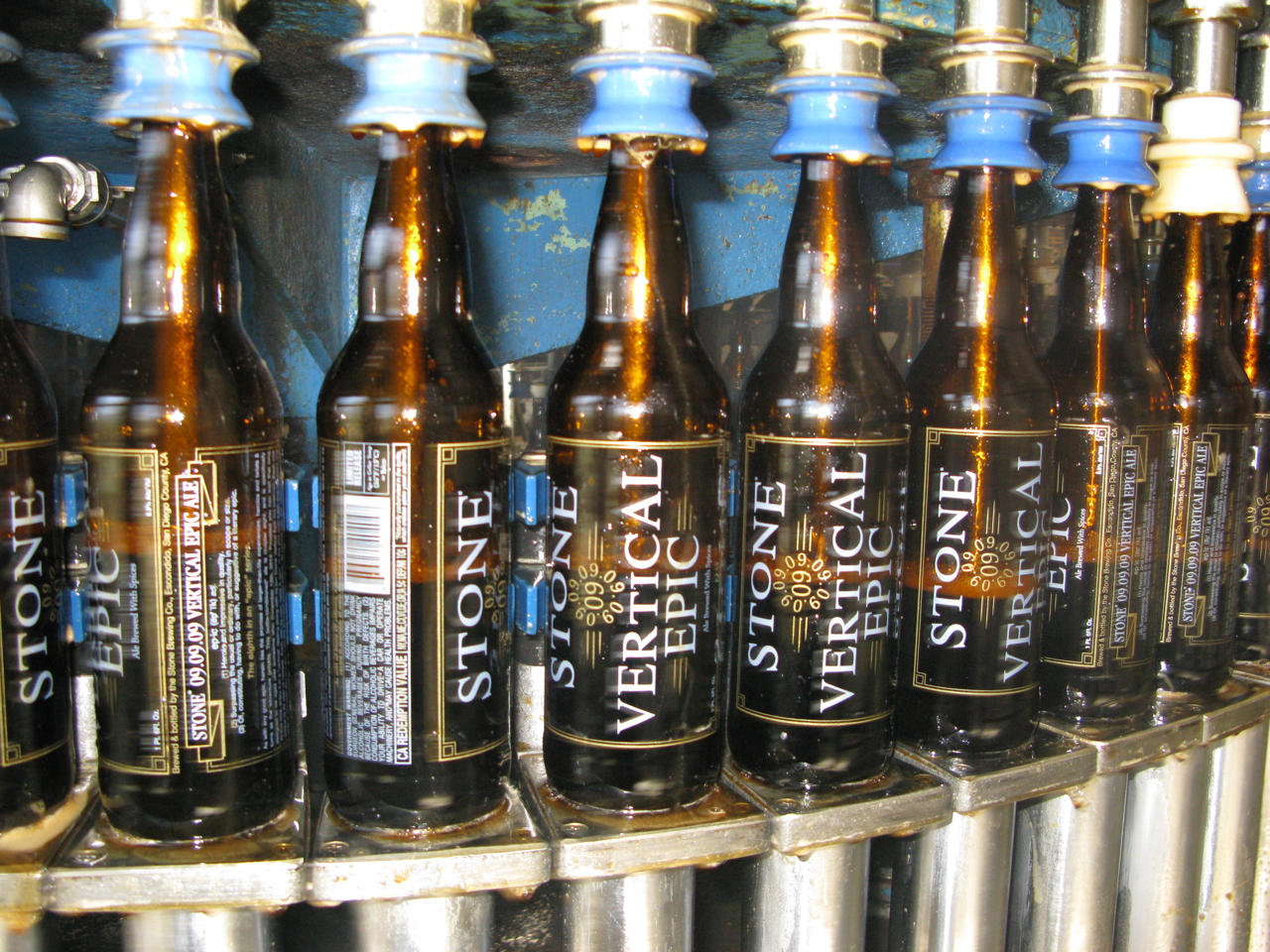 Bottles of Stone 09.09.09 Vertical Epic Ale going through the filler
With three more chapters to go in our Vertical Epic Ale series, our masterpiece is still incomplete. It's still uncertain whether Beowulf will triumph valiantly over Grendel, or if that legendary pink wig will stand the test of time. But like with most Epics, the climax is usually the best part. Hey, what? There you go again. That's a perfectly legit word and doesn't only mean that. Really, I'm starting to wonder about you. Look out for Stone 09.09.09 Vertical Epic Ale on Wednesday, September 9, 2009, and stay tuned for a detailed homebrew recipe. -Matt Steele