Do you like Piña Coladas? Well, do ya', IPA lover? How about an India pale ale expertly engineered to bring the flavor and refreshment of that tropical tipple to life in a new adult beverage form? It's only now, three questions in to this blog post, that we realize there's no way you can have an answer because you likely haven't had the chance to taste an IPA that delivers such flavors. But that all changes today, as Robert Masterson & Ryan Reschan/Rip Current/Stone R&R Coconut IPA debuts on draft and in bottle across the country.
https://www.youtube.com/watch?v=wqPDASoFJDA
Bursting with island appeal brought on by 280 pounds of flaked coconut (added in the whirlpool and post-dry hopping) and a painstakingly devised hop bill packed with tropical fruit-esque flavors, R&R was specifically developed by homebrewers Robert Masterson and Ryan Reschan for entry in Stone's annual American Homebrewers Association-sanctioned homebrewing contest. They felt it had the right stuff to bring home first prize, which included the chance to brew the beer at Stone and get it out to market nationwide with their names on it. Fans who voted it into the finals, and our own illustrious judging panel, whole heartedly agreed!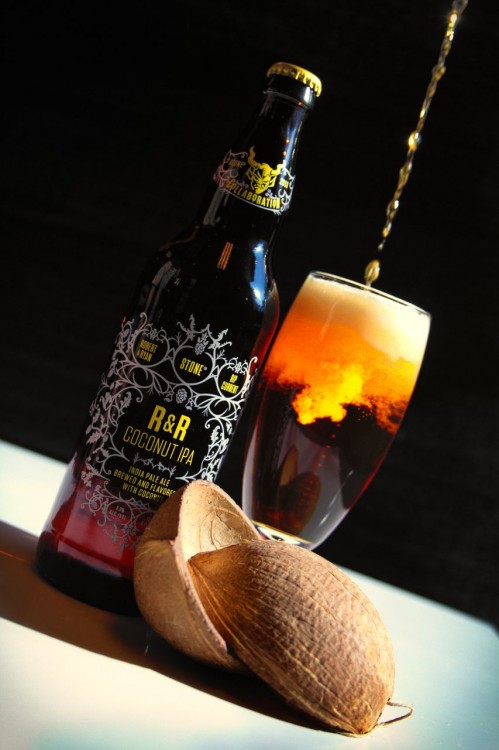 From first sip, Brewmaster Mitch Steele was excited to get moving on this brew. There was just one obstacle standing in his and the R&Rs way—Stone didn't have either of the two hops called for in the original recipe. So, the trio met at Stone along with the third element of their collaboration team, Brewers Paul Sangster (the 2011 AHA Homebrewer of the Year) and Guy Shobe from neighboring start-up operation Rip Current Brewing Company, and started spit-balling ideas for alternate hop bills capable of effectively imitating the Piña Colada pizzazz of the original. After much discussion as well as some trial and error, they went with a sextet of hops—Centennial, Calypso, Amarillo, Simcoe, Helga and Belma.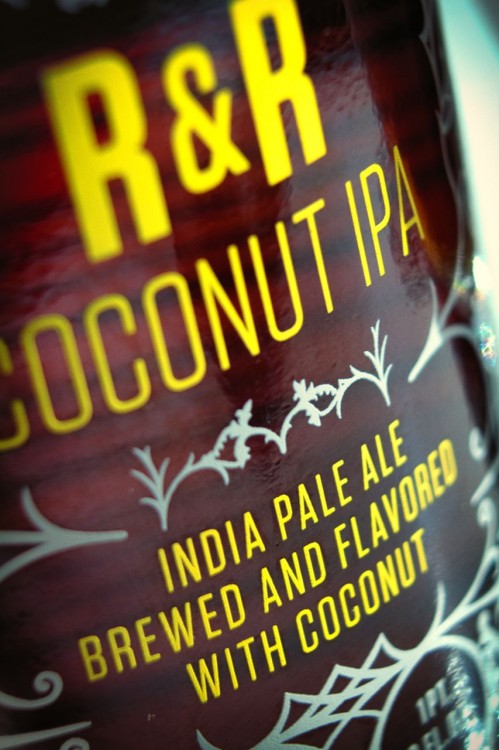 In addition to lending us their very helpful opinions, Sangster and Shobe also offered up the pilot system at their brewery so the team could move forward and test out the hops via a small test batch. Thanks to them, we are certain of our ability to provide something exceptional. Expect an IPA with a lusciously sweet, tropical aroma, soft texture, a bitter finish and a soothing, island life-evoking character. It's the perfect precursor to some R&R of your own, and yet another example of the exciting ideas and beers that are fermenting in the rich, vibrant American homebrewing subculture.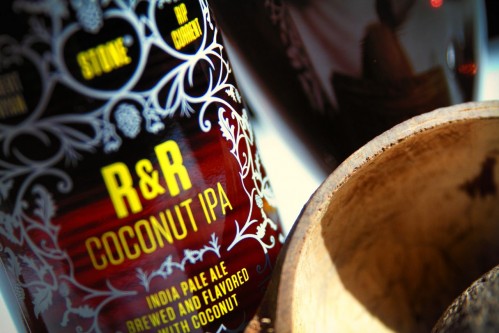 Specifications ABV: 7.7% Color: 11°L IBUs: 90 OG: 16.5° Plato Terminal Gravity: 2.3°Plato Tasting Notes by Stone Brewmaster Mitch Steele Appearance: Pours deep gold and clear with a nice cream-colored head of foam. Aroma: Aroma is predominantly coconut, along with mild fruity fermentation esters and tropical fruit and stone fruit hop flavors. Taste: Coconut up front, mixed with tropical fruit and stone fruit hop notes. Creamy malt flavors sneak in mid-palate, and the finish is bitter, dry, and hoppy with lingering coconut. Palate: Smooth and creamy, with a very dry finish and a nice lingering bitterness. Overall: A very unique blend of flavors comes through on this beer. The primary flavor note is coconut, and its intensity was achieved by two additions, one in the whirlpool and the other post dry hop. The selected hop varieties add subtle tropical fruit and berry notes that blend well with the coconut. There is no doubt this is a big IPA, but with a very interesting twist!