A porter brewed with peat-smoked malt and enough hops to bring the IBU (International bittering unit) count to 53 is undoubtedly innovative. That beer concept is right up there with the plethora of novel smoked ales and lagers that have become so prominent across the county over the past several years. But the beer we're referring to, Stone Smoked Porter, isn't among that new wave. It's been tantalizing taste buds while hovering within the top layer of craft beer's cloud of smoke since 1996!
https://www.youtube.com/watch?v=5xGlsAD5WGE
Our first and last winter seasonal (while we do brew and release some of our annual beers the same time each year, we decided early on not to make beers strictly focused on seasonality), Stone Smoked Porter was far ahead of its time from a creativity standpoint. Back then, the craft brewing landscape was much different—far smaller and less adventurous in general. One would be lucky enough to find a plain, textbook version of an IPA, ESB, oatmeal stout or a porter, let alone one venturing off the beaten path. Yet, from day one, our co-founder and original brewmaster, Steve Wagner—who despite his pleasant and seemingly tame demeanor has always been quite the wildcard—was never about simply duplicating the classics. A fan of both smoked porters being produced in the Pacific Northwest and peat-heavy varieties of Scotch whisky, Wagner aimed to infuse some of that rich, succinct character into his porter (Stone's first dark beer, and second beer of all time). The peat-smoked malt did the trick, bringing on a defined smolder while preserving the beer's drinkability. Of course, the addition of Columbus and Mt. Hood hops played an integral role in balancing things out and brought forth the fresh, evergreen taste that has become Stone's calling card.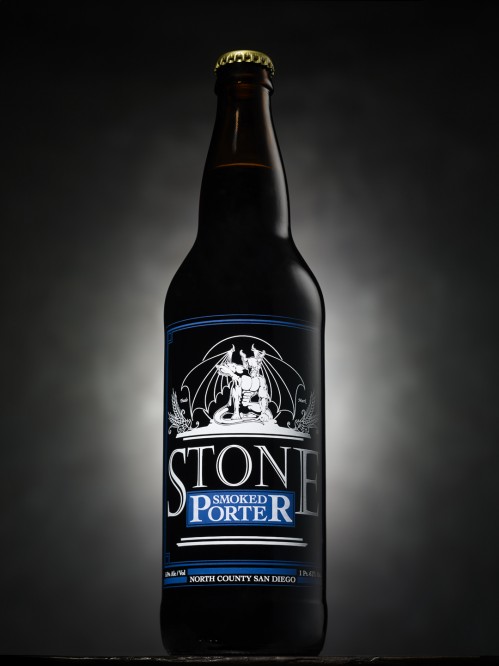 Photo Courtesy StudioSchulz.com
In addition to tasting outstanding, Stone Smoked Porter has gone on to disprove many a drinker's misperception that they do not enjoy dark beers. That, plus this classic's enduring relevance and unique flavor profile, make us glad we bucked the seasonal trend and have kept this in our year-round line-up for the past 17 years! Pour yourself a beautiful tan-headed pint, then check out both the new Stone Smoked Porter webpage and our video of Steve taking us through the process of first brewing this exceptional beer.