When we debuted Stone Saison, we did more than introduce our unique spin on a Belgian-style ale. We also ushered in a new age that allows our fans to get involved with discovering the best-suited edible vehicles for maximum enjoyment of our beers, all thanks to a hashtag—#PairedWith. When Stone Saison came out, we provided a quartet of recipes constructed to pair perfectly with the beer, so fans could prepare them and experience food-and-beer symbiosis for themselves. But we also asked fans to experiment with dishes and ingredients they thought would go well with Stone Saison and share their most successful pairings on Facebook, Twitter, Instagram and Pinterest using #PairedWith. It was fun, educational and, at times, even surprising, and lots of people from beer- and food-bloggers to everyday craft beer nuts, got involved. So, we're moving forward with our #PairedWith initiative, this time with a beer that's completely different but amazingly well-suited for sidling up beside a variety of dishes, both savory and sweet—our new Stone Coffee Milk Stout.
https://www.youtube.com/watch?v=TDH5hJM4s0s
Smooth, satiny and malt-forward, Stone Coffee Milk Stout is all fans of this style could want…and more. Not only is it rich yet highly drinkable, but thanks to an infusion of coffee beans from our North County San Diego neighbors at Ryan Bros. Coffee, a nice roastiness permeates this quaff, bringing in familiar flavors that sync with a wide-ranging array of culinary offerings from chocolate, caramel, dark berries, nuts, grains, maple and molasses to beef, lamb, bacon, mushrooms, soups, sauces and a variety of charred, smoked, grilled and roasted items. That increased versatility sprouts from Stone Brewer Brian Gallagher's decision to add coffee beans early in the brewing process when taking his homebrew recipe to the next level as a small batch brew at Stone Brewing World Bistro & Gardens – Liberty Station. Gallagher studied brewing in the U.K. In the process, he gained a deep appreciation for traditional beer styles and developed a recipe for a spot-on milk stout. It was so good that, upon tasting it, the powers that be here at Stone decided it should be brewed on an even larger scale and distributed nationwide.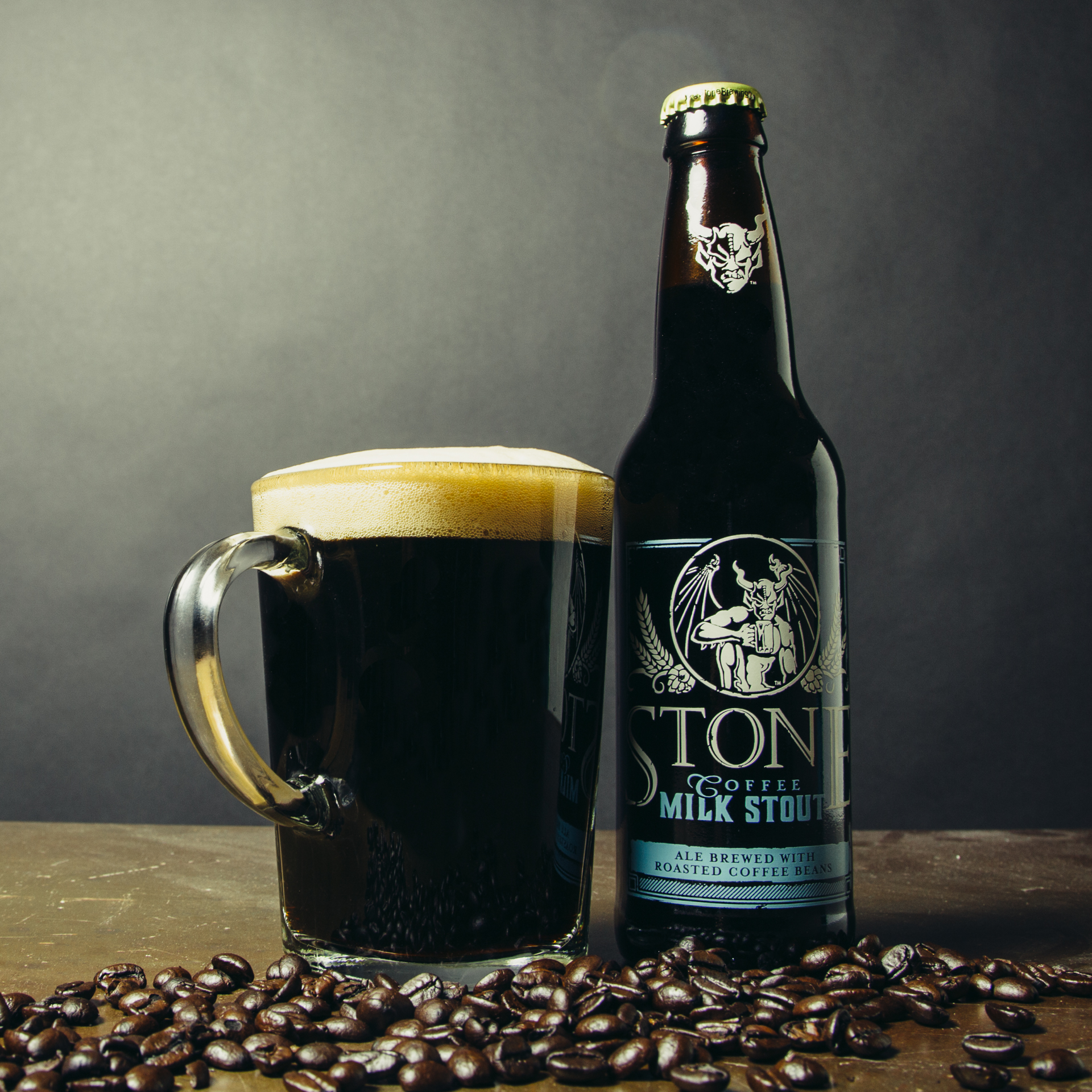 Now that Stone Coffee Milk Stout is on (or on its way to) shelves, it's ready to not only be enjoyed on its own, but in tandem with a plethora of edibles of our fans' choosing. Get inventive or stay traditional, but whatever you do, please share it with us using #PairedWith. We'll be ready to share and retweet your pairings so that everybody out there can get a taste of what works. It's a team effort and we're glad to have you on the roster. To get you started, we've included some suggested pairings from our in-house bon vivant, Craft Beer Ambassador "Dr." Bill Sysak, but don't stop there…get involved and start pairing this beer up with some of your favorite dishes and ingredients, then tell us about it on social media. Or try our recipe for Chocolate Coffee Milk Stout Cheesecake with Espresso Crust, Coffee Milk Stout Ganache and Chocolate-Dipped Espresso Beans (developed by yours truly), then check out Stone Coffee Milk Stout's webpage for three other Stone recipes developed specifically to succinctly marry with this malt-forward, java-laced brew.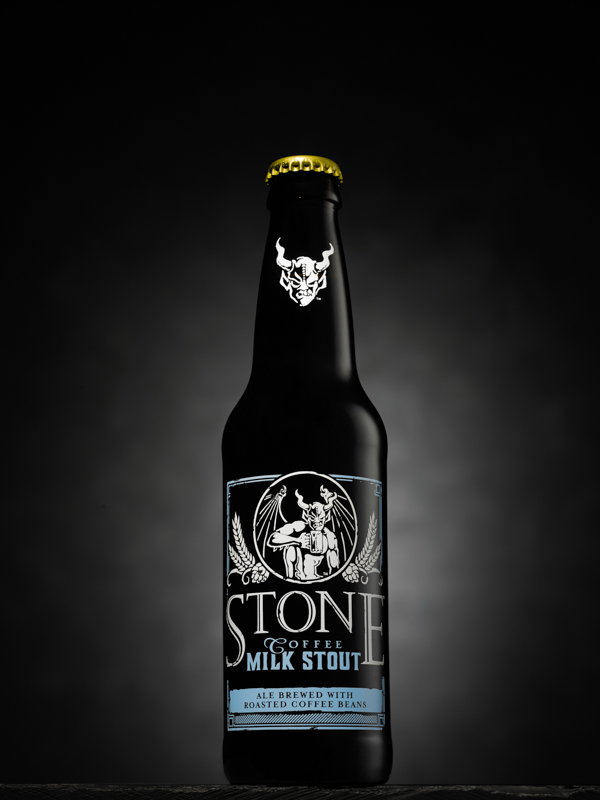 Photo by Studio Schulz
Stats & Tasting Notes by Brewmaster Mitch Steele
ABV: 4.2%
Availability: Limited 12-ounce bottles in six-pack and draft, beginning August 4
Hops Bill: Magnum
Distribution: AK, AL, AZ, CA, CO, CT, DC, DE, FL, GA, IA, ID, IL, IN, KS, KY, LA, MA, MD, ME, MI, MN, MO, MT, NC, NE, NH, NJ, NM, NV, NY, OH, OR, PA, RI, SC, TN, TX, VA, VT, WA & Puerto Rico
Appearance: Pours black with a thick brown head.
Aroma: Dark-roasted malts give off coffee and cocoa, with hints of smokiness.
Taste: Pronounced coffee and dark-roasted malt flavors that contain hints of cocoa and licorice, and a lot of fruit esters from the fermentation. This is a very malty beer.
Palate: Light-bodied and smooth, with a semisweet but also slightly dry finish.
Overall: Several unique things about this formulation make the beer special, including the addition of San Diego roaster Ryan Bros Coffee beans in the mash. We also use British mild ale malt as the base malt and the addition of milk sugar, which brewer's yeast does not ferment. These components add some body and a touch of sweetness to the resulting beer. At only 4.2 percent ABV, some might expect this beer to be thin, but that's far from the truth– it is a smooth and satisfying beer.
Suggested Food Pairings by "Dr." Bill Sysak
Appetizers: Bacon-wrapped dates, roasted chestnuts, leek-stuffed mushrooms, beef satay, oysters on the half shell
Soups: Cream of mushroom, beef and barley, French onion, split pea
Entrees: Prime rib, baby back ribs, blue cheese Portobello burgers, black bean and cheese enchiladas
Desserts: Chocolate lava cake, tiramisu, vanilla ice cream, s'mores
Cheeses: Aged Gouda, Gorgonzola Dolce, Maytag Blue, Tumalo Farms Pondhopper
Cigars: Padrón 3000, Rocky Patel Decade, Gurkha Park Avenue Maduro, Oliva Serie G Maduro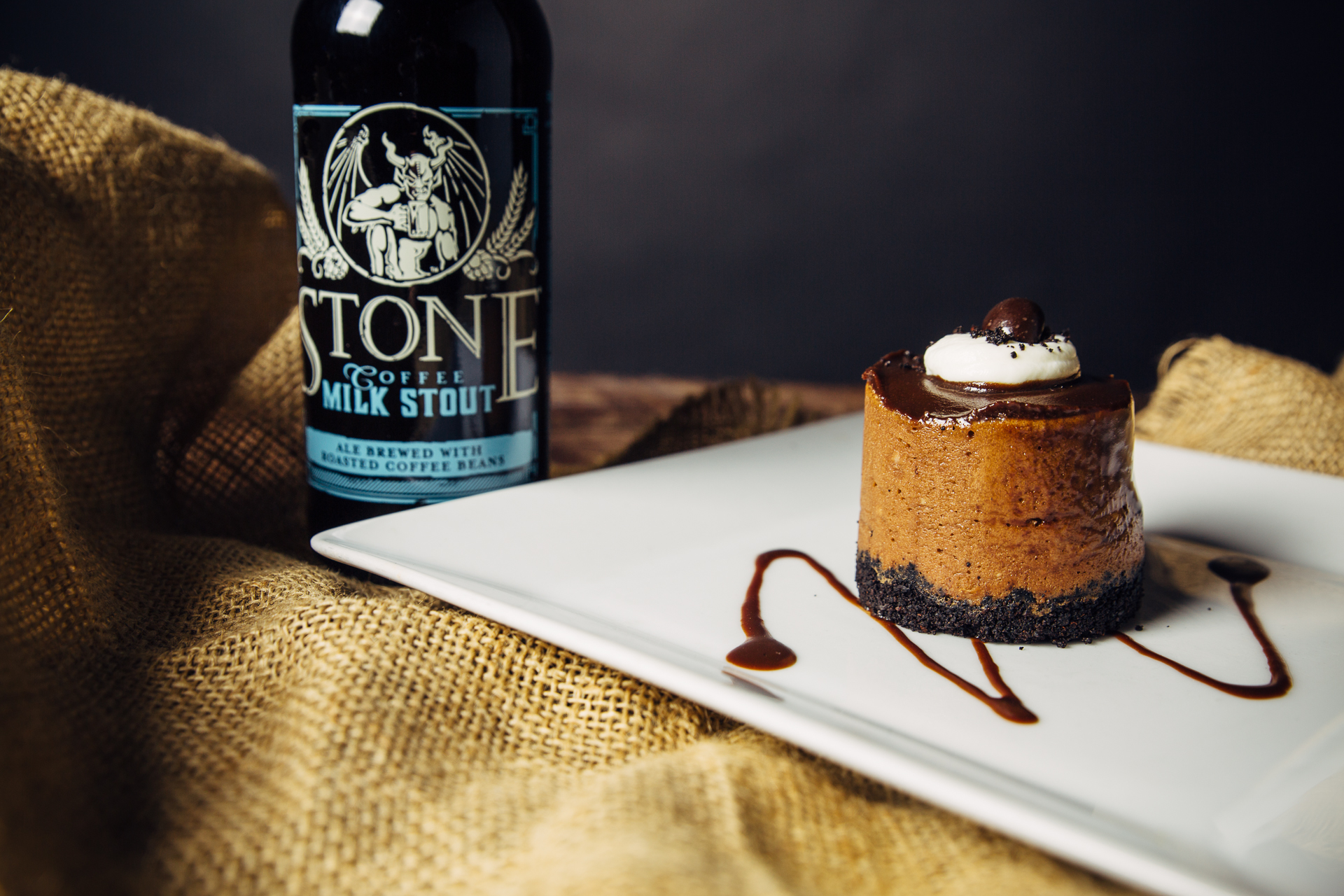 Chocolate Coffee Milk Stout Cheesecake with Espresso Crust, Coffee Milk Stout Ganache & Chocolate-Dipped Espresso Beans Yield: 10 to 12 servings
2 cups Stone Coffee Milk Stout
11 ounces chocolate sandwich cookies, crème removed, pulverized into crumbs
1 ounce instant espresso powder
6 Tbsp unsalted butter
1½ pounds cream cheese, softened
½ cup granulated sugar
1½ Tbsp cocoa powder
4 large eggs
¼ cup all-purpose flour
6 ounces milk chocolate, melted
6 Tbsp heavy cream
1 cup Coffee Milk Stout Ganache (recipe follows)
2 cups sweetened whipped cream
chocolate-covered espresso beans
Bring the beer to a boil in a medium saucepan over high heat. Reduce by 80% then set aside and let cool to room temperature. Preheat oven to 350 degrees F. Combine the cookie crumbs, espresso powder and butter to form a moist mixture. Press the mixture into the bottom and up the sides of a 10-inch round spring-form pan. Place the pan in the oven and bake for 8 minutes. Remove from oven and let cool. Cream the cream cheese, granulated sugar and cocoa powder in the bowl of an electric mixer fitted with a paddle. Mix in the eggs, 1 at a time, and mix until smooth. Turn off the mixer and scrape down the side of the bowl. Add the flour and mix, slowly at first, until it is fully incorporated. Fold in the melted chocolate, heavy cream and beer reduction. Pour the cream cheese mixture into the spring-form pan and bake until the cheesecake is fully set, about 1 hour and 15 minutes. Remove from the oven, cover and refrigerate for 1 hour. Remove the cake from the oven and pour the ganache into the pan. Cover and place in the refrigerator for 30 minutes. To serve, slice the cake into individual servings, place a dollop of whipped cream atop each slice and garnish with espresso beans. Coffee Milk Stout Ganache
½ cup Stone Coffee Milk Stout
½ Tbsp granulated sugar
¾ cup semisweet chocolate, chopped
1 cup cold unsalted butter, cut into ½-inch cubes
Bring the beer to a boil in a small saucepan over high heat. Whisk in the sugar, reduce to 1½ tablespoons. Set aside and let cool to room temperature. Melt the chocolate in a double boiler over medium heat. Stir in the beer reduction. Stir in the butter, 1 cube at a time, and mix until it is fully incorporated. Remove from the heat. —Recipe courtesy Brandon Hernández, beer-and-food journalist / Senior Communications Specialist, Stone Brewing Co.