Recognizing the marketing power of slapping a celebrity's name on a bottle, many are the adult beverage producers who seek out popular, public-facing people to help sell their liquid wares. All too often, it consists of little more than some TV time, and payment of royalties for the rental of a moniker and its associated persona via some "signature blend," "private label" or similarly shallow ploy to profit off pop culture-obsessed fan-boys and girls. This is definitely NOT the case with Drew Curtis/Wil Wheaton/Greg Koch Stone Farking Wheaton w00tstout, the 2015 edition of which is already well on its way across the nation. Though its handle contains a number of droppable names, there is serious heart and an authentic genesis to what has become one of the most coveted beers in Stone's proud history.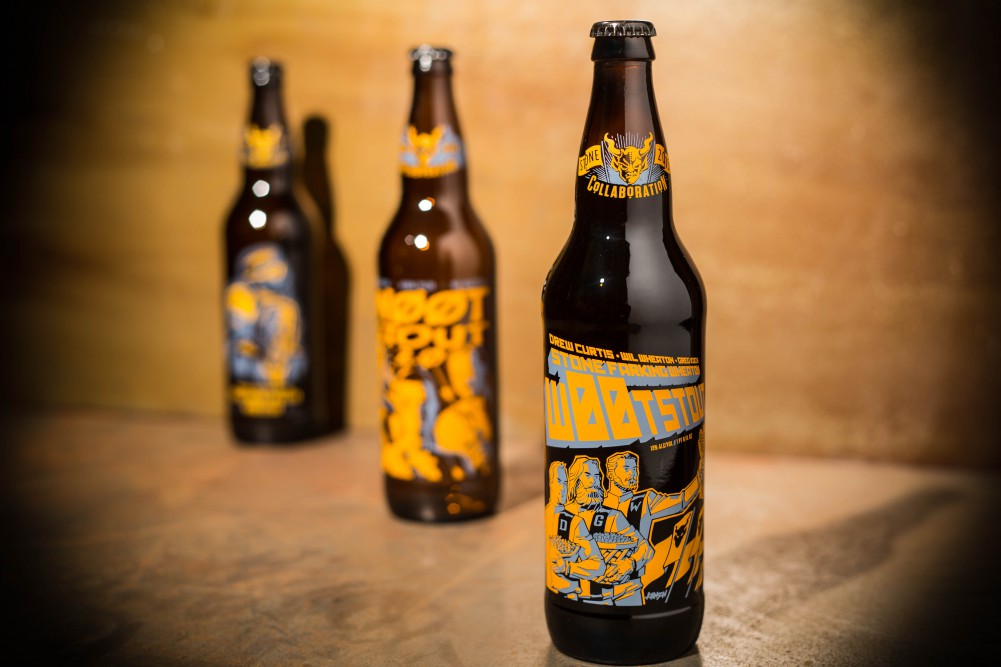 While other companies seek out "talent," our chief collaborator for this beer came to us in a most organic way. Believe it or not (you should believe it, since it's true), our 10,000th email newsletter subscriber was none other than star of screens both big and small, Wil Wheaton. Stone CEO and Co-founder Greg Koch still remembers our Creative Director Mike Palmer hollering to him from his cubicle after perusing the day's new-subscriber list and seeing the star of Stand By Me and Star Trek: The Next Generation as Mr. 10K. Later that year (2004 for you historians out there), Wheaton emailed Stone asking if he could use the Arrogant Bastard Ale logo on his website. Koch obliged the request and the next thing you know, a lasting friendship was budding. The two continued to communicate and, over the next several years, Wheaton's love of craft brewing escalated to the point where he became a fervid homebrewer and full-blown beer geek. Seeing this, in 2013, Koch invited Wheaton to help craft a collaboration beer recipe, and Wheaton happily took him up on it. At Stone, all collaborations happen in threes, so Koch and Wheaton invited a mutual friend to the brewery. That individual was Drew Curtis, the founder of alternative news website Fark.com, who was admittedly more into drinking beer than making it, but threw every bit of himself into the brewing process. Most important to the resultant beer were the ingredients added to the recipe based on his heritage as a proud Kentuckian, namely roasted pecans, rye malt and used bourbon whiskey barrels. A portion of the beer would make it into those oaken vessels, then be blended with fresh beer brewed with the nuts and rye as well as an ingredient inspired by Wheaton—flaked wheat! The result was a behemoth double-digit alcohol-by-volume imperial stout that Stone fans expressed great amorousness for.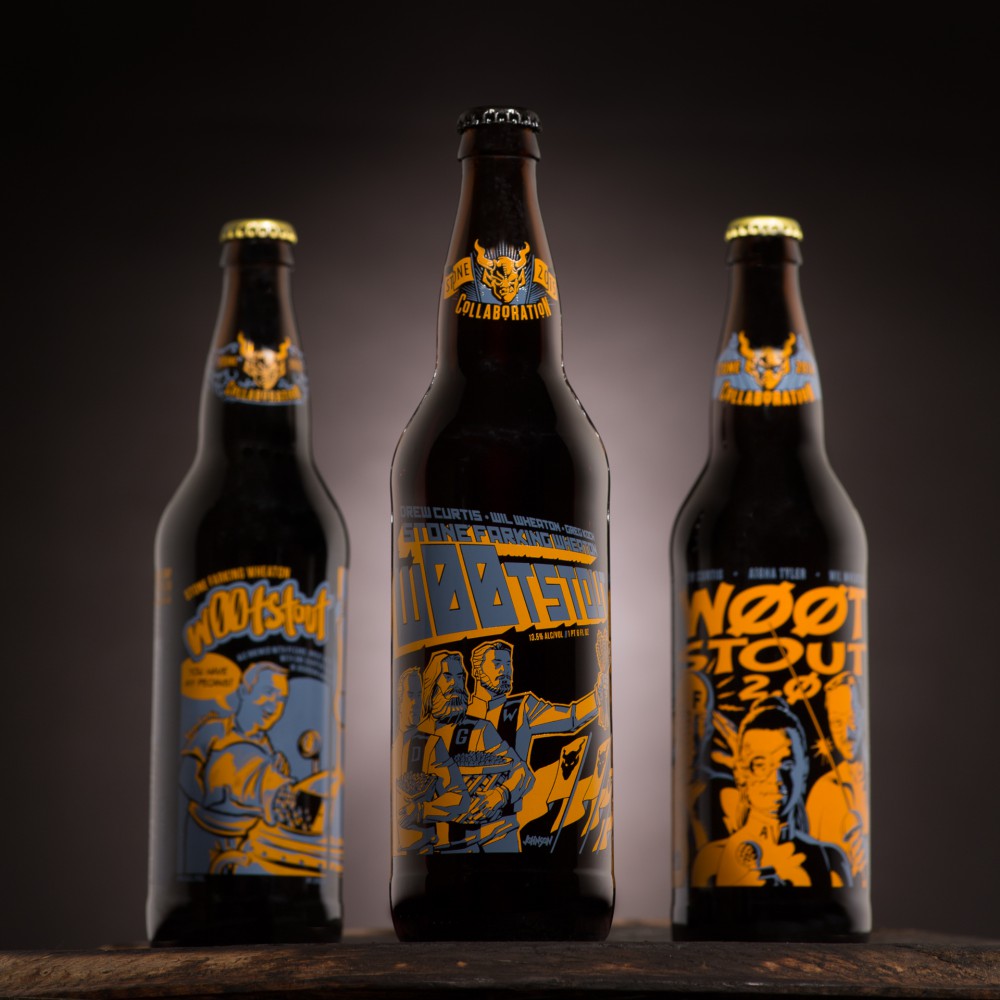 Though most Stone collaboration beers are of the one-and-done ilk, after his first sip, Koch knew he need to get the band together to rebrew the beer on an annual basis…even if he couldn't be part of the band. In 2014, Koch spent more than four months on a globe-trotting sabbatical that overlapped with the brewing of the beer that eventually became known as Stone w00tstout 2.0. Why the new name? Because the recipe changed when Koch's spot on the brew deck was filled by actress (and Wheaton bestie) Aisha Tyler, who wanted to add stoneground chocolate to that year's recipe. This brilliant request was granted and the resulting beer was swept off of store shelves at an astounding rate. This year, Koch was back in the brewhouse with Wheaton and Curtis, but Tyler's essence still found its way into the 2015 edition of Drew Curtis/Wil Wheaton/Greg Koch Stone Farking Wheaton w00tstout. A small portion of Stone w00tstout 2.0 was held back to be aged in bourbon barrels, and that squirreled-away, spirit-laced goodness was blended into this year's offering, which has been funneled into limited-edition 22-ounce bottles featuring commemorative artwork by famous comic book cover artist Dave Johnson (DC Comics, 100 Bullets). As is the case with each edition of this beer, an artist donates their talents in exchange for a monetary contribution to The Hero Initiative, a charity fund set up to assist needy golden-age comic book artists entering the twilight of life. So, this year's #w00tstout is amazing as far as its conception, flavor and aesthetic, and definitely worth seeking out!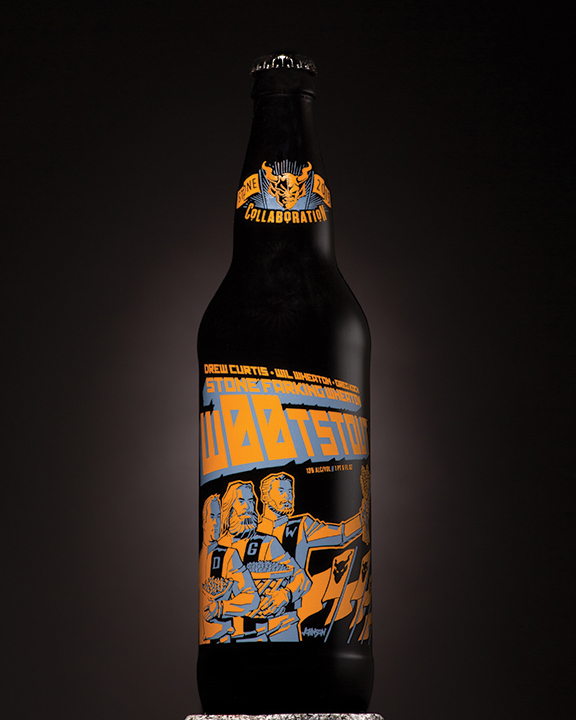 Tasting Notes by Stone Brewmaster Mitch Steele
ABV: 13%
IBUs: 45
Availability: Limited 22-ounce bottles and draft, beginning July 13
National Distribution: AK, AL, AZ, CA, CO, CT, DC, DE, FL, GA, HI, IA, ID, IL, IN, KS, KY, LA, MA, MD, ME, MI, MN, MO, MT, NC, NE, NH, NJ, NM, NV, NY, OR, PA, RI, SC, TN, TX, VA, VT, WA and Puerto Rico
International Distribution: Australia; Alberta and British Columbia, Canada; Japan; and Singapore
Appearance:The deepest opaque brown with a creamy brown head of foam.
Aroma: Intense nutty, coffee and cocoa, followed by vanilla, oak and bourbon, with accompanying hints of maple and licorice.
Taste: Pronounced coffee and cocoa, followed by well-blended flavors of bourbon, vanilla and oak, with a touch of alcohol at the end.
Palate: Thick and smooth. At 13% ABV, this beer is definitely a sipper, but it is creamy and slightly warming with a pleasant sweetness.
Overall: The flavors are a wonderful blend of everything that makes a great imperial stout, loaded with roasted notes and malt complexity. Brewing with rye and nuts always creates challenges for our brewing team, but they again rose to the occasion with this one. We were even able to blend in a small amount of last year's version into the entire batch. Simply amazing.
Suggested pairings by Stone Craft Beer Ambassador "Dr." Bill Sysak
Appetizers: Blue cheese-stuffedshiitake mushrooms, lamb kabobs, baked plantain chips, caramelized onion dip, bacon-wrapped dates
Soups: Buffalo chili, beef goulash, roasted butternut squash, lentil stew
Entrees: BBQ short ribs, coffee-rubbed porterhouse steak, fennel and leek risotto, wild mushroom ragout, sweet potato gnocchi
Cheeses: Point Reyes blue, Rogue Creamery Oregon Blue, Widmer 10-year Aged Cheddar, Hook's Blue Paradise, Colston Bassett Stilton
Desserts: Maple milk toffee, coconut macaroons, chocolate lava cake, double chocolate pecan cookies, tiramisu
Cigars: La Flor Dominicana Double Ligero Chisel, Padrón 1964 Anniversary Series Exclusivo Maduro